How Risky Is Ferrellgas Partners Stock?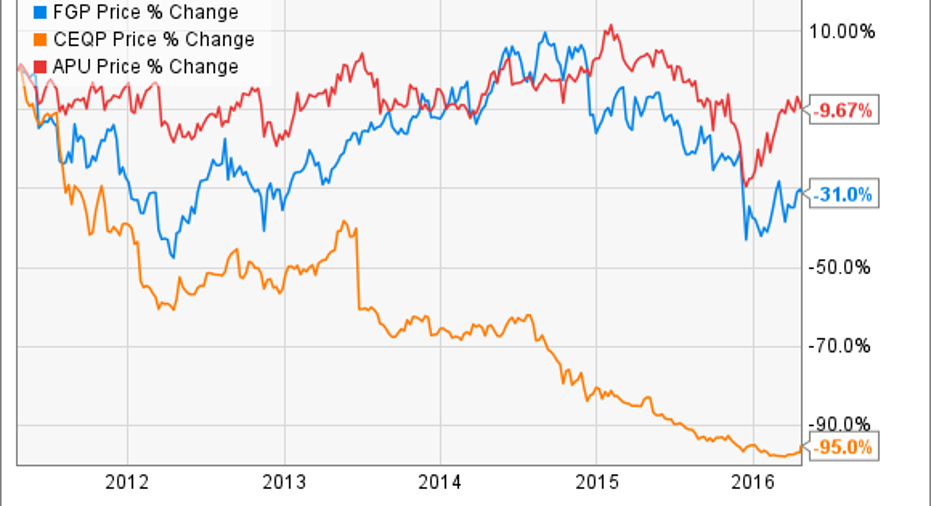 Image source: Ferrellgas Partners.
For a long time, Ferrellgas Partners did one thing and did it well -- propane delivery. But with the 2014 acquisition of Sable Environmental, the company branched off in a new direction. That's something you'll want to watch.
The propane foundationPropane is a pretty interesting fuel, even though it gets overshadowed by oil and natural gas. It's used for such things as backyard grilling, crop drying, powering lifts in warehouses, and, its largest use, providing heat to homes in hard-to-reach locations.
Ferrellgas and its peers specialize in delivering propane to these customers, generally passing the cost of the fuel on to users. So, in many ways, the U.S. propane business is about logistics, weather, and customer count. This is worth noting, because the past two winters have been warm, and, thus, propane sales have been weak. That's a mixed blessing because of the customer count issue.
Over the long term, propane use has been slowly declining in the United States because of increased availability of alternative fuel options, such as natural gas, batteries, and even electric heating in homes. That's why acquisitions have been a huge part of Ferrellgas' business -- not just to grow its customer count, but also to make up for attrition.
Bad weather makes that easier to do, since smaller competitors are more likely to struggle in an environment like we see today. Meanwhile, low propane prices reduce the number of customers who defect to other fuel options. So right now looks like a good time to be a big propane company. And, frankly, for years Ferrellgas simply bought up lots of competitors to build its propane business out. That model hasn't changed, and Ferrellgas has done a pretty solid job.
Big changes taking place. Image source: Ferrellgas Partners.
Is this skill transferable?This was the only business Ferrellgas was involved in until mid-2104. That was when the company changed strategic directions and bought a midstream energy company. There are two things here going for Ferrellgas. First, it's an expert at buying companies -- it's made over 200 acquisitions since 1986. Second, while different from propane in many ways, oil and gas midstream assets are all about logistics. This shift, then, isn't out of left field.
However, that doesn't mean it's the right move for a company that has historically focused on just one business. And things are moving pretty fast. After the 2015 acquisition of Bridger Logistics, midstream makes up around 25% of EBITDA. Just two years ago, that figure was zero.
There are a couple of issues to think about here. First, Ferrellgas has to learn a whole new business. And it's taking a crash course. That's a risk you can't easily quantify, but it's one you'll want to watch closely. And then there's the vastly different market dynamics. Right now, the oil and gas industry is suffering through a spell of low pricing that has led to a slowdown in drilling activity. That could offer up acquisition opportunities, but it could also leave Ferrellgas with less than desirable assets.
For example, the partnership added 1,400 rail cars to its portfolio late last year but, after years of growth in crude by rail shipments, this mode of transporting oil appears to be slowing down, if not contracting. Some of the other assets picked up in the Bridger deal include specialized tractor trailers and rail based oil terminals. Both could see a drop off in demand if oil drilling activity dips.
It's worth noting that when one-time propane competitor Inergy went down the midstream path, it ultimately decided to jettison its propane business. Suburban Propane Partners, L.P. bought it and basically doubled its size in a business it knew well. Inergy, however, has gone through a few more corporate makeovers and hasn't done nearly as well as hoped. Crestwood Equity Partners,which is basically what Inergy's midstream business is now called, has seen its shares crater.
There's more risk todayThis isn't to suggest that Ferrellgas will see the same type of trouble, only that propane to midstream may not be as easy a transition as you'd hope. The takeaway is that when looking at Ferrellgas, you need to worry about all the same old risks of the propane market, which Ferrellgas has managed successfully for years, but also the risks inherent in entering a new market with a different business profile.
The article How Risky Is Ferrellgas Partners Stock? originally appeared on Fool.com.
Reuben Brewer has no position in any stocks mentioned. The Motley Fool has no position in any of the stocks mentioned. Try any of our Foolish newsletter services free for 30 days. We Fools may not all hold the same opinions, but we all believe that considering a diverse range of insights makes us better investors. The Motley Fool has a disclosure policy.
Copyright 1995 - 2016 The Motley Fool, LLC. All rights reserved. The Motley Fool has a disclosure policy.