How Realistic Is a Chinese Pickup Truck Catalyst for Detroit Automakers?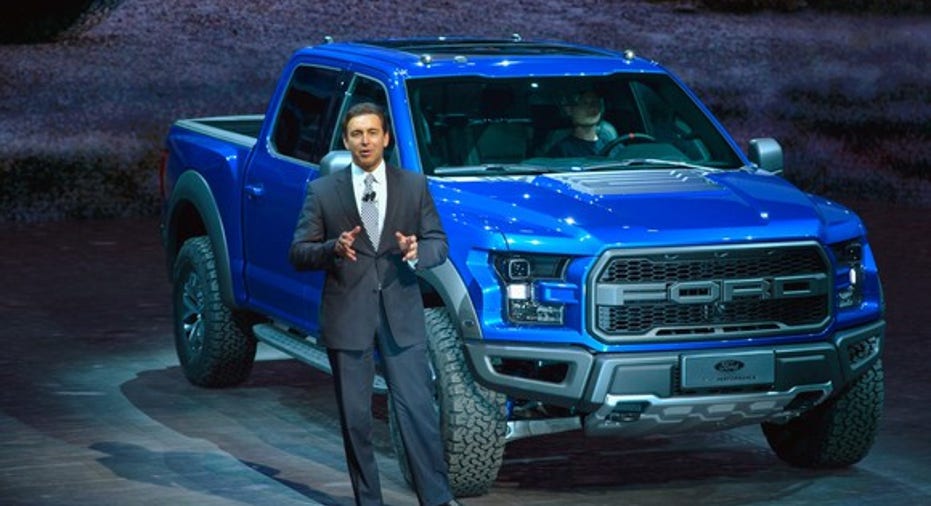 Mark Fields, President and CEO of Ford, talks about the F-150 Raptor and its role in China. Image source: Ford Motor Company.
It's not a new exercise for investors of Ford Motor Company (NYSE: F) or General Motors (NYSE: GM) to sit back and think of potential catalysts -- "What growth story will bring Wall Street back on board?" Record profits didn't convince Wall Street to buy inat a time when sales are peaking in the U.S. Emerging markets aren't moving the needle enough. And smart mobility projects are intriguing but are in their infancy.
But what if the world's largest automotive market -- China -- loosens up its policies to incentivize more profitable truck sales? Ford and GM make a vast majority of their profits in the U.S., and much of that is due to high transaction prices and margins for full-size trucks. If China's market turns to full-size trucks, would that bring Wall Street back?
It could happen, eventually
Currently, there are multiple factors working against trucks in China. For one, smaller and cheaper vehicles tend to sell in the region much better. In some areas, infrastructure simply isn't conducive to the massive full-size trucks we're used to driving here in the United States. In fact, trucks are mostly restricted to overnight driving only in most Chinese cities. Throw in the Chinese government's war on pollution, and it's easy to understand why full-size trucks have yet to carve out a niche in the market -- but that's changing, slowly.
"China's pickup truck market will be very large in the future," said Yan Ningya, an official involved in the Hebei pilot project, which will allow some provinces to lift the overnight-only restriction on trucks.
Ningya might be proven correct eventually, but let's look at some figures to put the scenario in context. Currently, IHS Markit projects truck sales to increase 14% in China this year to just under 370,000 units. Ford's F-Series has sold nearly double that in the U.S. through November and will have easily doubled that figure by the time 2016 is finished. Pickups account for roughly 1.4% of China's light-vehicle market, compared to IHS Markit's projection of 2.7 million pickups in the U.S., for about 15% of the market.
How far out is this potential pickup catalyst?
It would be extremely difficult to predict how quickly pickup sales would increase, as the government's policies could heavily influence the adoption rate of pickups. But if you simply set it for 14% annual growth -- what IHS Markit expects the growth to be this year -- it would take roughly 15 years for China to sell as many pickups as the U.S. will this year.Take that with a bag of salt because that's a level China could get to sooner -- or never at all. For that to happen, pickups would have to be desirable for the middle class, and currently Ford and GM are aiming at the very wealthy, business owners, and gearheads who simply are intrigued by unique vehicles.
At best, China's potential pickup catalyst is a long-term investing opportunity. If it comes to fruition, it would be such a valuable market for Detroit automakers that it would certainlybring Wall Street back. But let's be honest: In 15 years the automotive industry will look so insanely different that it's almost pointless to ponder. And that's unfortunate for investors because if Detroit automakers could get Wall Street back on board with a growth story and push its valuation to a measly 10 times earnings, GM would trade near $90 today, rather than the mid $30s.
10 stocks we like better than General Motors When investing geniuses David and Tom Gardner have a stock tip, it can pay to listen. After all, the newsletter they have run for over a decade, Motley Fool Stock Advisor, has tripled the market.*
David and Tom just revealed what they believe are the 10 best stocks for investors to buy right now... and General Motors wasn't one of them! That's right -- they think these 10 stocks are even better buys.
Click here to learn about these picks!
*Stock Advisor returns as of November 7, 2016
Daniel Miller owns shares of Ford and General Motors. The Motley Fool owns shares of and recommends Ford. The Motley Fool recommends General Motors. Try any of our Foolish newsletter services free for 30 days. We Fools may not all hold the same opinions, but we all believe that considering a diverse range of insights makes us better investors. The Motley Fool has a disclosure policy.