How Quitting Europe Could Change General Motors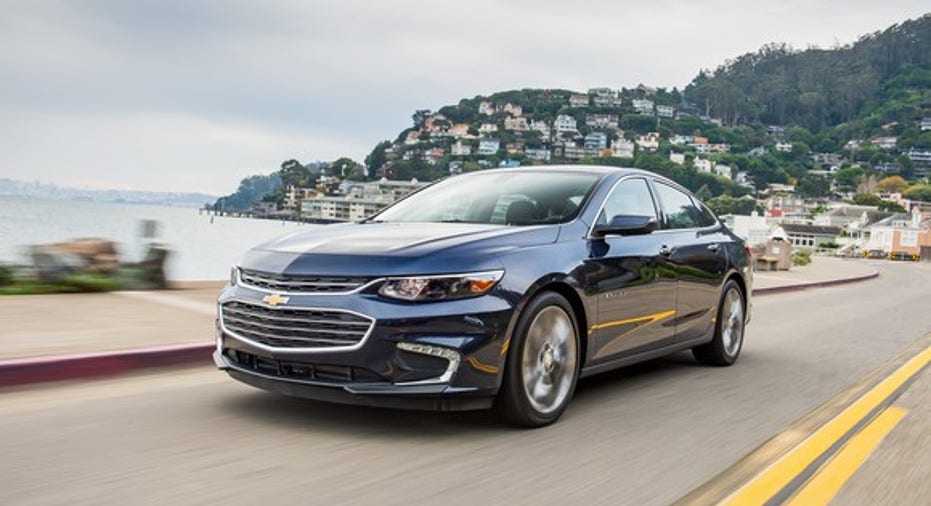 General Motors (NYSE: GM) acknowledged on Tuesday that it's in talks with French automaker PSA Peugeot Citroen (NASDAQOTH: PUGOY) about "numerous strategic initiatives," including the potential sale of GM subsidiary Adam Opel AG.
Opel is essentially GM's entire European operation, building and selling vehicles under the Opel and Vauxhall brand names throughout Europe. It accounted for nearly all of the roughly 1,162,000 vehicles GM sold in Europe in 2016.
On one level, it's clear why GM might consider selling it: Under CEO Mary Barra, GM has shown a surprising (for a century-old automaker, at least) willingness to exit businesses that aren't generating a sufficient return on capital, and GM Europe has been a money-loser for years.
But it's still a surprise, with some big implications for GM.
Opel shares several models with Buick. Opel's all-new Insignia sedan is expected to spawn an all-new Buick Regal soon -- but an Opel sale could change those plans. Image source: General Motors.
GM's frustrations with Europe have been mounting
If Barra was thinking about selling Opel during last month's earnings call, she didn't let on. But she did make it clear that she wasn't happy with how things have been going.
GM lost $257 million in Europe in 2016. On the one hand, that was a huge improvement over the $813 million it lost in 2015. As Barra noted, if it hadn't been for Brexit, it might have broken even, or turned a small profit: CFO Chuck Stevens pegged the Brexit-related losses at about $300 million.
The Opel Ampera-e is the upcoming European version of the electric Chevy Bolt. It probably wouldn't survive Opel's sale. Image source: General Motors.
That may sound like a one-time fluke, worth persevering through. But the truth is that GM's losses in Europe have been adding up for years. GM has lost about $5.6 billion in Europe since 2011, and the losing streak goes back much further. 2016 was supposed to be the year that GM finally broke even in Europe -- yet it still missed the mark.
Selling Opel isn't a new idea
The idea of selling Opel isn't a new one. GM's first post-bankruptcy CEO, Fritz Henderson, put together a deal in 2009 to sell Opel to a consortium of buyers led by giant auto supplier Magna International. That deal had the support of Germany's government and Opel's powerful labor unions -- but GM's board called it off at the last minute. (The fallout from the deal's cancellation included Henderson's departure.)
The board's key concern was that Opel was GM's center of small-car development expertise at the time. That's not true anymore: GM's engineers in Korea and China take the lead on small cars nowadays. Opel's engineering teams are still important to GM's global product-development process, but GM can almost certainly get by without them.
What a post-Opel GM might look like
Here's a quick look at what some of GM's 2016 results would have looked like without Europe.
| | | |
| --- | --- | --- |
| Metric | 2016 Actual | 2016 Without Europe, Estimated |
| Revenue | $166.4 billion | $147.7 billion |
| Global vehicle sales (rounded to the nearest thousand) | 10,008,000 | 8,801,000 |
| EBIT-adjusted | $12.047B | $12.304B |
| EBIT-adjusted margin | 7.24% | 8.33% |
Data source: General Motors. "EBIT-adjusted," a non-GAAP measure used by GM's management, is essentially GM's operating profit minus special items.
Removing Europe looks pretty good, doesn't it? It's not so simple, of course. Opel's operations are integrated with GM's on a global basis. There would be a long list of pluses and minuses to removing Opel from GM.
But selling Opel -- getting rid of its expensive German factories and bureaucracy, presumably in exchange for a few billion dollars -- would leave GM free to launch a new operation in Europe if it thought it could do so profitably, perhaps with factories in lower-cost eastern European countries instead of Germany.
The current Chevy Malibu is considered a strong competitor in the U.S. and China. How might it fare in Europe in place of -- or against -- Opel's Insignia? Image source: General Motors.
That operation could reintroduce GM's Chevrolet brand. For a while, GM sold Korean-made Chevrolets in Europe as a low-cost complement to Opel's lineup. Chevy is mostly remembered in Europe as a cheap-car brand. But GM could draw on the excellent models in the brand's current portfolio (the Malibu, Cruze, and new Equinox, for starters) to start changing Europeans' perceptions of Chevrolet for the better.
In addition, or instead, it could try launching Buick in Europe. Buick and Opel share several models now, so the brand's basic look and feel wouldn't be a surprise to Europeans, and it would restore some of the global scale that will be lost on those shared models with the sale of Opel.
At least for a while, though, a sale of Opel would mean that GM had no significant presence in the world's third-largest new-car market. That would be uncharted waters for a company that has long considered itself a global automaker.
10 stocks we like better than General MotorsWhen investing geniuses David and Tom Gardner have a stock tip, it can pay to listen. After all, the newsletter they have run for over a decade, Motley Fool Stock Advisor, has tripled the market.*
David and Tom just revealed what they believe are the 10 best stocks for investors to buy right now...and General Motors wasn't one of them! That's right -- they think these 10 stocks are even better buys.
Click here to learn about these picks!
*Stock Advisor returns as of February 6, 2017.
John Rosevear owns shares of General Motors. The Motley Fool recommends General Motors. The Motley Fool has a disclosure policy.