How Much Is Valeant Pharmaceuticals Really Worth?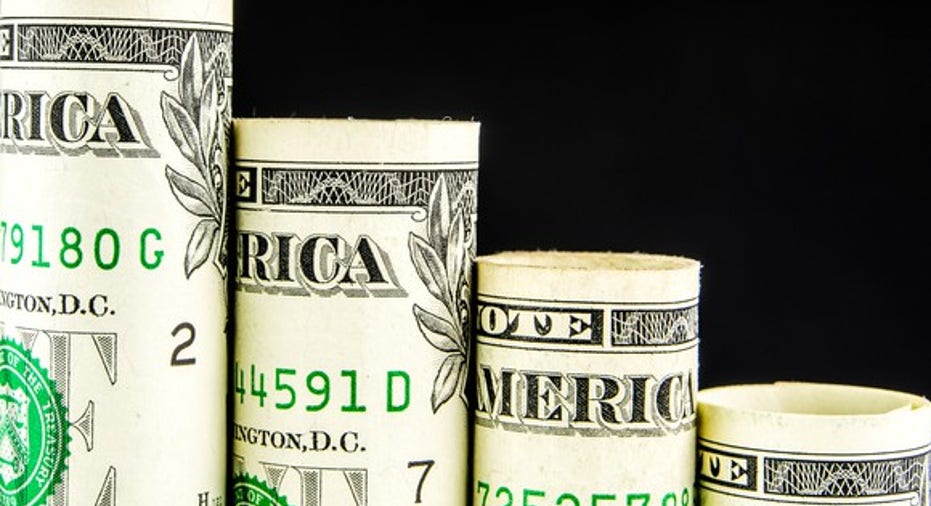 Image source: Getty Images.
There's no way to sugarcoat this: It's been an abysmal past 10 months for Valeant Pharmaceuticals and its shareholders.
Valeant Pharmaceuticals has seen its market valuation shrink from a peak of around $90 billion in August to just $7.7 billion as of Thursday's closing price, marking yet another fresh 52-week low.
Valeant's woes traced to two key problems
At the heart of Valeant's woes are two major problems.
First, the company's business model is in jeopardy. There are multiple ongoing probes examining the company's pricing practices. Although Valeant does have standard research and development ongoing vis-a-vis Salix Pharmaceuticals and Bausch & Lomb, it's best known for growth by acquisition. At times Valeant has acquiredentire companies, while at other times it has merely acquired niche drugs and boosted their prices following the purchase. This is what happened to cardiovascular drugs Nitropress and Isuprel following their purchase in February 2015, with their prices being hiked by 525% and 212%, respectively, according to The Wall Street Journal. With Valeant's pricing practices being monitored like a hawk, it could wind up losing the most valuable asset of a drug developer: pricing power.
Image source: Flickr user Ryan Ritchie.
The other major issue for Valeant is its crippling debt of $31.3 billion as of the end of the first quarter. Since Valeant was late to file both its 2015 annual report and first-quarter 2016 results, the company's creditors have been getting anxious about ensuring they get their money back, with some filing default letters (which have since been met with the filing of the aforementioned reports). If Valeant doesn't address its debt situation, it could find itself in more trouble as time passes.
Because Valeant's business model is in flux, valuing the company has proven veritably impossible for Wall Street and investors. Thompson/First Call price target estimates range from a drop of more than 50% from its current share price to a gain of over 100%. Put simply, Wall Street and investors haven't a clue how much Valeant Pharmaceuticals is really worth.
But that won't stop me from taking a crack at valuing Valeant. Just keep in mind that Valeant's figures are subject to change. For instance, over the last six months it has nearly halved its 2016 full-year EPS forecast and reduced its sales forecast by about 20%.
The two big questions that will determine Valeant's worth, in my eyes, are "Can it grow?" and "Can it get out of debt?" Let's take a look at Valeant's debt situation first.
Evaluating Valeant's debt
Valeant's new CEO, Joseph Papa, has done an about-face in recent days and suggested that Valeant would be willing to sell core assets if the price were right. Previously, Valeant's management had shunned the idea of shedding its core assets (i.e., Salix, Bausch & Lomb, and so on), as it would constrain the company's ability to grow. But the problem for Valeant is that its plight is no secret to its peers or Wall Street. It's unlikely that Valeant will get any sort of premium for even its core assets when it is making these moves out of sheer desperation.
Image source: Getty Images.
Looking ahead, Valeant has a $1.6 billion tranche coming due in 2018, and the debt covenant terms of this tranche, which are essentially regulated by its 12-month EBITDA, were relaxed in April by its creditors (on top of added fees). However, Valeant's latest sales and EPS reduction also caused its EBITDAforecast to drop. This drop has Valeant teetering on another technical default of this debt covenant. In other words, there's a growing sense of urgency for the company to sell assets, and little reason for its peers to get into a bidding war or pay a premium for its assets.
For instance, Valeant acquired Bausch & Lomb in 2013 for $8.7 billion. At the time, Bausch & Lomb was generating about $3.3 billion in annual revenue. Though Valeant doesn't break out the contributions of individual companies or subsidiaries in its annual report, it's likely that B&L has been growing by a mid- to high-single-digit percentage over the past three years. Presumably, B&L comprises about $4 billion of Valeant's expected $10 billion in 2016 sales (based on the midpoint of its recently lowered estimates). Assuming a reasonable valuation of three times sales, this might mean Valeant could net $12 billion from the sale of Bausch & Lomb. Note, however, that this is a far cry from the $20 billion chatter on Wall Street, and it takes into consideration the fact that Valeant's debt situation is somewhat dire.
In my opinion, even if Valeant were to clean house and sell some of its highly valuable assets, it would struggle to get its remaining debt below $8 billion to $12 billion.
Can Valeant grow without its core assets?
Image source: Getty Images.
If Valeant does consider selling off its core assets, which produce its highest margins, then the other question is what that might do to its EBITDA, growth, and profitability. Even if Valeant somehow manages to retire three-quarters of its outstanding debt, Valeant could still struggle to service its remaining loans if it's left with slow-growing businesses.
According to Evercore RSI analyst Umer Raffat, B&L is expected to deliver $1.6 billion in EBITDA in 2016. Keep in mind that this estimate was given in late April, well before Valeant sliced its sales and profit forecast for 2016. Nonetheless, it would appear that B&L represents somewhere around 30% to 33% of Valeant's EBITDA, and it could therefore take a big chunk out of the company's future growth prospects if it were sold.
By a similar token, Salix Pharmaceuticals is likely generating around $2 billion in sales, with irritable bowel syndrome drug Xifaxan accounting for about half of that revenue. Assuming a markup of three times sales given Valeant's distressed nature, selling off Salix could knock off $6 billion, or perhaps slightly more, in debt. Again, though, Valeant would be giving up a substantial portion of its top-line sales if it were to make this move, and it would certainly feel a negative impact on its margins, as branded-drug sales often have juicy margins attached.
With its core assets, Valeant can probably produce between $4 billion and $5 billion in annual EBITDA. Without B&L and Salix, you could probably kiss at least half of that goodbye.
What is Valeant Pharmaceuticals worth?
I've been negative on Valeant's outlook over the past six months, but I don't see the company disappearing anytime soon. I believe if Papa gets aggressive with asset sales, Valeant can reduce its debt enough that it'll be able to refinance, restructure, or push its maturities out far enough to where it's not a major issue.
Image source: Flickr user Jim Makos.
The big question is what assets will be left and what Valeant's cash flow and profits might look like. Clearly, the best way for Papa to attack Valeant's debt woes is to sell B&L and Salix to the highest bidder and perhaps sell other high-margin subsidiaries in dermatology and/or ophthalmology. We learned just days ago that Valeant has hired Morgan Stanleyto "test the waters," so to speak, for dermatology subsidiaries Obagi Medical Products and Solta Medical, which were acquired for $418 million and $250 million, respectively, in 2013.
Assuming Valeant Pharmaceuticals cleans house -- and this is a big assumption, as there are dozens of ways for Valeant to reduce its debt by selling combinations of assets -- I could see a company left with about $4 billion to $5 billion in annual revenue potential, perhaps $10 billion or so in debt, and annual EBITDA of around $2 billion, plus or minus $250 million. Yes, I know these are broad ranges, but Valeant's situation is unique, so there's not much we can reasonably compare it to. More importantly, I suspect Valeant's future growth would be reduced to the mid-single digits on an organic basis, at best.
Based on these estimates, I believe a fair price for Valeant stock, taking into account both the good (it should remain profitable) and the bad (it won't get top-dollar for its core assets or completely rid itself of debt), is somewhere around the low to mid teens. Again, I want to be clear that this is just my opinion, and if I had a crystal ball, I'd be long retired by now. However, Valeant's debt situation is becoming more dire with each passing day, and I believe that will begin weighing on Valeant's valuation as the asset sales commence and the company's EBITDA, sales, and profitability adjust lower.
The article How Much Is Valeant Pharmaceuticals Really Worth? originally appeared on Fool.com.
Sean Williamshas no material interest in any companies mentioned in this article. You can follow him on CAPS under the screen nameTMFUltraLong, and check him out on Twitter, where he goes by the handle@TMFUltraLong.The Motley Fool owns shares of and recommends Valeant Pharmaceuticals. Try any of our Foolish newsletter services free for 30 days. We Fools may not all hold the same opinions, but we all believe that considering a diverse range of insights makes us better investors. The Motley Fool has a disclosure policy.
Copyright 1995 - 2016 The Motley Fool, LLC. All rights reserved. The Motley Fool has a disclosure policy.