How Might the Abysmal Oil Market Impact Devon Energy Corp. This Quarter?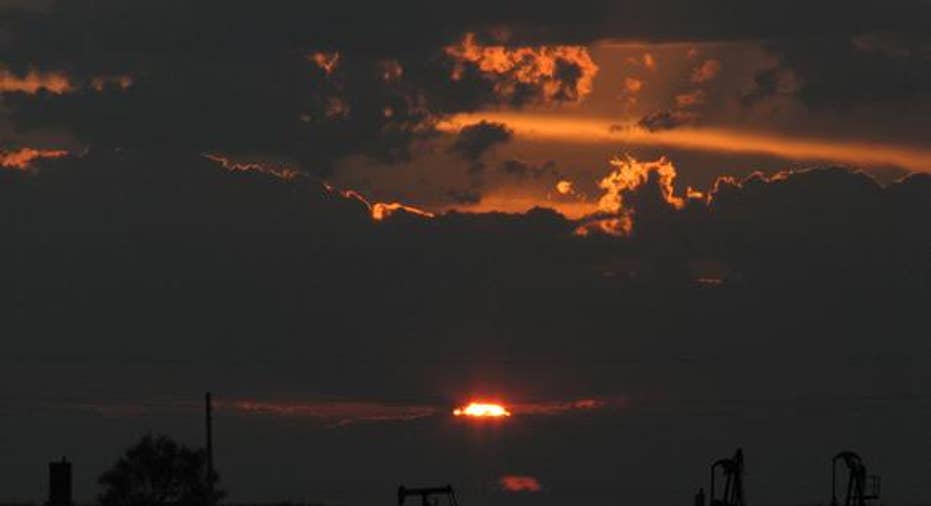 Image Source: Flickr user Jonathan C. Wheeler.
Crude oil prices continued to slump during the first quarter, spending much of the period below $30 a barrel. That's going to have a big impact on Devon Energy's first-quarter results, which are expected to arrive on Tuesday after markets close. What remains to be seen is how much those weak prices will impact the company's plans for 2016.
First, let's reviewDevon Energy ended 2015 on a strong note after reporting fourth-quarter core earnings of $319 million, or $0.77 per share. That was actually slightly better than the prior quarter's result of $316 million, or $0.76 per share. However, among the biggest drivers of this strong performance were the company's oil and gas hedges, which added $11.59 per BOE to the company's realized price during the quarter, boosting it from $17.85 per BOE to $29.54 per BOE.
It just got real Unfortunately, the bulk of the company's lucrative hedges rolled off when the calendar flipped to 2016. That's a problem because cash settlements from hedges boosted the company's revenue by more than $700 million last quarter, which was a large portion of its $1.1 billion in total sales. So, not only will the company not benefit from that cushion this time around, but the loss of the cushion is coming in a quarter where oil and gas prices were weakest.
Recognizing this, the company was proactive early on during the quarter, making some really tough choices. Those including cutting its dividend and capital budget by 75% while also going out and raising nearly $1.5 billion in new equity. While these moves bolstered the company's financial situation, it still has more work to do, and the company plans to unload a boatload of assets in order to fund its recent buying binge. However, the company has only completed one minor $200 million asset sale so far, leaving it well short of its goal to sell $2 billion to $3 billion in assets this year.
Clearly, the company needs to watch its pennies. So, while commodity prices have recently improved a bit, the tough first quarter could lead to some changes at the company; two in particular bear watching.
Look for changes to its capex budgetWith oil and gas prices still relatively weak, Devon Energy could make another cut to its capex budget. That's something it hinted at last quarter, when it noted that,
Currently, the company plans to spend between $900 million and $1.1 billion on drilling capex this year. That's not enough spending to enable the company to maintain its production, let alone grow it as Devon has done in the past. Instead, production from its core assets is expected to slip by 6% this year. However, the company could decide to cut spending even further, allowing for an even larger decline in its production, which is what a number of its peers are doing this year.
Look for potential issues at EnLinkThe weakness in the oil and gas market is also impacting cash flow at Devon Energy's MLPs, EnLink Midstream and EnLink Midstream Partners . In fact, EnLink's current financial guidance is based on oil and gas prices averaging $43.75 per barrel and $2.50 per million British thermal units, respectively, for the full-year. Those projections, however, proved to be very optimistic during the first quarter, which could impact EnLink Midstream Partners' ability to continue paying out distributions at its current pace. As things stand right now, the company's estimates mean that it would pay out 100% of its cash flow via distributions under those commodity price assumptions, or a 1.0 times distribution coverage ratio, while EnLink Midstream's coverage ratio would be slightly better at 1.1 times.
With their coverage ratios already tight, there's a very real possibility that the MLPs could cut their distributions, which would reduce the amount of cash Devon Energy would receive. That could have a meaningful impact on Devon, given that its midstream business generated $210 million in operating income last quarter, with most of this profit being attributable to its investment in EnLink Midstream.
Investor takeawayGiven where oil prices were, investors can expect Devon Energy to report a weak quarter. Further, those weak conditions have the the potential to force changes at the company and its MLPs. What's important is for the company to be proactive about making the necessary changes so that it doesn't repeat its key mistake from last year: growing for the sake of growth, only to pay a price for it when the oil market grew worse.
The article How Might the Abysmal Oil Market Impact Devon Energy Corp. This Quarter? originally appeared on Fool.com.
Matt DiLallo has no position in any stocks mentioned. The Motley Fool owns shares of Devon Energy. Try any of our Foolish newsletter services free for 30 days. We Fools may not all hold the same opinions, but we all believe that considering a diverse range of insights makes us better investors. The Motley Fool has a disclosure policy.
Copyright 1995 - 2016 The Motley Fool, LLC. All rights reserved. The Motley Fool has a disclosure policy.