How Mercedes-Benz Will Try to Take On Tesla Motors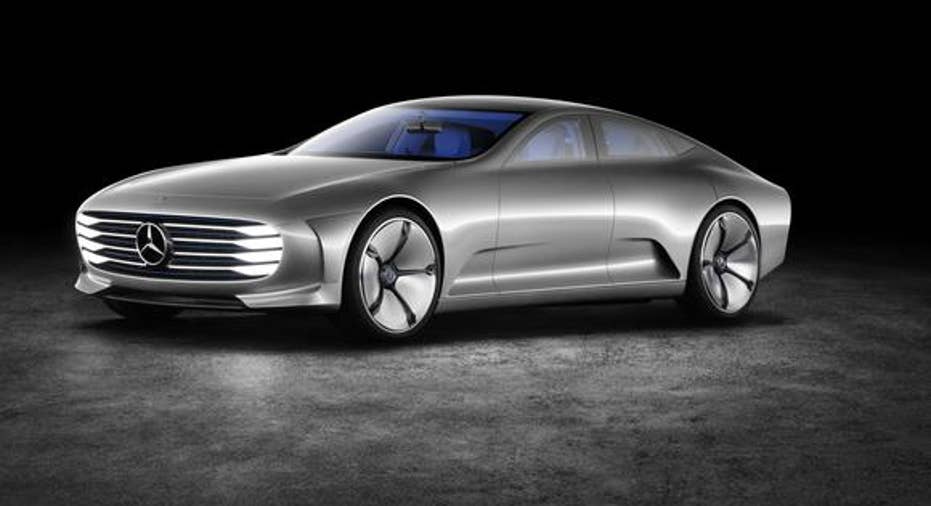 The Mercedes-Benz Concept IAA, for "Intelligent Aerodynamic Automobile", was first unveiled in Frankfurt last year. It's obviously just for show, but it may be a preview of the styling of Mercedes' upcoming range of premium electric vehicles. Image source: Mercedes-Benz
No matter what you think of the company's stock, it's clear that Tesla Motors has made a huge impression on the global auto business. Before Tesla, electric cars were mostly frumpy green-minded things that weren't especially fun to drive.
Tesla has shown the world that electric cars can be fast and luxurious and very desirable -- and cool. In the process, it has generated huge demand for its products.
Now the world, or at least the major automakers, are starting to respond. Given that all of Tesla's sales so far have been in luxury-vehicle segments, it's no surprise that the biggest challenges to Tesla look to be coming from the longtime luxury-carleaders. They're the ones most likely losing sales to the Silicon Valley upstart.
And in an ironic (but unsurprising) twist, the biggest, or at least the most direct, challenge to the world's newest major automaker might end up coming from the world's oldest: Mercedes-Benz.
The world's oldest automaker is at the forefront of emerging technology Mercedes-Benztraces its roots all the way back to 1886, but here in 2016 it's no high-tech slouch. Far from it: Among other things, Mercedes' parent company Daimler has made a huge commitment to self-driving technology, and has already emerged as a self-driving leader. Despite what you may have heard, the first car to market with limited self-driving capabilities wasn't Tesla's Model S, it was Mercedes' S-Class sedan in 2014.
Daimler also owns several heavy-truck and bus brands, and it hasn't been shy about demonstrating its significant commitment to self-driving technology in trucks as well as in Mercedes-Benz passenger vehicles. In contrast, Daimler and Mercedes-Benz have spoken with a somewhat quieter voice when it comes to electric cars. Mercedes has shown a number of electric concepts over the years; it partnered with Tesla to build some small electric cars, and it has aggressively pursued plug-in hybrids, but it hasn't made a big Tesla-like push into purely electric luxury cars.
That's about to change in a big way.
Reports from multiple sources say that sometime in 2014, Mercedes approved an investment of over $2 billion in a new family of purpose-built electric vehicles that squarely target (and that aim to out-do) Tesla's equivalents. The company is said to have four new battery-electric vehicles under development -- and all four seem likely to be Mercedes-flavored riffs on the themes set by Tesla.
The first of these new battery-electric Mercedes-Benzes will likely come to market in 2018. It's believed to be a sedan that is larger than the compact C-Class but a bit smaller than Mercedes' midsize E-Class. It will be closely followed by a similarly sized crossover SUV. They're said to have dramatic, distinctive styling in the vein of the Mercedes-Benz Concept IAA show car unveiled last fall (and pictured above).
The Concept IAA's grille is very different from current Mercedes-Benz production models, but there's no doubt that the car is a Mercedes. Image source: Mercedes-Benz
The two will be followed by a pair of considerably larger siblings: An all-electric sedan sized like Mercedes' big S-Class, and a very large electric SUV, larger than any SUV in the current Mercedes product line. Details on range and pricing are scant, but CEO Dieter Zetsche said last month that he feels electric cars need a range of at least 500 kilometers (310 miles) in order to become mainstream options, according to Automotive News.
It's also a safe bet that the new electric Benzes will feature thrilling, Tesla-like acceleration. Tesla's success may have made high performance, at least in a straight line, part of the price of entry into the "premium electric vehicles" segment.
Will buyers who want a Tesla be willing to look at a Mercedes instead?Even if its upcoming electric vehicles are very competitive with those from Tesla, it's hard to say how many buyers Mercedes-Benz will be able to pull away from the Silicon Valley automaker and its aura of futuristic cool.
I think it's more likely that Mercedes will be able to capture buyers who are new to electric cars, buyers who might have considered taking a chance on a Tesla but who feel more comfortable with an established luxury-car brand -- or who are concerned about Tesla's still-iffy quality.
How many folks like that are out there? We don't know yet, and Mercedes' expectations for its new electric vehicles' sales volumes aren't yet clear. But there's a hint that the company has fairly high expectations: Daimler is building a new battery factory, it's second. The company said last month that it will invest 500 million euros (about $570 million) in a new factory in Germany that will "produce batteries for electric and hybrid vehicles."
Daimler already has one battery factory up and running in the city of Kamenz; the new factory will be built nearby. It's expected to start operations in the third quarter of 2017 -- just in time to supply the first of Mercedes' new Tesla-fighting electric vehicles.
How busy will it be? We'll have a better guess once Mercedes shows its hand, which it probably will by this time next year. Stay tuned.
The article How Mercedes-Benz Will Try to Take On Tesla Motors originally appeared on Fool.com.
John Rosevear has no position in any stocks mentioned. The Motley Fool owns shares of and recommends Tesla Motors. Try any of our Foolish newsletter services free for 30 days. We Fools may not all hold the same opinions, but we all believe that considering a diverse range of insights makes us better investors. The Motley Fool has a disclosure policy.
Copyright 1995 - 2016 The Motley Fool, LLC. All rights reserved. The Motley Fool has a disclosure policy.