How Many Vehicles Will Tesla Motors Inc. Deliver This Quarter?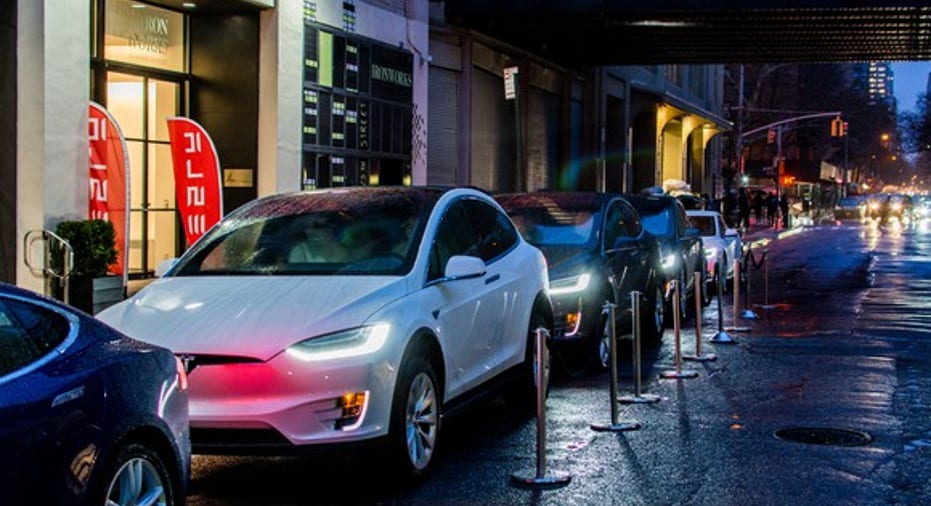 In anticipation of a rapid ramp-up in production and deliveries of its 2015-launched Model X SUV, as well as increasing demand for its Model S, electric-car maker Tesla Motors went into 2016 expecting impressive growth; Its full-year guidance implies about 68% year-over-year growth in vehicle deliveries. But a slower-than-expected start to 2016 may have investors wondering whether the company's will be able to follow through on the rosy outlook.
To help provide insight into the answer to that question, here's where Tesla is with production and deliveries so far, as well as what to expect from the current quarter.
Model X. Image source: Tesla Motors.
Running behind schedule
Tesla reported 14,810 vehicle deliveries in Q1, a number that was dragged down by production troubles. The automaker faced "severe Model X supplier parts shortages ... that lasted much longer than initially expected," it said in the press release announcing first-quarter deliveries. In addition to supply shortages, the automaker admitted "hubris in adding far too much new technology to Model X in version 1" -- a problem the CEO even admitted to on the day of first deliveries last September. In total, Tesla delivered about 12,400 Model Ss and 2,400 Model Xs -- leaving the company more than a thousand units behind its own guidance for the quarter.
Notably, Tesla's production during the quarter was at least moving forward. While Tesla delivered 14,810 vehicles, it produced a record 15,510 vehicles -- up 10% from the record it set in the prior quarter. Further, though the production ramp-up for the Model X ran into some problems, it jumped significantly in relative terms -- from 507 units in Q4 to 2,659 units in Q1.
With production continuing to increase, and demand for Tesla's vehicles continuing to grow, management said it remained confident in the company's full-year outlook to deliver 80,000 to 90,000 vehicles, representing vehicle sales growth of about 68% at the midpoint of the guidance range.
Looking to Q2
For the current quarter, Tesla expects to produce about 20,000 vehicles, and plans to deliver "as many of these cars as we can in Q2, with the rest being delivered in Q3." More specifically, Tesla anticipates delivering about 17,000 vehicles in Q2 as it ships a large number of vehicles to Europe and Asia toward the end of the quarter.
Tesla Fremont factory. Image source: Tesla Motors.
Given that Tesla has only missed its own guidance for quarterly deliveries in two out of the last 13 quarters, and considering management's outlook for the current quarter at the time of the shareholder letter (which was published more than a month into Q2), it's likely Tesla will meet its numbers and deliver at least 17,000 vehicles.
Tesla needs a big second half of 2016
But even if Tesla hits its Q2 target, the automaker will still need to average about 24,100 vehicles each in Q3 and Q4, marking a significant increase from Tesla's 14,810 deliveries in Q1, and its expected 17,000 units in Q2. To hit its full-year guidance, therefore, management is banking on some significant production acceleration in the back half of 2016 -- starting with Q3.
"Importantly, now that supply chain constraints have been resolved, we plan to exit Q2 at a steady production rate of 2,000 vehicles per week," management said in the company's first-quarter shareholder letter, thus laying the foundation for a strong Q3 delivery number.
For now, all investors can do is check in on Q2 when the company reports deliveries for the quarter several days after it ends. To regain confidence in the company's big full-year outlook, look for Tesla to return to its usual guidance-beating delivery figures.
The article How Many Vehicles Will Tesla Motors Inc. Deliver This Quarter? originally appeared on Fool.com.
Daniel Sparks owns shares of Tesla Motors. The Motley Fool owns shares of and recommends Tesla Motors. Try any of our Foolish newsletter services free for 30 days. We Fools may not all hold the same opinions, but we all believe that considering a diverse range of insights makes us better investors. The Motley Fool has a disclosure policy.
Copyright 1995 - 2016 The Motley Fool, LLC. All rights reserved. The Motley Fool has a disclosure policy.