How Many Credit Cards Should You Have?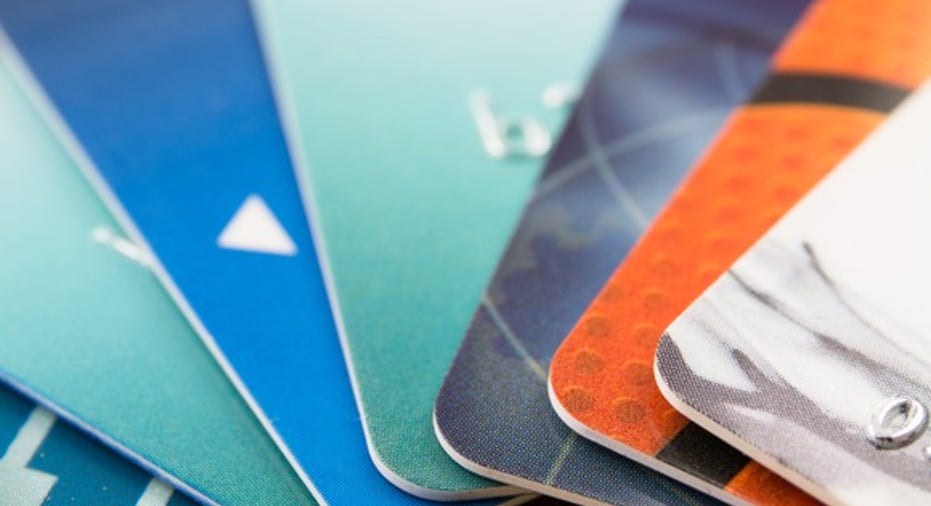 Every month, Americans collectively make billions of credit card transactions, and that number is climbing rapidly. Credit cards are more secure than cash, they offer rewards for using them, and they allow you forego payment for a few extra days (or months).
But how many credit cards should you have as a consumer? The average American has two or three different cards in their wallet. Should you, too?
Image source: Getty Images.
How many credit cards should I have?
The answer to that question will vary from person to person. Answering the following questions will help you get a better idea of how many credit cards you should have in your wallet.
How well can you manage multiple accounts? Multiple credit cards means multiple accounts. You'll want to ensure you can pay each balance off every month to avoid late fees and high interest charges. You'll also need to be organized enough that you can maximize the rewards categories (groceries, travel, etc.) for each card. If you're not willing to keep things organized, you may do best with just one or two credit cards.
How do you spend most of your money? If you spend a lot of money in one specific category, like travel, you may consider adding a credit card to use just for that type of spending. In fact, most category-specific rewards cards come with a signup bonus that will help offset your spending in that area.
What kind of benefits do you want from a credit card? If you're carrying a balance on a credit card already and looking for some relief, applying for a 0% interest credit card could help. If you're looking to maximize rewards and other benefits like primary rental car insurance or extended warranties on electronics, you may need a wide range of credit cards to fulfill every need.
How many credit cards are too many?
If you have so many cards at so many different banks that you can't keep track of all of your accounts, you probably have too many. Too many accounts could lead to missed payments, resulting in interest, late fees, and piling up credit card debt at a high interest rate.
But there's no limit to the number of credit cards you can have. Some banks may deny you another credit card for having too many recent inquiries on your credit report, or if the bank has already extended you what they deem "sufficient credit." Additionally, banks may shut down your credit card account if you don't use it, so make sure you can keep all of your accounts active by putting a nominal charge on them every once in awhile.
In fact, more credit cards could help boost your FICO score as long as you don't let the credit limit impact your spending. Each new credit card adds new available credit, so as long as your spending stays the same, your credit utilization rate should go down. Credit utilization is the amount of debt you carry divided by your available credit limit. It's a major factor in determining your FICO score.
What credit card should I get?
The credit card for you will depend, again, on answering the three questions above. Overall, credit cards can be divided into two main rewards categories: cash back and travel. Cash-back cards, as the name implies, reward cardholders with cash every time they use the card. Travel credit cards provide points, which can be redeemed for travel specific purchases.
Pay attention to the ongoing benefits of each card you're considering. Banks also provide special credit card offers, bonus points, or cash back for meeting certain spending thresholds in the first few months of using a new card. Those sign-up bonuses could help you decide between two or more similar cards.
Here are some of our picks for the best cash-back credit cards.
BankAmericard Cash Rewards credit card. This card earns 3% back at gas stations, 2% at grocery stores and wholesale clubs, and 1% everywhere else. But some Bank of America banking customers may qualify for a bonus of up to 75% on all cash back if they're part of the Preferred Rewards program. That makes this card ideal for consumers that spend a lot of money on gas and groceries (although the higher cash-back rate is limited to the first $2,500 per quarter in category spending). Learn more about the BankAmericard Cash Rewards credit card here.
Citi Double Cash Card. This credit card earns a flat 1% cash back on all purchases. Cardholders will earn another 1% cash back when they pay their bill. In effect, consumers will get 2% cash back everywhere. If you're just looking for simplicity, the Citi Double Cash Card is the only card you need. Read our full review here.
And here are some our picks for best travel credit cards.
Chase Sapphire Preferred. The Chase Sapphire Preferred earns two points per dollar spent on dining and travel and one point everywhere else. Points can be redeemed through the Chase portal for 1.25 cents each, or they can be transferred to Chase's various hotel and airline partners for redemption through their rewards programs. The flexibility of the card is great, but the sign-up bonus of 50,000 points may be even better. If you're looking for a flexibile travel credit card that earns very valuable points, the Chase Sapphire Preferred may be for you.
Barclaycard Arrival Plus World Elite Mastercard. This is the travel credit card equivalent of the Citi Double Cash Card. Every purchase will earn 2 travel miles redeemable for 1 cent each in statement credits for eligible travel purchases. That's 2% back on each purchase. So, why should consumers sign up for the Barclaycard Arrival Plus instead of the Citi Double Cash Card? First, each miles redemption comes with a 5% rebate, so you get 5% of your miles back for a future redemption. Second, it comes with a huge sign-up bonus of 50,000 miles worth $500 in travel. Read more about the Barclaycard Arrival Plus here.
So, go ahead and sign up for as many or as few credit cards as you want. Just make sure you can manage all the accounts you have -- whether it's one or 10 -- and don't use credit cards as a crutch to support unsustainable spending. There's really only one person that can answer "how many credit cards should you have?" That's you.
5 Simple Tips to Skyrocket Your Credit Score Over 800!Increasing your credit score above 800 will put you in rare company. So rare that only 1 in 9 Americans can claim they're members of this elite club. But contrary to popular belief, racking up a high credit score is a lot easier than you may have imagined following five simple, disciplined strategies. You'll find a full rundown of each inside our FREE credit score guide. It's time to put your financial future first and secure a lifetime of savings by increasing your credit score. Simply click hereto claim a copy 5 Simple Tips to Skyrocket Your Credit Score over 800.
Adam Levy has no position in any stocks mentioned. The Motley Fool recommends Barclays. The Motley Fool has a disclosure policy.