How Intel Corporation's Execution Issues Have Helped Qualcomm, Inc.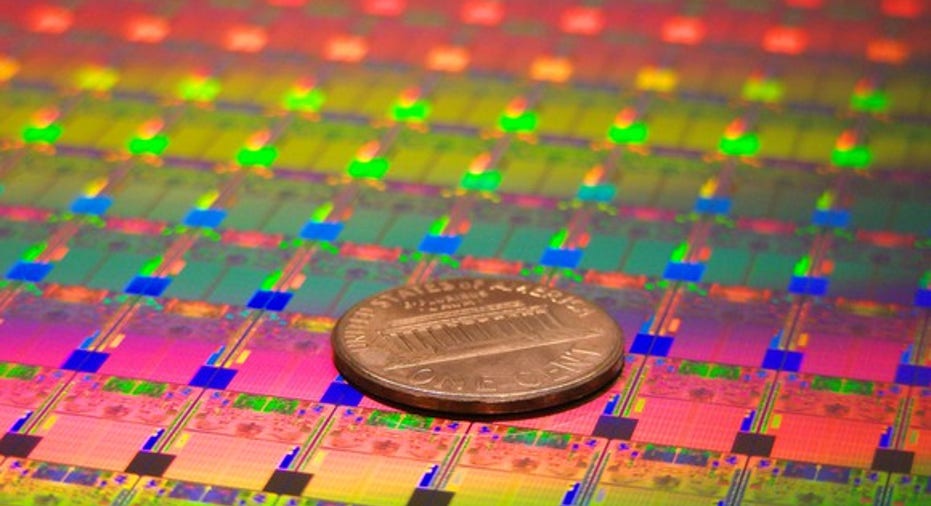 It's no secret that wireless chip giant Qualcomm (NASDAQ: QCOM) is making all sorts of noise about its efforts to become a major player in the market for data center processors. Not only has the company made public its plans to push into this market, but the chipmaker recently announced that it is working closely with software giant Microsoft (NASDAQ: MSFT) to "accelerate next generation cloud services on its 10 nanometer Qualcomm Centriq 2400 platform" and that "this collaboration will span multiple future generations of hardware, software and system."
You'll notice that Qualcomm loves to highlight the fact that its Centriq 2400 is manufactured on a 10-nanometer technology. This is intentional, as the market leader that Qualcomm is trying to compete with -- Intel (NASDAQ: INTC) -- won't be shipping server processors based on its own 10-nanometer technology anytime soon.
Image source: Intel.
Now, Intel will argue that its 14-nanometer technology is roughly equivalent in terms of apples-to-apples chip area to the 10-nanometer chip manufacturing technology that Qualcomm is using for its chips (though Intel admits that the foundry 10-nanometer technologies are ahead of its own 14-nanometer technologies in this respect).
That's a reasonable argument, but here's the uncomfortable implication that comes from that: Qualcomm's upcoming Centriq 2400 processors will still be built on a denser manufacturing technology than Intel's upcoming Skylake-based server processors will.
It's clear that Intel's execution problems with respect to both product development as well as manufacturing technology have helped Qualcomm. Let me explain why.
Intel's fighting with the wrong chips
Had Intel's manufacturing and product development roadmap not gotten off track, it would have launched the Skylake server parts in the fall of 2016 and would possibly be preparing its first 10-nanometer server processors for launch in the second half of 2017.
In that case -- if Intel's claims that its 10-nanometer technology is significantly denser than competing 10-nanometer technologies are accurate -- Intel would have been time-to-market with Qualcomm's Centriq 2400 server processor with its own 10-nanometer server processor family.
This would have meant that Intel would have a higher-performing, more power efficient family of products with which to fend off the potential threat that Qualcomm poses to its lucrative data center business.
No 10-nanometer for a while for Intel
It is unlikely that Intel will bring to market server processors based on its 10-nanometer technology in 2018, at least based on a leaked road map from Dell that's been circulating around the Web.
So, if we assume that the first 10-nanometer Intel server processors arrive in the first half of 2019, then it's very likely that Qualcomm will have moved past the 10-nanometer Centriq 2400 and will compete with such a part using foundry 7-nanometer technology.
Since the foundry 7-nanometer technologies are likely to be like Intel's 10-nanometer technology in terms of transistor density, it's unlikely that Intel will be able to claim a substantial manufacturing technology density lead when it comes to data center chips.
Conversely, Qualcomm will be able to market having the "world's first" 7-nanometer server chips.
The first step is admitting you've got a problem
It's bad enough that Intel's execution problems have allowed a relative newcomer to the data center chip market to start bringing to market chips using denser technologies than Intel's use. What makes it worse, though, is that Intel management simply refuses to publicly acknowledge that there might be a problem with its execution that needs to be addressed.
Indeed, the company still tells investors that it has a three year lead in terms of the density of the manufacturing technologies that it brings to market!
As long as Intel remains convinced that it has a "three year lead" in terms of chip area over its competitors, despite the serious execution problems, schedule slips, and trail of cancelled products left by virtually all of its business units, then it's unlikely that the company is going to take the actions necessary to correct whatever organizational flaws that led to this situation in the first place.
The first step is admitting you have a problem, and when it comes to manufacturing technology, Intel simply isn't ready to do that yet.
10 stocks we like better than IntelWhen investing geniuses David and Tom Gardner have a stock tip, it can pay to listen. After all, the newsletter they have run for over a decade, Motley Fool Stock Advisor, has tripled the market.*
David and Tom just revealed what they believe are the 10 best stocks for investors to buy right now... and Intel wasn't one of them! That's right -- they think these 10 stocks are even better buys.
Click here to learn about these picks!
*Stock Advisor returns as of February 6, 2017
Teresa Kersten is an employee of LinkedIn and is a member of The Motley Fool's board of directors. LinkedIn is owned by Microsoft. Ashraf Eassa owns shares of Intel and Qualcomm. The Motley Fool owns shares of and recommends Qualcomm. The Motley Fool recommends Intel. The Motley Fool has a disclosure policy.