How Inovio Pharmaceuticals Is Leading the Zika Vaccine Race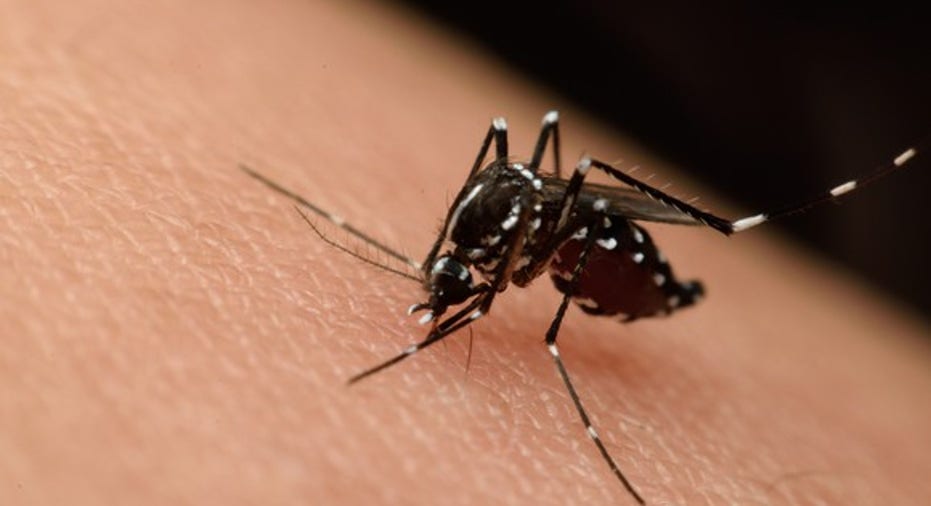 Image source: Getty Images.
Worried about the Zika virus? You're not alone. Puerto Rico is struggling to get contraceptives to women who are at risk of becoming infected by the mosquito-borne virus.Both the Centers for Disease Control and the World Health Organization are raising awareness of potential risks for people attending the Olympic Games in Rio de Janeiro, Brazil, this summer.
In the midst of all these concerns, there's some good news: On Monday, Inovio Pharmaceuticals announced a decision by the U.S. Food and Drug Administration (FDA) that marks an important step in potentially preventing Zika infection -- and positions Inovio as the leader in the race to develop a Zika vaccine.
Latest buzz
Inovio and its South Korean partner, GeneOne Life Science, received approval from the FDA to start a phase 1 study of Inovio's experimental Zika vaccine, GLS-5700, in humans. The study will be the first human testing for a potential Zika vaccine.
This clinical trial will involve 40 patients. Different doses of GLS-5700 will be administered to patients in an effort to evaluate safety, tolerability, and immunogenicity. Inovio's proprietary DNA delivery device, Cellectra, will be used to inject the vaccine into the patients intradermally.
Inovio's president, Dr. J. Joseph Kim, said the plans is to begin administering the vaccine to the first subjects within the next few weeks. Kim added that interim phase 1 results should be announced later in 2016.
Pre-clinical testing of GLS-5700 on mice and monkeys was promising. Inovio reported that animals receiving the vaccine showed robust antibody and T cell responses.FDA approval for advancing to a phase 1 study was no surprise, based on the previous success.
Potential competition
While Inovio (and GeneOne, which is manufacturing the GLS-5700 vaccine at its Texas DNA plasmid facility) appears to be the fastest out of the starting gate, others are also working on Zika vaccines. The National Institute of Health (NIH) could be the next to test a DNA-based vaccine. NIH researchers expect to initiate a clinical study in the fall of this year.
India-based Bharat Biotech began its efforts to develop a Zika vaccine in 2015. The privately held biotech has two candidates in pre-clinical testing. Bharat Biotech started down the path to develop a Zika vaccine based on its research in developing vaccines forchikungunya and dengue, both of which are viruses that are also transmitted to humans via mosquitoes.
At least a couple of big drugmakers are also in the race. In February, Sanofi announced plans to develop a Zika vaccine. Sanofi already sells vaccines for yellow fever, Japanese encephalitis, and dengue. The French pharmaceutical company hopes to leverage its technology used for the dengue vaccine in creating a Zika vaccine.Sanofi expects to begin human testing for its Zika vaccine in 2017.
GlaxoSmithKline stated in January that it planned to evaluate the potential for use of its existing vaccine technology in battling the Zika virus. However, the drugmaker doesn't seem to be as far along as Inovio or Sanofi. One concern of Glaxo's is that people could develop natural immunity to the Zika virus over time, limiting the market potential for a vaccine.
What the news means for investors
The market reacted positively to Inovio's news, with shares rising over 3%. The distinction of being the first to test on humans is a significant accomplishment for the small biotech. Inovio can rightfully claim to be the leader in the Zika vaccine race for now.
That lead might be precarious, however. Even though Inovio has a bit of a head start over its rivals, some of the other players aren't far behind. It's possible that another vaccine approach could prove more effective. And those concerns about people developing immunity, thereby making a Zika vaccine less lucrative, shouldn't be summarily dismissed.
On the other hand, Inovio CEO Joseph Kim made a good point in his company's announcement on Monday. Kim said that "as ofMay 2016, 58 countries and territories reported continuing mosquito-borne transmission of the Zika virus," adding that "the incidences of viral infection and medical conditions caused by the virus are expanding, not contracting." He's right, which underscores the importance of Inovio's human testing of GLS-5700.
For Inovio investors, there's an even bigger picture to consider. While the potential for a Zika vaccine is exciting, it's only one piece in the biotech's pipeline. Inovio's lead candidate, cervical dysplasia vaccine VGX-3100, is on track to begin phase 3 testing this year. The company also has several other drugs and vaccines in early-stage studies.Even if Inovio should somehow stumble in the race to develop a Zika vaccine, other opportunities beckon.
The article How Inovio Pharmaceuticals Is Leading the Zika Vaccine Race originally appeared on Fool.com.
Keith Speights has no position in any stocks mentioned. The Motley Fool has no position in any of the stocks mentioned. Try any of our Foolish newsletter services free for 30 days. We Fools may not all hold the same opinions, but we all believe that considering a diverse range of insights makes us better investors. The Motley Fool has a disclosure policy.
Copyright 1995 - 2016 The Motley Fool, LLC. All rights reserved. The Motley Fool has a disclosure policy.