How GoPro Inc Can Turn It All Around in 2017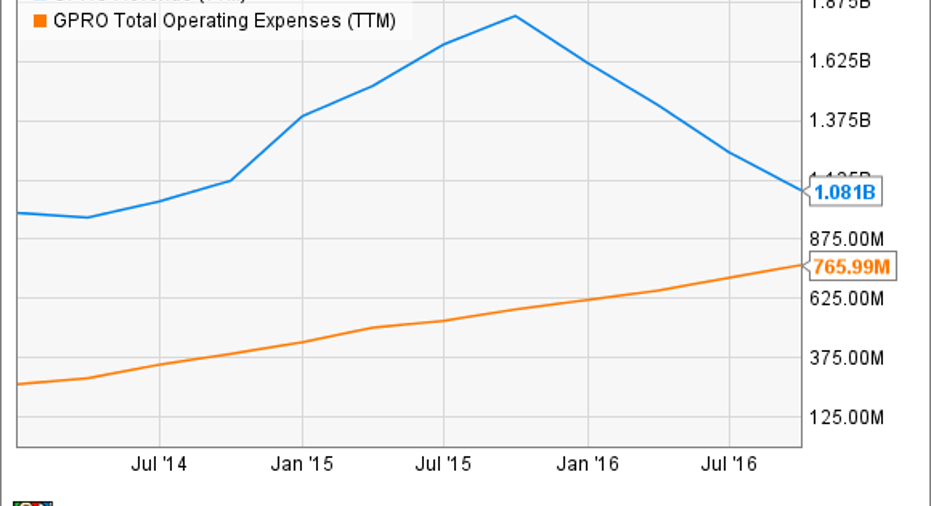 2016 was a year GoPro Inc (NASDAQ: GPRO) and its investors would like to forget. The company started the year on the heels of a 2015 holiday season that included mis-pricing the GoPro Session, failing to add compelling features to the camera line, and overbuilding inventory. Most of the first half of the year was spent overcoming those challenges.
When new products for the holiday season were launched the cameras were impressive, adding features like voice control and waterproof design without a case. But the Karma drone crashed shortly after launch -- literally -- and may never return.
Nevertheless, here's how the company could turn it around in 2017.
Cut costs to match revenue opportunity
If there's one chart that explains GoPro's problems over the past two years it's the one below. The company spent hundreds of millions of dollars expanding sales, building an entertainment business, and developing new products. And as expenses went up, sales actually went down.
GPRO Revenue (TTM) data by YCharts
The good news is that GoPro has a very solid camera business. After some hiccups in the 2015 holiday season driven by a high price on the Hero Session and excess inventory, the company has had a good 2016 in cameras. According to management, camera unit sales were up 35% at leading U.S. retailers the week of Black Friday, and GoPro.com's sales of cameras between Thanksgiving and Cyber Monday were up 33%.
GoPro plans to cut operating expenses to $650 million on a non-GAAP basis in 2017, which would be progress. But long-term, GoPro needs to lower costs to match the gross margin it can make from selling cameras. If it can lower costs to a level that will allow flat earnings for the year it will give the company time to develop the new products it needs to expand the product line.
Fix the drone or cut bait
The Karma drone was GoPro's biggest product launch in company history. And within days it was recalled, with no indication of when it will return.
GoPro found out the hard way that making drones is an extremely difficult business to be in and far more technical than building a waterproof camera. We don't know exactly what the discussions are about the Karma within GoPro, but the company has to make a decision on whether or not it wants to invest in the technical staff it needs to design a drone well or not.
Deciding not to enter the drone business would be a black eye, but it could also allow the company to cut operating costs and focus on better opportunities for growth.
Image source: GoPro.
A new 360 camera is a growth opportunity
Drones may be a bit of a stretch as a product extension for GoPro, but 360 degree videos aren't. And that may be where the company's biggest opportunities lie.
Last year, GoPro launched the Omni camera rig and bought software company Kolor, which combine to make 360 degree videos. The system isn't currently light years ahead of competitors, but with the right design and investment GoPro could become as ubiquitous in the 360 degree camera business as it is in action cameras.
What GoPro needs to launch in 2017 is an Omni camera that's smaller, simpler, and less costly than the current $4,999 price tag. GoPro has demonstrated that people are willing to spend a lot of money to capture unique images, but that's a price tag that will scare away even the most hard core users.
Launching a well designed Omni rig that customers can afford and operate easily would take GoPro into the next generation of image capture. And this is a market it can grow into now that drones seem to have crashed and burned.
10 stocks we like better than GoPro When investing geniuses David and Tom Gardner have a stock tip, it can pay to listen. After all, the newsletter they have run for over a decade, Motley Fool Stock Advisor, has tripled the market.*
David and Tom just revealed what they believe are the 10 best stocks for investors to buy right now... and GoPro wasn't one of them! That's right -- they think these 10 stocks are even better buys.
Click here to learn about these picks!
*Stock Advisor returns as of Nov. 7, 2016
Travis Hoium owns shares of GoPro. The Motley Fool owns shares of and recommends GoPro. The Motley Fool has the following options: short January 2019 $12 calls on GoPro and long January 2019 $12 puts on GoPro. The Motley Fool has a disclosure policy.