How GoPro Inc Can Improve Storytelling in 2017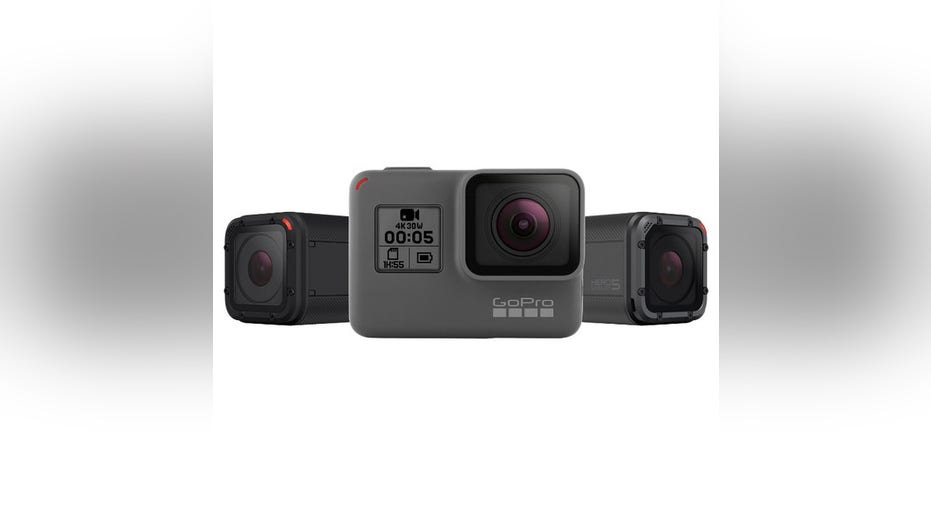 GoPro Inc (NASDAQ: GPRO) is trying to rebrand itself as a "mobile storytelling" company by building an ecosystem of image capture and mobile software solutions. It's a good strategy given the large market share the company has over competitors like Garmin (NASDAQ: GRMN) in the action camera marketplace and where its cameras fit in comparison to Apple (NASDAQ: AAPL) smartphones. But there are still flaws in the strategy heading into 2017.
For as much as GoPro's software has improved in 2016, the company has a lot of work to do to make a seamless storytelling solution for customers. Here's how it could take steps to improving storytelling this year.
Image source: GoPro.
GoPro's app solutions are too complicated
In the last year, GoPro has improved its editing solutions, namely by adding the Quik editing app to its product line. But GoPro users now have to use the Capture app to offload content, Quick and Splice for editing, and a separate GoPro VR app for uploading and viewing virtual reality video.
GoPro needs to make this app ecosystem simple and easy to use for everyone. At the very least, combining Capture, Splice, and Quick into a single app would be a good move and make it more attractive to edit content with GoPro's app.
If a single app were combined with free cloud storage, the idea of using GoPro for capturing content and using the company's apps for "storytelling" would be easier to sell to customers. And making using GoPro simple for storytelling will make it more attractive to customers.
Why is the cloud so expensive?
When GoPro launched GoPro Plus cloud storage solution, it was aimed at taking away a pain point customers had with their cameras. Instead of connecting a camera to a computer or phone to offload images, customers simply needed to plug their camera into an outlet and images would automatically be uploaded to the cloud. The problem was, GoPro Plus costs $4.99 per month and is limited to 35 hours of 1080p videos or 62,500 photos, or a combination of the two at any time. In addition, videos would be converted down to 1080p and pictures to 12 MP if they were taken at higher resolution.
The amount of storage isn't unreasonable for the price. 62,500 12 MP photos would take about 256 GB of storage, and a $4.99 per month price tag is reasonable if you use the service a lot. What's missing is the limited amount of free storage that's become common from competitors. Apple's smartphones come with 5 GB of storage for free, 50 GB for $0.99 per month, with options up to 2 TB of storage for $19.99 per month. Dropbox gives customers 3 GB for free, with 1 TB costing $99.00 per year. Google (NASDAQ: GOOGL) gives customers, whether they use Android or not, 15 GB of storage for free, and offers plans up to 30 TB for $299.99 per month.
GoPro wants customers to use its cloud storage solution and push them toward its editing apps, but creating a pay walldisincentivizespeople from using GoPro Plus. And with free options readily available, there's no reason the cloud will be a big revenue generator for the company. GoPro should create a tiered pricing strategy for GoPro Plus, with a free option for users as a perk for buying a camera. That would help grow usage of the product and keep people in the GoPro ecosystem for storage solutions. And it would create a better storytelling experience, which is the goal for GoPro in 2017.
10 stocks we like better than GoPro When investing geniuses David and Tom Gardner have a stock tip, it can pay to listen. After all, the newsletter they have run for over a decade, Motley Fool Stock Advisor, has tripled the market.*
David and Tom just revealed what they believe are the 10 best stocks for investors to buy right now... and GoPro wasn't one of them! That's right -- they think these 10 stocks are even better buys.
Click here to learn about these picks!
*Stock Advisor returns as of January 4, 2017
Suzanne Frey, an executive at Alphabet, is a member of The Motley Fool's board of directors. Travis Hoium owns shares of Apple and GoPro. The Motley Fool owns shares of and recommends Alphabet (A shares), Apple, and GoPro. The Motley Fool has the following options: long January 2018 $90 calls on Apple, short January 2018 $95 calls on Apple, short January 2019 $12 calls on GoPro, and long January 2019 $12 puts on GoPro. The Motley Fool has a disclosure policy.