How Good Was Apple Inc.'s Q1 Earnings Report?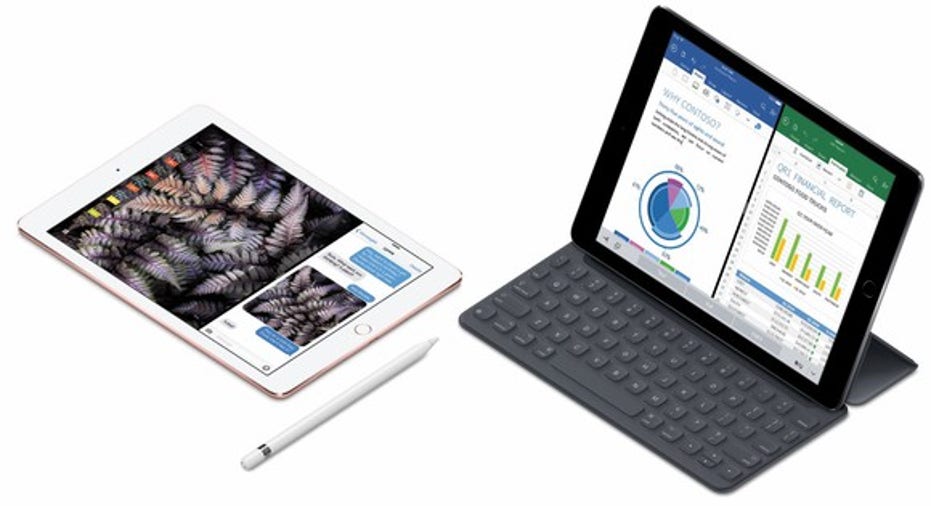 Apple (NASDAQ: AAPL) stock has soared about 8% since the company reported better-than-expected Q1 earnings results last week. Revenue hit a new record of $78.4 billion, $1 billion ahead of the average analyst estimate. Earnings per share also reached a record at $3.36, up from $3.28 a year earlier. This was $0.15 ahead of analysts' estimates.
Thanks to this strong performance, numerous Wall Street analysts raised their price targets for Apple stock. Still, not everybody is convinced. Some pundits have argued that Apple's results were far worse than Mr. Market seems to think. Let's take a look at whether there's any substance to that argument.
Good results aside from the iPad
From a high-level perspective, Apple's Q1 earnings report looks rock solid. Sure, iPad sales declined yet again -- with unit sales down 19% year over year and revenue down 22% -- but the iPad is far less important for Apple's business than it was a few years ago. Apple only got 7% of its revenue from iPad sales last quarter.
The iPad is becoming less and less important to Apple's results. Image source: Apple.
The iPhone business is what really matters for Apple these days. Apple sold a record 78.3 million iPhones last quarter, generating $54.4 billion of revenue -- nearly 70% of the companywide total. Mac sales also returned to growth and the services segment continued to surge higher, with revenue up 18% year over year.
Did Apple pull a fast one on investors?
Writing for MarketWatch last week, Thomas Kee, Jr. argued that investors have completely misunderstood Apple's earnings report. He points out that Apple's fiscal first quarter had an extra week this year.
Measured on a per-week basis, Apple's revenue, iPhone sales, and EPS were all down on a year-over-year basis. In other words, without the extra week, Apple would likely have posted declines rather than increases for all three key metrics. As a result, Kee thinks that Apple stock is significantly overvalued.
It's true that the extra week helped Apple last quarter. However, in highlighting one anomaly in Apple's first quarter results, Kee ignored two others that hurt Apple during the quarter.
Channel inventory changes weighed Apple down
First, Apple is being much more careful with channel inventory this year than it was in fiscal 2016. Since Apple reports revenue when it ships devices to retailers -- not when they are sold to end users -- changes in channel inventory can distort Apple's revenue and earnings relative to underlying demand.
Apple didn't increase iPhone channel inventory by very much in Q1. Image source: Apple.
For the iPhone, Apple grew channel inventory by 1.2 million units last quarter. This means that 77.1 million of the 78.3 million iPhones Apple shipped during Q1 made it into the hands of customers.
By contrast, a year earlier, Apple increased iPhone channel inventory by 3.3 million units. Sell-through to end users totaled 71.5 million in that quarter. After adjusting for these channel inventory changes, last quarter's weekly iPhone sales rate was almost exactly in line with the prior-year result.
This adjustment is even starker for the iPad. Apple reduced its iPad channel inventory by about 700,000 units last quarter, compared to a 900,000-unit increase a year earlier. This explains about half of the year-over-year decline in iPad sales. The negative impact of the channel inventory changes more than offset the benefit of having an extra week.
A patent settlement skewed Apple's Q1 2016 results
A second factor that hurt Apple last quarter is that it had received a one-time $548 million gain related to a patent infringement case in Q1 2016. This was pure profit, so it boosted Apple's gross margin by more than 0.7 percentage points in that quarter and added about $0.10 per share in pre-tax income.
Stripping out this one-time gain and the changes in channel inventory, Apple's revenue and EPS growth would have been much higher last quarter than what the company actually reported.
Additionally, the $548 million patent gain in Q1 2016 created a tough comparison for Apple's fast-growing services segment last quarter. Apple reported 18% revenue growth in services last quarter anyway, but on an apples-to-apples basis it would have posted a 30% revenue increase.
Apple's quarter was as strong as it seemed to be
It's impossible to know precisely how much channel inventory changes impacted Apple's revenue and profit last quarter. But a reasonable guess is that they cost Apple $2 billion-$2.5 billion of revenue and close to $1 billion of pre-tax profit, relative to Q1 2016. The non-recurrence of the patent gain was an additional $548 million headwind to revenue and pre-tax profit.
After making these adjustments, Apple's revenue may have been down slightly year-over-year on a per-week basis, but EPS still increased. Even this sort of slow growth is fairly good for Apple right now, as the strong dollar is causing persistent revenue and profit headwinds.
Furthermore, Apple is widely believed to be working on a massive upgrade of the iPhone for 2017. There's a good chance that these rumors are already impacting the upgrade rate as some customers hold out for the new model. That bodes well for a return to robust (and indisputable) revenue and earnings growth in 2018.
10 stocks we like better than AppleWhen investing geniuses David and Tom Gardner have a stock tip, it can pay to listen. After all, the newsletter they have run for over a decade, Motley Fool Stock Advisor, has tripled the market.*
David and Tom just revealed what they believe are the 10 best stocks for investors to buy right now... and Apple wasn't one of them! That's right -- they think these 10 stocks are even better buys.
Click here to learn about these picks!
*Stock Advisor returns as of February 6, 2017
Adam Levine-Weinberg owns shares of Apple and is long January 2018 $90 calls on Apple. The Motley Fool owns shares of and recommends Apple. The Motley Fool and is long January 2018 $90 calls on Apple and short January 2018 $95 calls on Apple. The Motley Fool has a disclosure policy.