How Gilead's New Hepatitis C Virus Combination Stacks Up to the Competition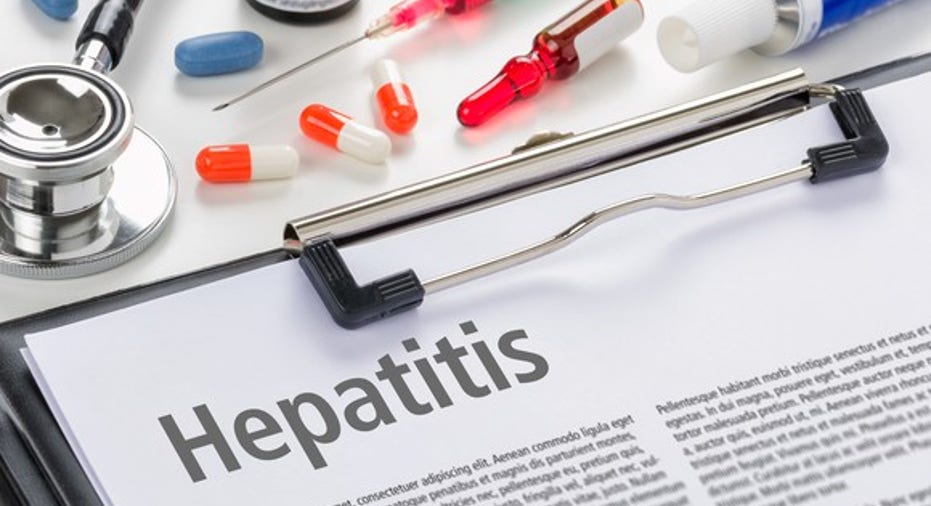 Image source: Getty Images.
Antiviral champ Gilead Sciences recently earned FDA approval for another hepatitis C virus (HCV) combination treatment, Epclusa.
Epclusa is poised to boost Gilead's numbers by filling an important niche that has been somewhat overlooked, and Bristol-Myers Squibb is about to lose hundreds of millions annually in the process.
Gilead could really use the win in the hepatitis C space, too, since competing drugs fromAbbVieandMerck & Co.have entered the HCV space have stolen some market share from Gilead's previouscombination sensation, Harvoni.
Let's take a closer look at Epclusa's and Harvoni's advantages over existing treatment options, and what it could mean for Gilead's sales in the years ahead.
Ribavirin... yuck!
Ribavirin is poorly tolerated antiviral, with long list of unpleasant and dangerous side effects, including abnormal breakdown of red blood cells that can lead to a heart attack.Gilead's Harvoni for treatment of HCV genotype 1, the most common type, only requires a combination of ribavirin in patients with advanced cirrhosis.
AbbVie's Viekira Pak is only approved for HCV type 1 and requires testing to see if patients have a strain of 1a or 1b. If they're among about 55% of U.S. HCV type 1 patients with strain 1a, Viekira Pak treatment requires combination with ribavirin.
Merck's Zepatier is approved for types 1 and 4 but also requires combination with ribavirin in patients with a strain of the virus resistant to certain antivirals, which also involves a test.
Despite Harvoni's advantages, entrance of these rivals from Merck and AbbVie have pressured its sales, which slid from $3.57 billion in Q1 2015 to $3.02 billion in Q1 2016.
Epclusa is the first drug approved for treatment of all six major forms of HCV, and with the exception of patients with moderate to severe cirrhosis, it doesn't require nasty ribavirin. It also doesn't require genetic testing of the patient's virus. Epclusa's list price of $74,650 is more expensive than Merck's Zepatier, but it's below AbbVie's Viekira Pak, as well as Gilead's own Harvoni and Sovaldi.
After undisclosed rebates and discounts, the true price of these treatments is extremely murky, but Epclusa's advantages over its competition are clear.
About type 3
There are an estimated 492,000 people infected with HCV type 3 in the U.S. and Canada. In Western Europe, there's another 1.3 million, and probably 54 million worldwide.Although first-quarter Harvoni sales slid, solo-pill Sovaldi jumped 31% to $1.28 billion over Q1 2015. This is largely because, unlike its rivals from Merck and AbbVie, Sovaldi earned approval for treatment of HCV type 3 in combination with ribavirin for 24 weeks, back in 2013.
Last summer, type 3 patients received some great news whenDaklinza from Bristol-Myers earned FDA approval for treatment of the HCV type 3 in combination with Sovaldi, without the need for ribavirin.Despite the expense of combining the two, Bristol recorded Daklinza sales of $420 million in first quarter.
Given Daklinza's list price of $63,000 for a 12-week regimen, and another $84,000 for Sovaldi, Epclusa's list price of "only"$74,760 may have just brought Bristol's Daklinza party to an end.
And type 2
There are an estimated567,000 people in the U.S. and Canada, 583,000 in Western Europe, and 16.5 million worldwide infected with HCV type 2 virus. Gilead's Epclusa will most likely have this population all to itself for quite some time, if approved outside the U.S. as expected.
Gilead's stock popped 5% on the day of the widely expected Epclusa FDA approval announcement, but it ended the day trading at less than 7 times this year's expected earnings per share. It's hard to understand why Wall Street doesn't think providing HCV type 2 and 3 populations their first ribavirin-free treatment option will lead to growth in the years ahead, but that's what the stock price says.
Beyond hepatitis
Aside from HCV, the company recently earned approvals in the U.S. and EU for Odefsey, the smallest single-tablet HIV-1 regimen. This is its second, based on tenofovir alafenamide, and the first, Genvoya, which earned FDA approval last November, reached U.S. sales of $141 million in the first quarter this year.
Looking further ahead, Gilead's recent purchase of Nimbus Therapeutics and its promisingnon-alcoholic steatohepatitis candidates could drive growth in the years to come. The good news is, the stock is so cheap now that even if sales remain flat, you'll still come out ahead through massive share repurchases and a growing dividend that's currently yielding 2.4% at recent prices.
The article How Gilead's New Hepatitis C Virus Combination Stacks Up to the Competition originally appeared on Fool.com.
Cory Renauer has no position in any stocks mentioned. You can follow Cory on Twitter @TMFang4apples or connect with him on LinkedIn for more healthcare industry insight. The Motley Fool owns shares of and recommends Gilead Sciences. Try any of our Foolish newsletter services free for 30 days. We Fools may not all hold the same opinions, but we all believe that considering a diverse range of insights makes us better investors. The Motley Fool has a disclosure policy.
Copyright 1995 - 2016 The Motley Fool, LLC. All rights reserved. The Motley Fool has a disclosure policy.