How General Motors' New Deal With Lyft Foreshadows the Self-Driving Future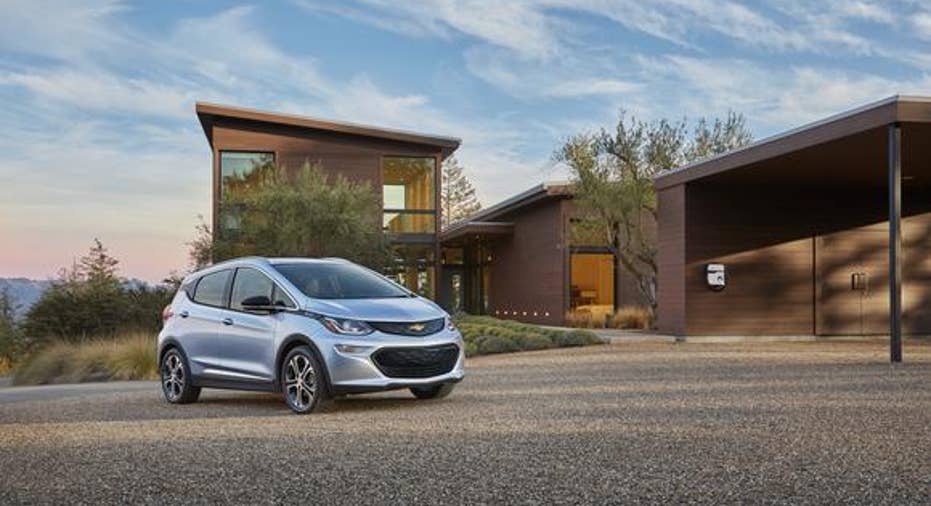 GM president Dan Ammann (center) with Lyft co-founders Logan Green (left) and John Zimmer (right). GM and Lyft this week announced a new program that will allow Lyft drivers to rent GM vehicles at affordable rates. Image source: General Motors.
General Motors and Lyft announced this week that they are launching a program called Express Drive, which will allow Lyft drivers to rent GM vehicles at affordable rates with insurance and maintenance included.
For now, it's a pilot program in Chicago. But GM and Lyft say that it will be rolled out in other U.S. cities over the next several months.
This is clearly a great thing for Lyft. And while it might not seem like it, it's a big deal for GM, too -- one that investors should watch carefully.
It's clear why this is good for Lyft... On one level, it's a way for GM (which recently made a $500 million investment in Lyft) to help Lyft recruit more drivers. "We're making sure everyone who wants to be a Lyft driver can be, by providing ultimate flexibility at incredible rates," Lyft President John Zimmer said in a statement.
Until now, Lyft has required potential drivers to have a car that meets the company's requirements. It has had to turn away tens of thousands of applicants who might have otherwise qualified, but who didn't own an appropriate vehicle.
Under the Express Drive program, Lyft drivers will be able to rent a Chevrolet Equinox crossover SUV for $99 a week plus $0.20 a mile. The mileage charged will be waived for drivers who provide 40 or more rides a week; drivers who give 65 or more rides in a week won't have to pay the weekly $99 fee. (It appears that Lyft will pay the fees to GM in those cases.)
Lyft archrival Uber has a similar program, but it's more expensive. Uber drivers in 10 cities can pay $210 a week to rent a Toyota Corolla, though there's no mileage charge.
It's clear what Lyft gets out of this: Express Drive should help Lyft expand its pool of motivated drivers, and maybe even steal some from Uber.
But what does GM get out of this?
... but what's in it for General Motors? First and foremost, it gets those rental fees, and some business to support its new Maven car-sharing program. Maven, announced earlier this year, is a new GM-owned rival to services like Zipcar. The Lyft Express Drive program will be implemented using Maven's infrastructure, GM said. One could read that as saying that Express Drive will help GM support the buildout of Maven's infrastructure.
But there's more to it for both GM and Lyft. Lyft's Zimmer told reporters in a conference call that Express Drive is the first step toward a future of ride-sharing programs that use driverless cars. It's not the first time that Lyft has telegraphed its big partner's intentions. Look at what Lyft said in its January blog post that first announced GM's investment in the company:
"We will work with GM to build a network of on demand autonomous vehicles that will make getting around more affordable, accessible and enjoyable. GM will also establish a series of national rental hubs where Lyft drivers can access short-term vehicles, unlocking new ways for people to earn money without having to own a car."
Five or seven years from now, will GM's electric Chevy Bolt be seen as the Checker Cab of the 21st century? It could well turn out to be the basis of Lyft's automated future. Image source: General Motors.
GM's upcoming new electric Chevrolet Bolt seems to have been designed with these programs in mind. Likely keeping in mind that the market for battery-electric cars not built by Tesla still seems small and uncertain, GM gave the Bolt some attributes (a roomy back seat, the ability to easily maneuver close to a curb, a camera-enhanced rearview mirror) that seem tailor-made for use by Lyft drivers.
GM officials have also said repeatedly that the Bolt has been developed as a "platform" for upcoming new technologies, presumably including GM's self-driving systems.
Long story short: The groundwork for GM's move into "mobility"Given all of the above, it seems likely that in a few years, the Chevy Equinoxes at the Lyft Express Drive hubs will be augmented (or eventually even replaced) by self-driving Bolts that can be "hailed" by Lyft's customers -- with no driver necessary.
A lot of automakers are doing a lot of talking about "mobility" and the future. For some, there isn't much to see beyond the talk right now. Companies like Ford have struggled to convince investors that they will be able to stay competitive in the high-tech near future.But it's becoming clear that GM is doing a lot more than just talking. It's already starting to deliver on its talk.
This program with Lyft might seem at first glance like no big deal. But for investors wondering whether GM will be able to stay relevant as the auto industry evolves, it's a big point in the General's favor.
The article How General Motors' New Deal With Lyft Foreshadows the Self-Driving Future originally appeared on Fool.com.
John Rosevear owns shares of Ford and General Motors. The Motley Fool owns shares of and recommends Ford and Tesla Motors. The Motley Fool recommends General Motors. Try any of our Foolish newsletter services free for 30 days. We Fools may not all hold the same opinions, but we all believe that considering a diverse range of insights makes us better investors. The Motley Fool has a disclosure policy.
Copyright 1995 - 2016 The Motley Fool, LLC. All rights reserved. The Motley Fool has a disclosure policy.