How Ford Turned a Loss Into a Big Profit in Europe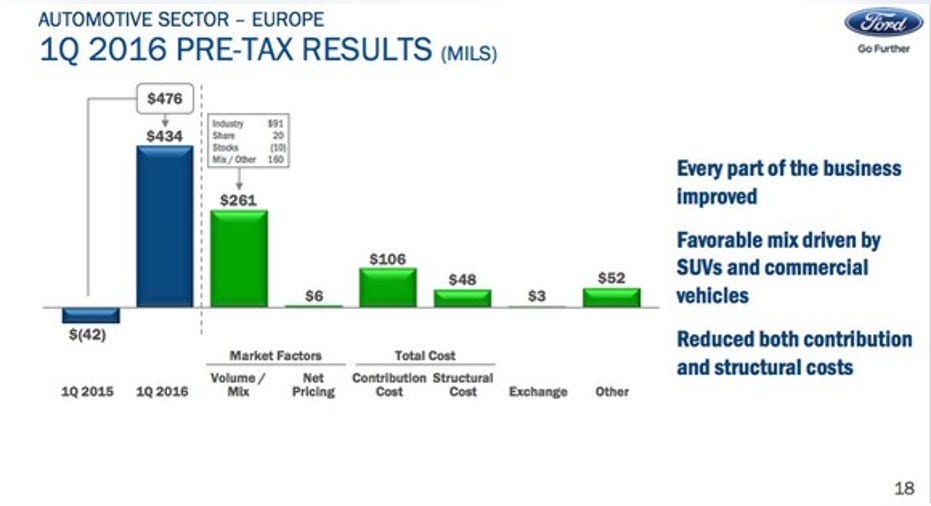 Ford's Kuga is the European version of the Escape, made in Valencia, Spain. Like the Escape, the Kuga is a strong seller and a biggenerator of profits. Image source: Ford MotorCompany.
Ford trounced Wall Street's expectations with a fat $2.5 billion net profit in the first quarter, more than double its year-ago result. Not surprisingly, strong truck and SUV sales in North America played a big part in the increase.
But somewhat more surprisingly, so did Europe. Ford lost billions in Europe between 2011 and 2014 before rebounding to a modest $259 million profit last year. But it has already beaten that 2015 result in 2016: Ford's European unit made $434 million in the first quarter, a huge improvement over the $42 million loss it posted in the first quarter of 2015.
How'd that happen?
Ford is gaining market share in a growing European market The simple answer is that Ford put itself in position to boost its market share in Europe, and it's taking advantage as the overall industry is growing. That sales growth, combined with improvements in costs, was the difference between a loss and a solid profit.
This slide from Ford's earnings presentation gives the overall picture. Compared to a year ago, the jumps in wholesales and market share don't look all that big -- but they were enough.
Image source: Ford Motor Company.
"Revenue as reported was flat, but it was actually up 6% at constant exchange," Ford CFO Bob Shanks said during the company's earnings presentation. "We had higher [market] share in an industry that was growing."
Shanks noted that Ford's market-share gains were particularly strong in Italy, Germany, and Russia and were driven primarily by increased sales of SUVs and commercial vehicles. (Just as in the U.S., commercial-vehicle sales are a key part of Ford's business in Europe, where its Transit van lineup is very popular.)
Here's a closer look at how those factors translated into a $476 million increase in pre-tax earnings from a year ago.
Image source: Ford Motor Company.
"The improvement of nearly half a billion dollars came from everything," Shanks said. Talking about the "mix" of more-profitable versus less-profitable products, he noted, "Mix was favorable to the tune -- within that $106 million that's shown on the slide -- to the tune of about $300 million that was both product mix from [new products added in the last couple of years] as well as series mix and options."
In other words, Ford didn't just sell more vehicles, it sold more of its most profitable vehicles -- SUVs loaded with options, for instance.
Shanks also noted that Ford's team in Europe was able to bring down costs year over year. "And even though it's not shown on the slide, even though the Russian market continues to be very challenging, [Ford's business in] Russia improved on a year-over-year basis as well."
Alan Mulally's European turnaround plan has worked out well for FordWhat we're now seeing from Ford in Europe is the fruit of a turnaround plan it first announced back in 2012. That plan called for some factory closings, a bunch of new products, and a series of moves intended to strengthen the Ford brand's retail presence and profitability.
That plan has worked about as well as then-CEO Alan Mulally could have hoped. Ford's costs in Europe are now under good control, and Ford recently announced some moves to reduce costs still further. The new products turned out to include more of Ford's popular crossover SUVs, which are doing well as European customers (like their American counterparts) increasingly trade in sedans for fuel-efficient SUVs. And those moves to strengthen the brand included adding more premium trim lines to Ford's European models, which have helped boost per-sale profits.
It's always nice when a company's turnaround plan results in an actual turnaround. While CEO Mark Fields and Ford Europe chief Jim Farley would love to boost Ford Europe's profit margin still higher than the 6.3% it managed in the first quarter, it's hard to argue with the dramatic year-over-year change we've seen so far.
The article How Ford Turned a Loss Into a Big Profit in Europe originally appeared on Fool.com.
John Rosevear owns shares of Ford. The Motley Fool owns shares of and recommends Ford. Try any of our Foolish newsletter services free for 30 days. We Fools may not all hold the same opinions, but we all believe that considering a diverse range of insights makes us better investors. The Motley Fool has a disclosure policy.
Copyright 1995 - 2016 The Motley Fool, LLC. All rights reserved. The Motley Fool has a disclosure policy.