How Donald Trump Could Move the Market This Month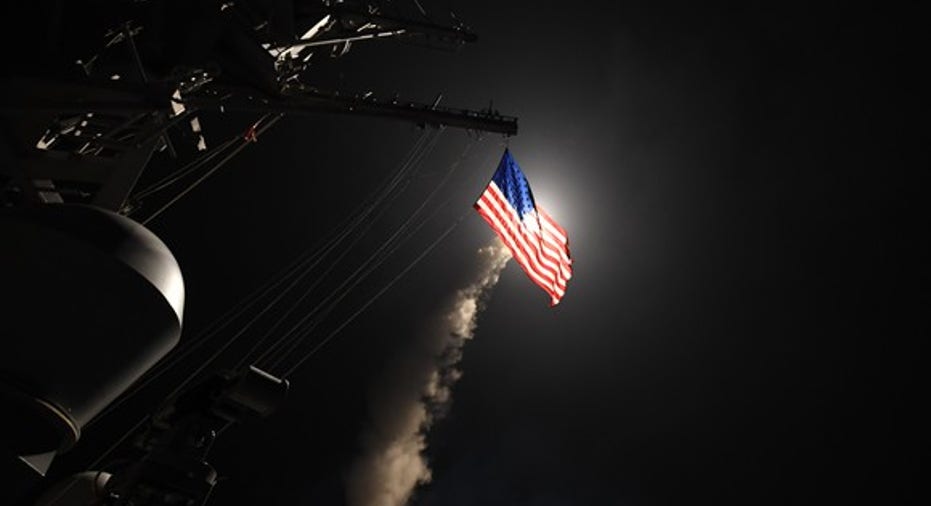 As arguably the most powerful person in the world today, decidedly unconventional President Donald Trump holds the unique ability to be able sway the stock market. Whether through his proposed policy changes, international relations, or even a wayward Tweet, Trump's every move has left investors spellbound so far in his young presidency.
Of course, it's easy to see how Trump has moved the market in hindsight. But it's more difficult to determine how things might change going forward. So we asked three top Motley Fool contributors to weigh in on how Donald Trump could influence the market in the coming month. Read on to learn what they said.
The guided-missile destroyer USS Porter fires a Tomahawk missile in strike operations on April 7, 2017. Image source: U.S. Navy.
The call for more big sticks
Steve Symington: When Donald Trump proposed a $54 billion increase last month in the defense spending budget for 2018, it was clear that his administration could be a boon to to defense stocks.
In fact, we already received an early demonstration of this effect in early April, when Trump unleashed a barrage of 59 Tomahawk missiles on a Syrian government airbase in response to a chemical weapons attack in the region. Perhaps predictably, shares of Tomahawk missile makerRaytheon(NYSE: RTN) climbed as much as 3% the following day as a result.
To be fair, this was a very limited show of force considering the U.S. Department of Defense already requested roughly $2 billion to acquire 4,000 Tomahawk missiles for the Navy last year. But with escalating tensions between the U.S. and Russia in recent weeks (as Brian discusses below), as well as his promise that North Korea's threat of nuclear warfare "will be taken care of," it's evident Trump is not afraid to confront adversaries or put the United States' own massive military arsenal to work.
At this stage, it's still unclear exactly how Trump's defense budgets will be allocated in the coming years. But if the president opts for another public demonstration of military might, don't be surprised if we see more volatility in shares of the companies behind the technologies used.
Russia: Friend or foe?
Brian Stoffel: Trying to predict how the market will react to the actions of a very unorthodox president isn't an exact science. That being said, all we have to do is scan the headlines to see that something as simple as a tweet from the Oval Office has the power to move shares on Wall Street.
Given President Trump's recent decision to bomb Syria and break the Middle Eastern country's unofficial alliance with Russia,I believe there's as good a chance as any that Trump's actions could affect the stocks of U.S.-listed Russian companies.
Chief among those is Yandex (NASDAQ: YNDX). The most popular search engine by market share in Russia may not be immediately affected by any decision Trump makes. After all, almost all of its advertising partners are located within Russia's borders.
However, Russia is a global power, and the ability to trade with other global powers is important for its economy. If the market believes that Russia's economy could suffer from poor relations with the United States or other members of the Western world, then investors could get spooked. Indeed, shares of the company dropped over 5% the day following the bombing, and I wouldn't be surprised to see Yandex -- and other Russian stocks -- endure a similar fate should relations deteriorate.
Will Yellen get another term?
Dan Caplinger: One interesting way in which President Trump could move markets this month and beyond is with his evolving thought process with respect to key economic policy positions. For instance, earlier this month, the president appeared to reverse his position with respect to Federal Reserve Chair Janet Yellen, suggesting that he might actually end up reappointing Yellen when her term as chair expires in 2018. Some market commentators noted that because Trump anticipates making a number of fiscal policy changes to try to encourage greater growth, a less accommodative choice to lead the central bank might end up making rapid rate increases in response, diluting the positive economic impact of administration policy. By contrast, Yellen has demonstrated a willingness to be patient with rate increases, and the president appears to see the Fed chair as a way to support accommodative growth policies while saving political capital for the future.
Trump has reversed himself before, so there's no guarantee that Yellen's job will be secure after next year. It's entirely possible that another choice for Fed chair would be equally reluctant to raise interest rates while meeting some of the president's other standards. However, even the possibility that Yellen wasn't sure to be gone come 2018 was a surprise for many investors who would prefer to see consistency and clarity going forward.
10 stocks we like better than RaytheonWhen investing geniuses David and Tom Gardner have a stock tip, it can pay to listen. After all, the newsletter they have run for over a decade, Motley Fool Stock Advisor, has tripled the market.*
David and Tom just revealed what they believe are the 10 best stocks for investors to buy right now... and Raytheon wasn't one of them! That's right -- they think these 10 stocks are even better buys.
Click here to learn about these picks!
*Stock Advisor returns as of April 3, 2017
Brian Stoffel owns shares of Yandex. Dan Caplinger has no position in any stocks mentioned. Steve Symington has no position in any stocks mentioned. The Motley Fool recommends Yandex. The Motley Fool has a disclosure policy.