How Dassault Systemes Got Back on Track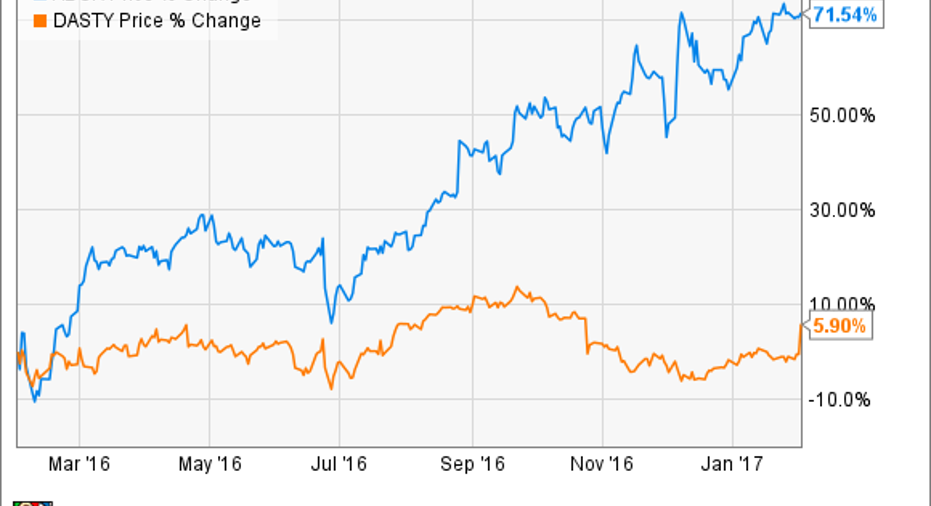 3D design and product lifecycle management software company Dassault Systemes' (NASDAQOTH: DASTY) fourth-quarter earnings saw the company return to form and give guidance that implies stronger growth ahead. Indeed, management believes it's past an inflection point in sales of its all-important 3DEXPERIENCE platform, and new license sales look set to improve their growth rate in 2017. Let's take a look at the details in the quarter in the context of an unusual year for the company.
Dassault Systemes' fourth-quarter earnings: The raw numbers
The company is based in France and reports in euros using International Financial Reporting Standards (IFRS). You can think of non-IFRS in the same way that U.S. companies use non-GAAP numbers to better report underlying conditions.
Let's start with the headline numbers:
Full-year non-IFRS revenue grew 7% in constant currency to 3,056 million euros, as compared to the previous guidance range of 3,015 million to 3,030 million euros
Full-year non-IFRS EPS grew 11% to 2.49 euros, while the previous guidance range was between 2.40 and 2.45 euros
In short, Dassault beat its own expectations. Also, its all-important new license revenue growth landed at 10% in the fourth quarter, smack in the middle of guidance for a 8% to 12% increase. (I will return to this key point later.)
Turning to guidance for the first quarter and full year of 2017:
First-quarter revenue guidance for 740 million to 750 million euros, implying growth of 6%-7% in constant currencies
First-quarter non-IFRS EPS of 0.48 to 0.50 euros
Full-year non-IFRS revenue of 3,275 million to 3,300 million euros, implying growth of 6%-7% in constant currencies
Full-year non-IFRS EPS of 2.65 to 2.70 euros, implying growth of 6%-8%, or 9%-11% if adjusted for a 0.05 euros tax benefit in 2016
As you can see above, management is indicating that revenue growth will pretty much be in line with 2016's growth rate, but don't think it's been a steady growth period for Dassault Systemes. In fact, the company had a difficult year with new license sales. It's surprising because rival engineering design company Autodesk, Inc.reported "robust demand" in its third-quarter earnings released in October.
Image source: Dassault Systemes.
Dassault Systemes' key metric
As readers already know, management started 2016 forecasting double-digit growth in new license sales in constant currencies, but after a 3% decline in the first quarter and just 6% growth in the second, pared the forecast down to double-digit growth in the second half. More disappointment followed in the third quarter with just 6% growth again. However, fourth-quarter new license sales finallycame in at 10% -- a good result but not enough to take full-year new sales above 5%.
Furthermore, it's worth noting that management had expected a shift in seasonality in 2016, leading to an unusually strong fourth quarter. In other words, the 10% growth reported in the fourth quarter is possibly not as strong as management had hoped it would be at the timeof its original guidance at the start of 2016.
However, CFO Thibault de Tersant believes new license sales will improve by double digits in 2017. "For 2017, we see a year of solid new business activity, translating into similar new license revenue growth to that of the 2016 fourth quarter."Much will depend on Dassault hitting this target in 2017.
What happened with new license sales in 2016
As you can see below, new license sales only contributed around 25% of revenue in 2016.
Data source: Dassault Systemes presentations. Data in millions of euros. Chart by author.
However, they are the key to future growth in the other revenue streams at Dassault. As you can see below, new license sales lead to growth at the other two revenue streams.
Data source: Dassault Systemes presentations. Year-over-year growth. Chart by author.
It was somewhat of a transitional year for the company, as management is in the process of trying to accelerate sales of its 3DEXPERIENCE platform. This is simply a platform in which users of Dassault's engineering design software can collaborate with other company functions (such as marketing, sales, research and development, support, etc.) in order to create and support products.
But here's the thing: It takes time for corporations to learn how to best utilize 3DEXPERIENCE, and management has suggested that this caused some delays in new license sales in 2016. In addition, last quarter Tersant argued that Dassault was shifting sales toward a newer version of 3DEXPERIENCE, and that this was also causing some delays in new license sales overall.
Looking ahead
A glass-half-full approach sees Dassault now on track to continue its double-digit new license sales growth, and that's the view management is taking. Meanwhile, a glass half-empty approach sees the failure to hit the original guidance for full-year new license sales growth (5% compared to an initial target of double-digit growth) as a sign that management's expectations are too optimistic. Time will tell.
10 stocks we like better than Dassault Systemes S.A. (ADR) When investing geniuses David and Tom Gardner have a stock tip, it can pay to listen. After all, the newsletter they have run for over a decade, Motley Fool Stock Advisor, has tripled the market.*
David and Tom just revealed what they believe are the 10 best stocks for investors to buy right now... and Dassault Systemes S.A. (ADR) wasn't one of them! That's right -- they think these 10 stocks are even better buys.
Click here to learn about these picks!
*Stock Advisor returns as of January 4, 2017
Lee Samaha has no position in any stocks mentioned. The Motley Fool recommends Dassault Systemes S.A. (ADR). The Motley Fool has a disclosure policy.