How Casino Suppliers Lost Their Bets on Gaming's Future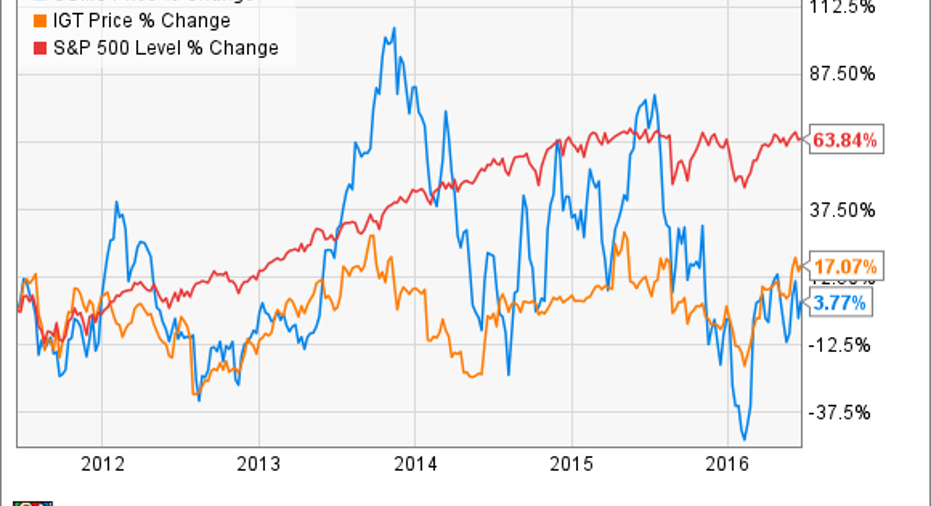 Image source: Getty Images.
The rapid expansion of gaming in Asia and a consolidation of suppliers in the gaming market were supposed to lead to explosive growth for Scientific Games and International Game Technology . After the two acquired most of the other big players in the industry, they're the companies left standing.
But revenue declines in Macau, the world's most lucrative gambling hub, and a slowdown in regional gaming in the U.S. have hurt these suppliers, and new markets like online gaming have been slower to develop than they might have expected. The result for investors is a pair of stocks that are underperforming the market.
The casino game loses its cachet
There are a number of broad trends working against slot machine and table game companies right now. Macau's decline has dragged on the industry's growth, and the Macau government has stuck to a slow and steady expansion in the number of table game tables allowed, squashing demand.
Domestically, the boom in regional gaming that occurred after the recession, when states across the country were looking for new revenue sources, has slowed, which has translated to a smaller need for new equipment. In Las Vegas, the gaming floor peaked in 2007 and has been in a slow decline ever since, as non-gaming revenue sources in the city grow.
The overall result is a global market that needs fewer new slot machines and gaming tables. And the acquisitions both Scientific Games and IGT made in the past few years can't make up for lost demand.
Interactive and online games that never were
When gaming suppliers began to consolidate, one of the main reasons was the high potential they perceived for interactive or online gaming. At the time, it appeared legal online poker was on the horizon and that game suppliers would provide the backbone of the system, regulated by the states. But the legalization of online and interactive gambling has been moving slowly, and progress appears to be stalled.
This has taken away a major growth avenue for gaming companies, one that may never materialize. While online gambling games like poker may have had momentum a few years ago, they no longer do, and the gambles made by acquirers that expected a different result have ended up as losing bets.
Little reason to bet on game suppliers
The challenges I've outlined above have led to a rapid decline in profitability for Scientific Games and IGT over the past two years, and an explosion of debt.
SGMS Net Income (TTM) data by YCharts
Given the weak operating environment and the limited catalysts for future growth, I don't see any reason to jump into game makers today. The growth opportunities that made them look attractive a few years ago are gone, and consolidation has left them with bloated balance sheets. Scientific Games and IGT aren't stocks I would bet on today, and unless they can turn operations around, they could be in trouble long term.
The article How Casino Suppliers Lost Their Bets on Gaming's Future originally appeared on Fool.com.
Travis Hoium has no position in any stocks mentioned. The Motley Fool has no position in any of the stocks mentioned. Try any of our Foolish newsletter services free for 30 days. We Fools may not all hold the same opinions, but we all believe that considering a diverse range of insights makes us better investors. The Motley Fool has a disclosure policy.
Copyright 1995 - 2016 The Motley Fool, LLC. All rights reserved. The Motley Fool has a disclosure policy.