How Canadian Solar Inc. Outlasted Competitors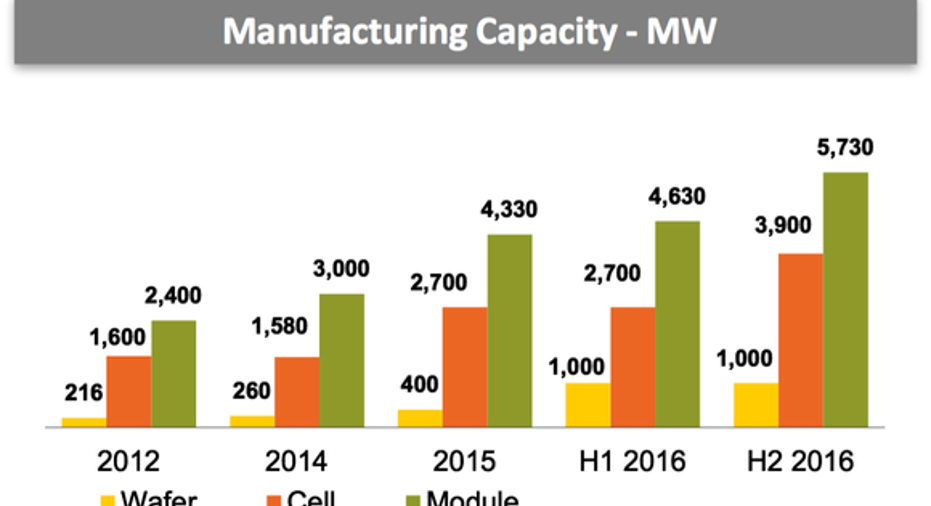 At a time when most Chinese solar manufacturers have rapidly grown and then fallen on their faces, Canadian Solar seems to have made it out of the solar inferno alive. How did it beat out companies like Yingli Green Energy, Trina Solar, and the bankrupt Suntech Power, who got a lot more attention along the way?
Growing up in the solar market The growth path Canadian Solar has taken from 2006 to today isn't unusual for Chinese solar manufacturers, where the company produces most of its offerings. The company borrowed a lot of money to rapidly expand production and build scale in the process.
Image source: Canadian Solar.
But key to this strategy was focusing on the back end of the value chain that turned out to be less volatile than upstream parts of the supply chain. You can see below that Canadian Solar has always had more module capacity than cell and even less wafer capacity. This turned out to be fortuitous because polysilicon -- which is a step further upstream than wafers -- ended up becoming an oversupplied commodity business, leading to the downfall of LDK Solar and others.
Image source: Canadian Solar.
By building module capacity the company could control where the end product went and leverage the commoditization of polysilicon, wafers, and even cells in the solar industry.
The project business comes alive When you control the module, you can choose where to sell them or even install them yourself. And after the massive oversupply of modules that occurred in 2012 (coinciding with a lot of financial trouble for solar manufacturers) it became clear that the downstream project development business would be key for manufacturers. Not only did Canadian Solar hold the modules developers wanted, it moved into the development business faster than most competitors.
Image source: Canadian Solar.
You can see above the rapid move into project development over the past four years. And it should be noted that highly valued projects in Canada were a huge windfall for the company that really kept it afloat in hard times.
This aggressive move into project development ended up being what separated it from competitors. Instead of just selling panels into an increasingly commoditized market. And that will allow for the next round of innovation to keep the company in the solar business.
How Canadian Solar grows from here Being one of the world's largest solar manufacturers and having a big pipeline of projects is good, but we've seen companies with both qualities go bankrupt in the last few years. So, standing still isn't an option for Canadian Solar.
The next step to long-term value is launching higher efficiency solar modules and moving more of the components from field installation to the factory floor. On the efficiency front, the company has launched ONYX 1 that it says will increase efficiency and improve aesthetics. And a Mono PERC design is said to increase cell efficiency to nearly 21%. The company has also played around with micro inverters, although that doesn't appear to be a big part of its business today.
Canadian Solar has one of the best chances to build long-term value out of all of the Chinese solar manufacturers. But it needs to keep up the innovation and build a sustainable development business backed by a solid balance sheet. It's on the way, but the plan is easier said than done.
The article How Canadian Solar Inc. Outlasted Competitors originally appeared on Fool.com.
Travis Hoium has no position in any stocks mentioned. The Motley Fool has no position in any of the stocks mentioned. Try any of our Foolish newsletter services free for 30 days. We Fools may not all hold the same opinions, but we all believe that considering a diverse range of insights makes us better investors. The Motley Fool has a disclosure policy.
Copyright 1995 - 2016 The Motley Fool, LLC. All rights reserved. The Motley Fool has a disclosure policy.