How Best Buy Survived While RadioShack Has Been to Bankruptcy Court Twice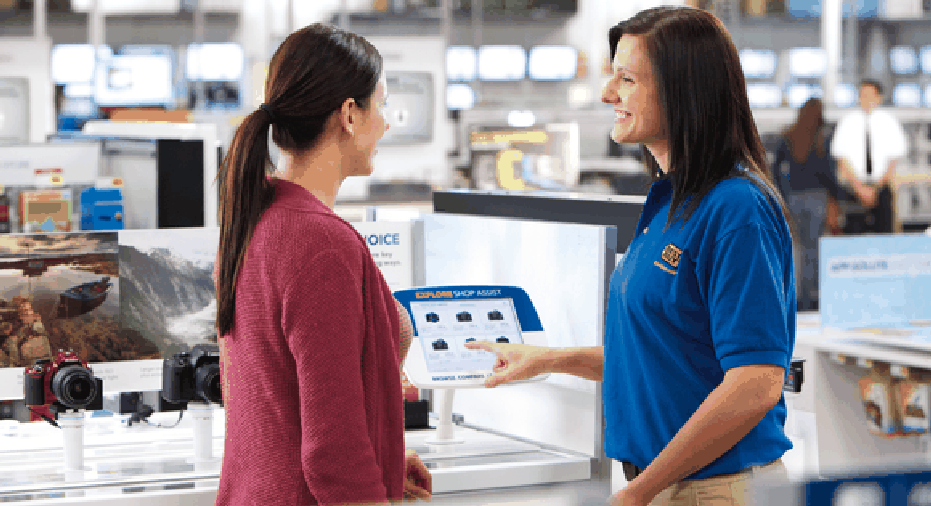 RadioShack has filed for bankruptcy protection for a second time, with the company's owner immediately closing 200 stores, and considering its options for the remaining 1,300 it owns. At roughly the same time, Best Buy (NYSE: BBY), another electronics retailer, has turned the corner in its battle for survival. Its earnings per share (EPS) rose dramatically, climbing from $2.30 in fiscal 2016 to $3.74 in the chain's fiscal 2017. In addition, its stock, which is currently trading around $45, has more than tripled since bottoming out in late 2012.
That was enough for Best Buy CEO Hubert Joly to literally declare the company's turnaround efforts over.
"Since the introduction of Renew Blue in November 2012, we have improved the operating performance of the business dramatically," he said in the Q4 earnings release in early March. "We now feel it is time to call Renew Blue officially over and launch our strategy for the next phase of our journey: Best Buy 2020: Building the New Blue."
Those comments were released a week before RadioShack once again sought bankruptcy protection, raising the question as to why one electronics chain has succeeded while the other has failed. It's not a simple answer, as you will see below that both chains made many of the same moves.
Best Buy has come back from the brink. Image source: Best Buy.
What did Best Buy do?
Launched in 2012, Renew Blue was a road map to help Best Buy turn around its fortunes. At the time the plan was introduced, Best Buy was, like RadioShack, on the list of companies many expected to not survive, largely due to the internet and Amazon (NASDAQ: AMZN) specifically. Its turnaround began because the company systematically attacked its weaknesses while building on its strengths.
One key weakness was the fact that consumers did not see Best Buy as offering attractive prices. In a report the company shared in its Renew Blue presentation deck [opens in PDF], only 23% of consumers perceived Best Buy as having lower prices than its rivals while 56% of Amazon customers saw the online retailer that way and 71% ofWal-Mart(NYSE: WMT) customers believed it had the lowest prices.
Best Buy aggressively addressed that by offering a price match program that let people pay the same price they would at top online competitors and "local retailers," a category that includes Wal-Mart. That one move immediately removed the incentive for showrooming, that is, the practice of doing your research on a product at Best Buy but buying online or from another retailer.
In addition to that major move, Best Buy did a number of things:
It launched an internal program to lower costs through what Joly described as "disciplined promotional strategy, continued optimization of merchandise margins and strong expense management." Those efforts targeted $400 million in potential annual savings by 2018, about half of which it has already delivered.
The company built on the idea of its stores as destination shopping by adding store-within-a-store concepts from major partners including Apple, Samsung, Microsoft, and Sony.
Best Buy increased focus on its Geek Squad service, a differentiator from other sellers.
The chain also devoted resources to improving its digital shopping experience including moving to one-click checkout and offering more items (some that are not in its stores) through its website.
Taken on its own, any one of these moves would probably have not been enough, but made together they left Best Buy with price-competitive stores that consumers had more reason to visit and a robust, easy-to-use digital presence.
Where did RadioShack drop the ball?
As a private company it's hard to see exactly what the second iteration of RadioShack did differently than the previous publicly traded version. The company did partner with Sprint (NYSE: S) on some locations, but the wireless carrier (which also has a presence at Best Buy) may not have been the customer draw that Best Buy's store-within-a-store partners proved to be. In fact, in its bankruptcy filing, RadioShack cited "the surprisingly poor performance of mobility sales," i.e. Sprint, as a reason for it having to file, USA Today reported.
The company did not price match and its website, while it got some attention, was not made a priority in the way Best Buy's was. RadioShack also failed to articulate any clear reason for people to visit its stores aside from its long-standing function as a nearby option when you're missing cables or batteries and having them now trumps price in your mind.
However, CEO Dene Rogers did share some info in the company's press release on the bankruptcy that shed some light on the steps it did take.
"In 2016, we reduced operating expenses by 23%, while at the same time saw gross profit dollars increase 8%," he said. "Over the same time, we integrated FedEx pickup/drop-off into 140 RadioShack locations, delivered to customers over 700,000 Hulu login pins and sold more than a million RadioShack private brand headphones and speakers delivering high quality, value-based audio products to consumers across the country."
Maybe RadioShack had no chance
RadioShack management made some of the same moves that Best Buy did, yet it still failed. Some of that may be because it bet too heavily on Sprint as a partner. In addition, doing nothing to address consumer expectations on pricing certainly sent some business to Amazon, Wal-Mart, and even Best Buy.
In the end, though, RadioShack may have been doomed by the fact that small, limited-selection stores are not the draw they once were now that people can simply go online and get nearly anything they need with two-day delivery. With the average RadioShack being roughly 2,400 square feet, it simply can't compete with destination chains like Best Buy that are 10 to 15 times larger on average.
In its heyday, RadioShack succeeded because its many locations made it convenient for customers and it sold products that were interesting to look at, with many not being offered elsewhere. Add in being a source for things like blank cassettes, VHS tapes, and other accessories, the company filled a niche that does not exist any more.
RadioShack has failed while Best Buy lives on to continue battling Amazon, because it may have outlived its usefulness without finding a new reason for being. Perhaps there was a pivot that could have saved the retailer (and maybe Blockbuster would still exist if it had become a chain of liquor store/vape shops) but non-extreme measures were always likely to end in this result.
10 stocks we like better than Best BuyWhen investing geniuses David and Tom Gardner have a stock tip, it can pay to listen. After all, the newsletter they have run for over a decade, Motley Fool Stock Advisor, has tripled the market.*
David and Tom just revealed what they believe are the 10 best stocks for investors to buy right now and Best Buy wasn't one of them! That's right -- they think these 10 stocks are even better buys.
Click here to learn about these picks!
*Stock Advisor returns as of February 6, 2017
Teresa Kersten is an employee of LinkedIn and is a member of The Motley Fool's board of directors. LinkedIn is owned by Microsoft. Daniel Kline owns shares of AAPL and MSFT. The Motley Fool owns shares of and recommends AMZN and AAPL. The Motley Fool has the following options: long January 2018 $90 calls on AAPL and short January 2018 $95 calls on AAPL. The Motley Fool has a disclosure policy.