How Apple Has Changed in the Past 10 Years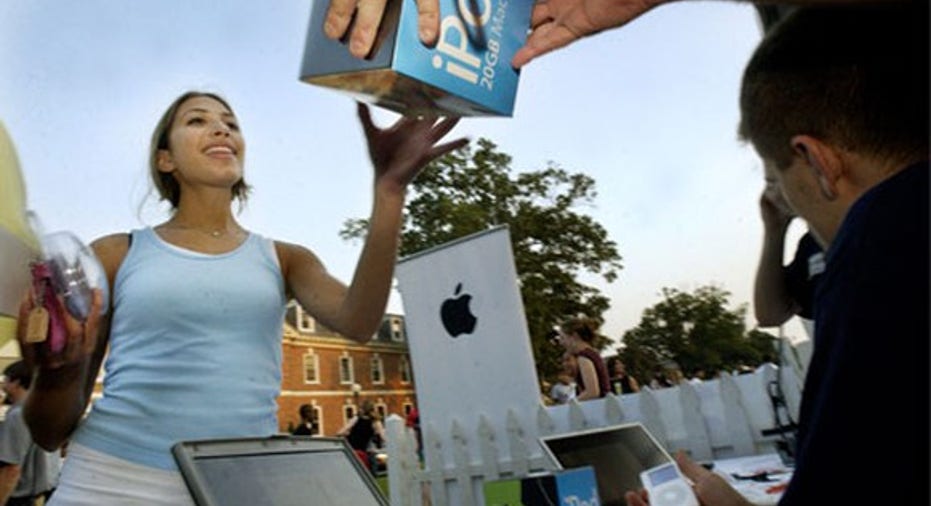 In 2006, Google had just launched Docs & Sheets to compete against Office, MySpace was still a thing,Facebook opened up its platform for the first time to people who weren't students,Twitter launched as "the SMS [short message service] of the internet," and the iPod was the primary tech innovation offered by Apple (NASDAQ: AAPL) beyond its computers. It sold 39.4 million units that year, with the portable music player representing 40% of total revenues.
A lot has changed over the past decade, and Apple is a markedly different company today than it was back then. Let's see how it has evolved over the years and what it might mean for investors going forward.
Image source: Apple.
A revolution in what's for sale
A decade ago, analysts fretted that with the ubiquity of the iPod, Apple's best days were behind it, as it had lost the ability to innovate further. Its main products were its Macintosh computers, the OS X operating system, the iPod, and iTunes. Of course, it was a much smaller company then as well, generating a little more than $19 billion in sales in fiscal 2006 (compared to $78.4 billion in revenue in just the most recent quarter).
What people couldn't know was that Apple was about to launch a cultural revolution with the introduction of the iPhone, which made its debut on June 29, 2007. Its sleek, radical design upended the cell-phone market and could be said to have doomed the iPod, as it melded the functionality of a music player with the practicality of a phone.Apple has gone on to sell over 1 billion iPhones since then, reaching a peak of more than 231 million in 2015.
Apple's product portfolio has also expanded and now includes not only Macs, iPods, and iPhones, but also iPads, the Apple Watch, Beats headphones, Apple TV, iCloud, Apple Pay, and more. So much has the iPhone revolutionized Apple's business that it is now the single biggest product the tech giant sells, accounting for 63% of sales. And the unification of music player and phone has caused the iPod's significance to be diminished to such an extent that sales are now included in a catch-all "other" category that also houses sales of Apple TV, Apple Watch, Beats, and third-party accessories that registered all of $11 billion in sales last year out of $216 billion total.
Image source: Getty Images.
A jump in stock price
Total net sales for Apple were down 8% in 2016 on declining iPhone sales, which saw sales drop 12% in dollar terms. Net profits were dinged as well, falling 14% year over year. Yet despite the drop-off, it remains a much more profitable company than it was a decade ago, when net margin was just 10%, compared with more than 21% today. But like a decade ago, analysts are once again worrying that Apple is past its prime, and just like then, they may be backing the wrong horse if they're betting against its stock.
Over the past 10 years, shares of Apple have appreciated 1,000%, versus a meager 70% gain in the S&P 500. Sure, the company's had its ups and downs during that time, but it has proved its ability to surprise Wall Street time and again and still innovate, even when it seemed all the good ideas had been used and the well had run dry.
At your service
I'm not ready to guess what Apple's next new, sales-driving hardware innovation might be, or if the new iPhone 8 this year will be enough to spark new growth. But it is true that sales of existing product lines are sinking. Last year, not only were iPhone sales down, but so, too, were iPad and Mac sales. In fact, only its services division experienced any appreciable growth, which represents sales from iTunes, apps, Apple Music, AppleCare, and Apple Pay, and that may be where its future lies.
Services has become Apple's second-largest segment behind iPhones, generating more than $24 billion in sales last year. To give that some context, that's a little less than what Facebook generated for the full year.
While iPhone sales turned positive again in the first quarter of 2017, rising 5% year over year, services once more were a stellar performance, surging 18% from the year-ago period. There may come a day when Apple is known not for the tech gadgets it makes -- though those gadgets will likely always play a big role in its operations -- but rather for selling services to the customers who buy those gadgets. And that may be the biggest, most radical change of all.
10 stocks we like better than AppleWhen investing geniuses David and Tom Gardner have a stock tip, it can pay to listen. After all, the newsletter they have run for over a decade, Motley Fool Stock Advisor, has tripled the market.*
David and Tom just revealed what they believe are the 10 best stocks for investors to buy right now... and Apple wasn't one of them! That's right -- they think these 10 stocks are even better buys.
Click here to learn about these picks!
*Stock Advisor returns as of February 6, 2017
Rich Duprey has no position in any stocks mentioned. The Motley Fool owns shares of and recommends Apple, Facebook, and Twitter. The Motley Fool has the following options: long January 2018 $90 calls on Apple and short January 2018 $95 calls on Apple. The Motley Fool has a disclosure policy.