How American Express Customers Are Using Their Cards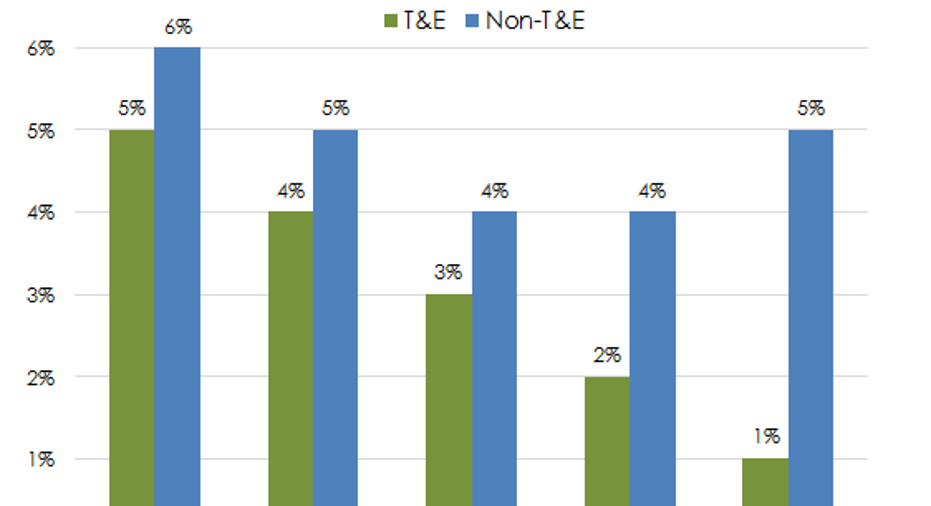 The company's financial results for any given quarter can be a goldmine of data, but for American Express , I find one line item particularly interesting, as it reveals what its card members are buying with their cards.
Deep in its quarterly data dump, American Express breaks out how card member spending is changing. In particular, it compares the growth in travel and entertainment items compared with non-T&E (so-called "everyday") spending.
What can we learn?American Express' core business is heavily tilted toward the T&E crowd, particularly compared with the likes of Visa or MasterCard, which have historically captured more of the "everyday" market.
American Express' ability to capture a greater share of T&E spending is central to its moat. Hospitality industry insiders have testified that this is true -- industry executives admit that if they chose not to accept AmEx cards, they would probably lose a significant percentage of their business to rivals who do. After all, American Express remains the No. 1 corporate card, a cohort that is significantly more likely to book blocks of hotel rooms and flights across the country.
Yet non-T&E spending has been the greatest driver of its recent growth, at least in the United States. Note that spending growth in everyday categories have grown at a pace of 4-6% year over year in each of the last five quarters. Meanwhile, travel and entertainment spending growth is slowing to a halt, advancing just 1% in the last quarter.
Why is T&E spend taking a dive in the United States? American Express executives spent some time discussing these trends on the most recent conference call, pointing to lower gas and airline ticket prices as one culprit.
Data from the Department of Transportation seems to confirm this trend, as the average ticket price fell by nearly 6% from the third quarter of 2015 compared to the prior year period, the last period for which data is available. For their part, company insiders noted that falling ticket and gas prices had less of an effect in the most recent quarter.
This data set will, in my view, remain one of the most important for American Express over time. Non-T&E related spending is one of its largest growth drivers, and to some extent it captures how successfully the company can take market share for everyday swipes at grocery stores and small businesses. (Note that one of AmEx's hottest cards is appropriately named "EveryDay.")
It's also a very good reminder that American Express's quarterly results are heavily affected by macroeconomic events. Perhaps the easiest business boost for AmEx would be a sudden and sharp rise in gas and airline ticket prices, given T&E spend makes up 27% of its volume in the United States, and of that amount, AmEx says a full 8 percentage points are "airline-related."
The article How American Express Customers Are Using Their Cards originally appeared on Fool.com.
Jordan Wathen has no position in any stocks mentioned. The Motley Fool owns shares of and recommends MasterCard and Visa. The Motley Fool recommends American Express. Try any of our Foolish newsletter services free for 30 days. We Fools may not all hold the same opinions, but we all believe that considering a diverse range of insights makes us better investors. The Motley Fool has a disclosure policy.
Copyright 1995 - 2016 The Motley Fool, LLC. All rights reserved. The Motley Fool has a disclosure policy.