How Amazon CEO Jeff Bezos Is Funding Blue Origin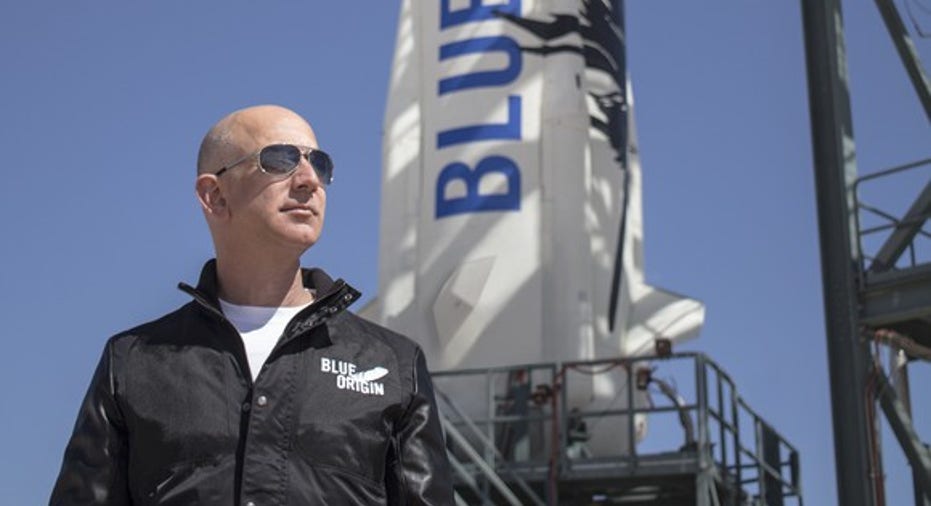 "My business model right now ... is I sell about $1 billion of Amazon stock a year and I use it to invest in Blue Origin." -- Amazon.com CEO (and Blue Origin founder) Jeff Bezos
Up 46% in 52 weeks, Amazon.com (NASDAQ: AMZN) stock is one of the best performers on the stock market. That's good news for founder Jeff Bezos, who according to S&P Global Market Intelligence owns 81 million of Amazon's 428 million shares outstanding (about 19%).
Amazon's exponentially expanding stock price recently catapulted Bezos all the way from No. 15 on Forbes' 2015 list of billionaires to No. 3 as of this writing-- leapfrogging Warren Buffett to land just behind Amancio Ortega (Europe's richest man) and Bill Gates (America's own). But Amazon's rocketing share price has had another beneficial effect as well: It's given Bezos the money he needs to build actual rockets.
Amazon.com's Jeff Bezos morphs into the Rocketeer. Image source: Blue Origin.
More money, more aspirations
You've probably heard about Jeff Bezos and his Blue Originproject. In rough parallel with fellow billionaire Elon Musk at SpaceX, Bezos is building a fleet of reusable rockets that could, as soon as 2018, begin launching paying space tourists to the edge of space to take an alien's-eye view of the globe. He's also building even bigger rockets capable of reaching orbital speeds, which could one day vie with Musk's SpaceX to deliver cargo to Earth orbit -- or even to the Moon.
But such aspirations don't come cheap. In fact, Bezos anticipates spending upward of $2.5 billionto complete development of his latest rocket, dubbed New Glenn. To fund this work, Bezos is willing to sell $1 billion worth of Amazon stock per year -- and seems to be saying he'll keep doing these sales every year, for the foreseeable future, until the job is done.
Luckily, he has about $72.2 billion worth of Amazon stock available to do just that.
What $1 billion buys
What will Bezos get for his money? Well, he already has a New Shepard suborbital launch vehicle that has completed five round tripsfrom Earth to the edge of space and back again, without a single failure. (Take that, Elon Musk!)
Bezos also has a new rocket factory under construction in Florida, a gigantic 750,000 square-footspace emporium. There, Bezos plans to build additional New Shepard-class rocketships for tourism, larger New Glenn-class orbital rockets for cargo delivery, and an even bigger New Armstrong rocket (details unknown). Along the way, he may also build a hybrid rocket incorporating a New Shepard-like first stage, topped with a smaller second stage to boost small satellites into orbit.
Additionally, Bezos has confirmed plansto develop a lunar lander, dubbed "Blue Moon," that he hopes to market to NASA as a means of sending supplies needed to build a future Moon base, and of returning lunar mineral and water samples to Earth as well. Bezos says he can have such a craft ready for operation as early as mid-2020 -- if NASA is interested. And since Bezos plans to send the lander to the Moon by way of New Glenn, this would imply that Bezos believes New Glenn itself will be ready for at least unmanned missions by 2020.
What it means for investors
The space race is heating up. It's disheartening to see that most of the "new-space" companies making headlines today are privately held, and thus off-limits to stock investors -- but that doesn't mean we can ignore the development.
More companies developing more ways to get to space will necessarily introduce more competition for established space giants like Boeing (NYSE: BA), Lockheed Martin (NYSE: LMT), and Orbital ATK (NYSE: OA). With that increased competition will come price pressure that will squeeze the profit margins of the incumbent providers -- indeed, it's forcing price cuts and squeezing margins already at Boeing and Lockheed today.
So what do all these developments mean for investors? In the short term, owners of Boeing, Lockheed, and Orbital ATK stock need to keep a close eye on margins at the companies' respective space divisions. And longer term? Just cross your fingers and hope that one day soon the disruptors that are upsetting the incumbents' business model will go public -- and give us a chance to invest in the real winners of this new space race.
10 stocks we like better than AmazonWhen investing geniuses David and Tom Gardner have a stock tip, it can pay to listen. After all, the newsletter they have run for over a decade, Motley Fool Stock Advisor, has tripled the market.*
David and Tom just revealed what they believe are the 10 best stocks for investors to buy right now... and Amazon wasn't one of them! That's right -- they think these 10 stocks are even better buys.
Click here to learn about these picks!
*Stock Advisor returns as of April 3, 2017
Rich Smith has no position in any stocks mentioned. The Motley Fool owns shares of and recommends Amazon. The Motley Fool recommends Orbital ATK. The Motley Fool has a disclosure policy.