Honda Posts a Loss on Airbag Recall Costs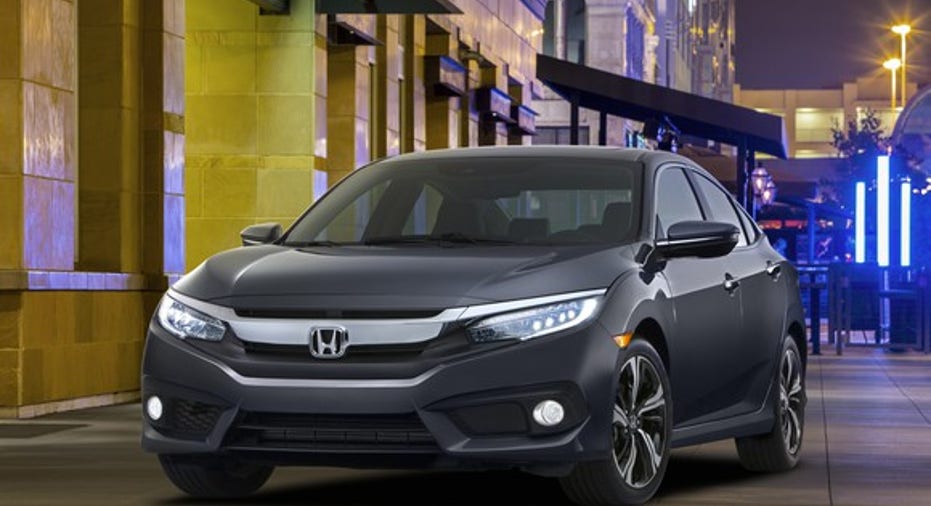 The all-new-for-2016 Civic helped drive sales gains around the world for Honda in the most recent quarter. Image source: Honda
Honda reported earnings for the quarter and full year ended March 31 on Friday, May 13. Here's what investors need to know.
The key numbers
Like many Japanese companies, Honda uses a fiscal year that ends on March 31. These charts, taken from Honda's earnings presentation, show results for its fiscal fourth quarter and full year, respectively. All financial numbers are in billions of yen except as noted. As of May 13, $1 U.S. = about 109 yen.
Image source: Honda
Image source: Honda
Why Honda posted a net loss despite a jump in revenue
While Honda's revenue jumped 4.8% to 3.66 trillion yen ($33.47 billion), it posted a surprise net loss of 93.4 billion yen ($860 million) on costs related to the massive recalls that Honda is conducting to replace defective airbag inflators made by embattled supplier Takata Corp. Analysts polled by Thomson Reuters had expected a net profit of 115.35 billion yen, on average.
Certain airbag inflators made by Takata can explode without warning, spraying metal shrapnel throughout a car's passenger compartment with deadly force. Worldwide, 11 deaths (all but one in Honda vehicles) and more than 100 injuries have been attributed to the Takata inflators.
Many automakers have had to recall vehicles with Takata inflators, but Honda has been the hardest-hit, by far. Honda has already recalled about 30 million vehicles to replace airbag inflators made by Takata, and it said on Friday that it will recall 21 million more in an aggressive effort to get past the debacle.
But in the meantime, the impact on Honda's fourth-quarter result was significant: Honda said that its "SG&A" (selling, general, and administrative) expenses increased by 210.4 billion yen ($1.92 billion) year over year as a result of the recall-related expenses.
How Honda's business performed during the quarter
Despite the ongoing Takata-related recall mess, Honda's underlying business did fairly well during the quarter. Sales of Honda autos rose 11.2% on good growth in North America and China, driven in large part by gains for the all-new compact Civic sedan and the revamped midsize Accord. (Honda's U.S. sales rose 7.1% in the first quarter, with Civic sales rising nearly 31%.)
Image source: Honda
While Honda's automotive segment generated about 70% of its revenue during the first quarter, its motorcycle and (to a lesser extent) "power product" segments are also significant contributors. There, the news was less positive: Sales of Honda motorcycles fell 5.2% during the quarter on weakness in the Brazilian and Chinese markets, while weaker sales of small-equipment (think lawn mowers, generators, and the like) engines to other power-equipment manufacturers drove a 3.3% decline in shipments.
Outlook: Despite currency headwinds, profits should jump in the coming year
The costs of the Takata mess haven't just weighed on Honda's bottom line. The company's stock price dropped sharply early in 2014 on concerns related to the airbag inflators and has yet to recover.
But if Honda can finally manage to get past the Takata mess, fiscal year 2017 should look a lot better.
Image source: Honda
Honda is forecasting modest increases in sales across all three of its business segments. While it expects revenue to decline 5.8% to 13.75 trillion yen, in part because of unfavorable exchange-rate shifts, it expects operating profit, operating margin, and net profit for the full year to come in significantly above fiscal year 2016 levels.
The article Honda Posts a Loss on Airbag Recall Costs originally appeared on Fool.com.
John Rosevear has no position in any stocks mentioned. The Motley Fool has no position in any of the stocks mentioned. Try any of our Foolish newsletter services free for 30 days. We Fools may not all hold the same opinions, but we all believe that considering a diverse range of insights makes us better investors. The Motley Fool has a disclosure policy.
Copyright 1995 - 2016 The Motley Fool, LLC. All rights reserved. The Motley Fool has a disclosure policy.