Homelessness, housing top agenda as lawmakers reconvene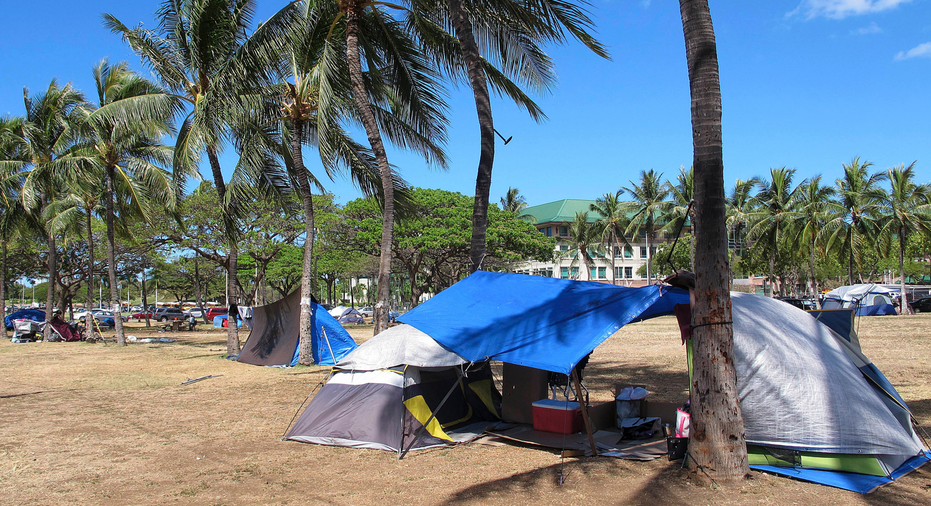 Policies to alleviate Hawaii's persistent homelessness problem and chronic housing shortage are expected to top the agenda when state lawmakers open a new legislative session this week.
House Speaker Scott Saiki said they are complex issues that mostly require long-term approaches and also are expensive.
"But our House members know that these are priorities and that we have to put the resources behind them. We are prepared to do that this year," Saiki said.
The session begins Wednesday and is scheduled to last through early May.
On housing, the House will focus on rent subsidies for low-income residents, creating incentives for developers to build affordable rentals and for-sale homes and promote the construction of sewer infrastructure so more housing may be built. A key focus area will be neighborhoods near stations on Honolulu's planned rail line.
On homelessness, Saiki said the House would prioritize creating more transitional centers modeled after the Family Assessment Center in Honolulu's Kakaako neighborhood that has been able to move 70 to 80 percent of its clients into housing.
Longer term, the House wants to put funding into mental health treatment facilities, said Saiki, a Democrat who represents Kakaako and downtown Honolulu.
Gov. David Ige said his administration is requesting $100 million in spending for capital improvement projects to support the construction of affordable and rental housing.
"I do believe that the housing crisis is really generated by the fact that demand far exceeds supply," the Democrat said.
The money would help the Ige administration's goal, announced in 2016, to support the construction of 10,000 new units over four years.
About $25 million of the total would go toward infrastructure and lot development on Hawaiian homelands, a program Congress created a century ago to allow Native Hawaiians to lease former Kingdom of Hawaii lands.
The housing spending would be coupled with investment in airports, harbor infrastructure and public school facilities. Ige said this would help the construction industry as private-sector construction spending tapers off in areas like Kakaako.
Hawaii housing is expensive: According to the U.S. Census Bureau, nearly half of Hawaii renters spent 35 percent or more of their income on rent in 2016. That's the most of any state. The median price of a single-family home on Oahu hit a record $750,000 in December.
The shortage feeds into one of the nation's most serious homeless problems. The latest federal data shows Hawaii had 51 homeless people for every 10,000 residents last year, the highest ratio of any state. That's a decline of 9 percent from the previous year, but the number of homeless grew slightly in Honolulu.
Bob Nakata, co-chair of the housing task force at the nonprofit interfaith group Faith Action for Community Equity, said the governor asked for a similar investment on housing last year, but lawmakers appropriated only about half.
Nakata said the state needs to spend about $200 million annually for 10 years to achieve the goal set by a 2016 law Ige signed calling for 22,500 new affordable rentals by 2026.
"It's a big ask, but it's a crisis. Studies from way back say housing was a crisis 50 years ago. If anything, it's gotten worse," Nakata said.
Nakata said concerns about cost and a "not-in-my-backyard" mentality often thwart affordable housing efforts.
State Sen. J. Kalani English, the Senate majority leader, called the lack of housing a "huge crisis."
The Senate's platform for the upcoming session focuses on implementing 17 sustainable development goals laid out by the United Nations, including one that calls for access to adequate, safe and affordable housing. Another calls for access to safe drinking water and adequate sanitation.
English said county zoning fuels the housing shortage by making it expensive to build homes. Housing will continue to be a problem until counties allow people to construct cheaper homes, said English, a Democrat who represents East Maui, Molokai and Lanai.
On the Republican side, House Minority Leader Rep. Andria Tupola said the conversation on affordable housing needs to involve the state and counties as well as all islands.
"I think a $750,000 median price is way out of everyone's league," Tupola said. Tiny home and domes may be options for cheaper housing, said Tupola, who represents Ko Olina and Nanakuli.
"It would be smart for us to follow these trends and try to figure out where we can step off the groove that seems to be unchanged," she said.