Home Depot turning 50 store rooftops into solar farms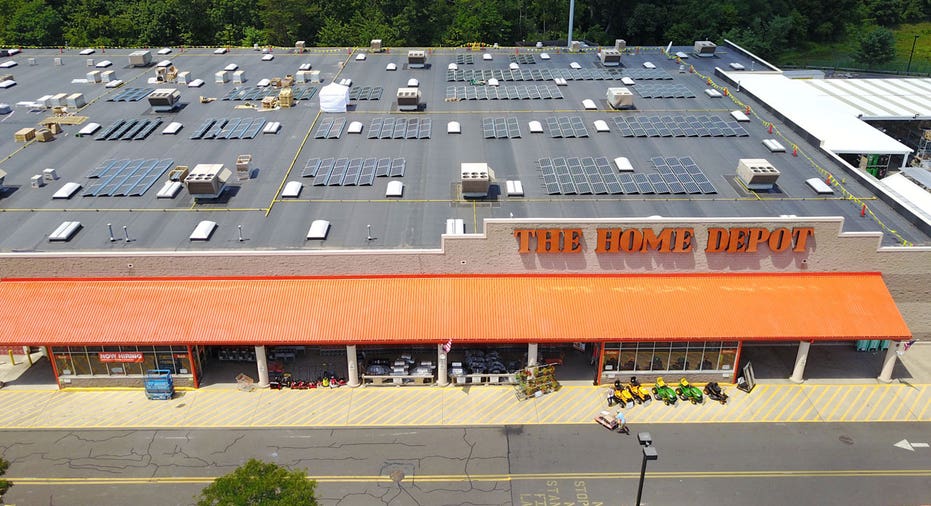 Home Depot (NYSE:HD) will install solar panels on the rooftops of 50 stores in a partnership with General Electric (NYSE:GE) and Tesla (NASDAQ:TSLA).
The home-improvement retailer said the project will cut each store's use of the electric grid by 30% to 35% annually—the equivalent of powering 2,300 U.S. homes. The average Home Depot store roof is 104,000 square feet and can accommodate 1,000 solar panels. Construction of the mini solar farms will continue throughout 2017.
Home Depot is working with GE subsidiary Current, a power management company, on 20 solar installations in New Jersey and eight in Connecticut, Maryland and Washington, D.C. The other 22 locations are located in California and New York, and eight of those stores will use Tesla Powerpacks to store energy.
Home Depot, which employs more than 400,000 associates at 2,282 stores, said the new solar farms will lift the company's alternative energy usage to more than 130 megawatts. It has set a goal of hitting 135 megawatts by 2020. Home Depot also operates two wind farms, leases roof space in Delaware and Maryland and uses fuel cells at more than 170 stores and distribution centers.
David Hawkins, Home Depot's vice president of labor and operations, said alternative energy projects "reduce carbon emissions while also lowering our energy costs."
Amazon.com (NASDAQ:AMZN) started a similar solar-power program earlier this year. The e-commerce giant will have solar panels atop 15 fulfillment centers by the end of 2017, and it expects to have 50 warehouses using solar power by 2020.