HollyFrontier's Management Has 1 Major Focus in 2017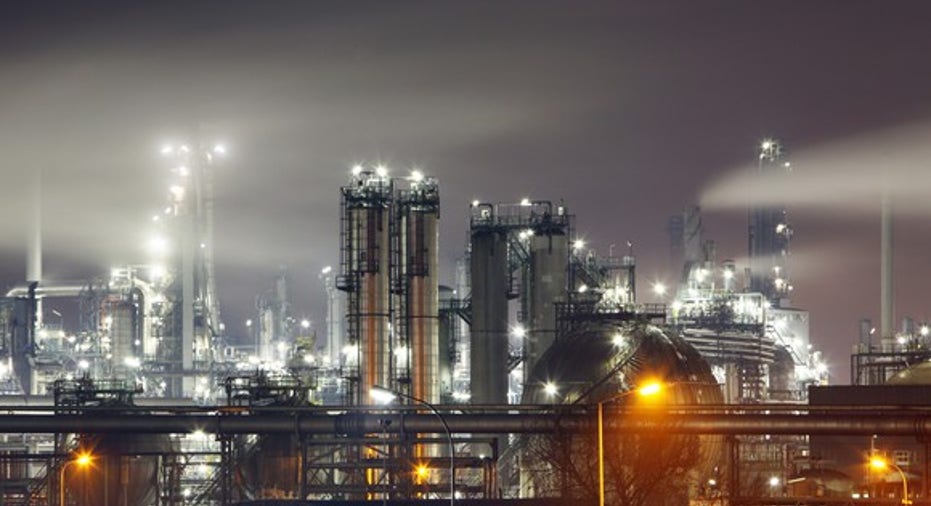 Making a good acquisition is much harder than it looks. Not only does a company have to buy assets that are a good strategic fit, but it also has to buy them at a decent price. HollyFrontier (NYSE: HFC) made a major acquisition last year, and based on the purchase price, the company did well. Based on management's statements, this coming year is going to be all about making sure that these assets can be properly incorporated into the company's strategy.
Here's a quick look at some quotes from HollyFrontier's most recent call that show what management is thinking heading into 2017 and how the company plans to address some of the strengths and weaknesses in its business portfolio.
Image source: Getty Images.
Tepid optimism
As has been the case with every refining company chief executive recently, HollyFrontier CEO George Damiris gave his two cents on what he expects from the new Trump administration and what that will mean for the company in 2017 and perhaps beyond.
If only one or two of these things were to happen, that would be a win for the company. To see all of these actions go through in 2017, however, seems a bit overly optimistic. One thing that Damiris didn't dwell on much was refining margins, which continue to remain weak. While some other refiners have said they expect margins to pick up in the second half of the year, others have been less optimistic as inventories of refined product across the U.S. continue to build even as several refineries are down for planned maintenance.
Showing off our new toy
A few weeks prior to the conference call, HollyFrontier took possessionof its most recent acquisition: a 15,000-barrel-per-day lubricant facility in Ontario from Suncor Energy. While it has only been part of the company for a little while, Damiris' statement showed that expanding its lubricants business and changing the product mix could lead to some significant changes.
One example that Damiris mentioned later in the call was the change between different types of lubricants. For example, changing the product mix from Group II to Group III class lubricants (higher viscosity oil that can stand a wider range of operating temperatures) means that the company can realize an $80-per-barrel increase in the price of refined products. Damiris ha already said he expects to shift both its Ontario and Tulsa lubricant facilities to produce more Group III oils.
Producers aren't the only ones touting the power of the Permian
The hot topic for producers recently has been to talk about their positions in the Permian Basin. It is proving to be some of the most economical wells in shale oil and gas drilling, and the large amount of legacy infrastructure in place from decades of drilling in the region makes it cheaper to move product to refineries and markets. Producers aren't the only ones touting the benefits of the Permian, though. Damiris pointed out that HollyFrontier's position in the Permian is going to look more and more attractive as production from the region ramps up:
That side comment on the opportunities for Holly Energy Partners is important. Pretty much all of the midstream infrastructure that HollyFrontier owned has been dropped down to Holly Energy Partners, and so the opportunity to grow Holly Energy Partners via asset dropdowns is getting thinner. If the Permian picks back up significantly, then it will require some midstreaminfrastructure that will provide some much-needed organic growth opportunities for the partnership.
Adjusting for change
For several years, the Rocky Mountain region was HollyFrontier's most profitable refining segments, but it has fallen on harder times. A large part of it has to do with crude differential pricing. Basically, how much it costs a producer to sell to a refiner that is close versus one that is further away. According to Damiris, this region was once where the crude price differential was wide -- an advantage to local refiners -- but that has changed as of late:
The largest factor for those crude pricing differentials was the fact that too many producers were trying to move oil and gas through a limited amount of space in pipelines. With production levels down and infrastructure capacity up, though, that advantage is slipping away and is looking harder to recapture. So when asked again on how to improve profitability for its currently weakest refinery (Cheyenne) now that the game has changed, here's what Damiris had to say:
Time to digest
Of course, every analyst and investor wants to know what is next. Is HollyFrontier looking to stay active in the merger and acquisition front or is it planning some big organic investment opportunities? According to Damiris, 2017 is probably going to be a quiet year as the company wants to make sure that incorporating its most recent purchase goes as smoothly as possible:
Mergers and acquisitions are always a challenging way to grow a business. All too often they are capital-killing endeavors. So it's reassuring that the company is putting so much focus into this one thing rather than trying to move onto the next already. This kind of conservative approach is what has allowed HollyFrontier to maintainhigh rates of return. Keeping that mind-set should bode well for the company.
10 stocks we like better than HollyFrontierWhen investing geniuses David and Tom Gardner have a stock tip, it can pay to listen. After all, the newsletter they have run for over a decade, Motley Fool Stock Advisor, has tripled the market.*
David and Tom just revealed what they believe are the 10 best stocks for investors to buy right now... and HollyFrontier wasn't one of them! That's right -- they think these 10 stocks are even better buys.
Click here to learn about these picks!
*Stock Advisor returns as of February 6, 2017
Tyler Crowe has no position in any stocks mentioned. The Motley Fool has no position in any of the stocks mentioned. The Motley Fool has a disclosure policy.