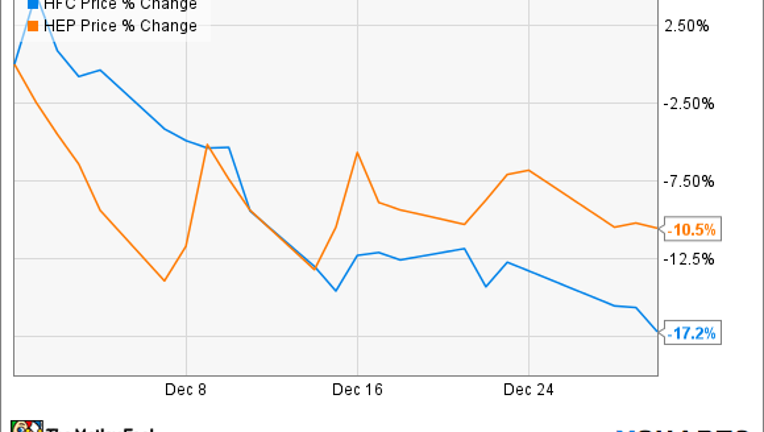 What: Shares of HollyFrontier and its midstream MLP Holly Energy Partners declined in December by 17.2% and 10.5%, respectively. The market will likely point to the lifting of the crude oil export ban and fears around midstream companies not being as robust as we had previously thought as the reason for these declines.
So What: HollyFrontier wasn't the only refiner to take a big hit in December, just about every company in the space saw big dips last month following the announcement that domestic crude oil can now be exported. Not only does this impact refiners that have been exporting large volumes of refined products from the Gulf, but others were also getting the advantage of lower domestic crude prices that helped to boost margins. With that gone, many investors seem to think that the party refiners have had over the past several quarters will come to an end.
To make matters worse for HollyFrontier, its midstream MLP Holly Energy Partners has taken a bit of a hit as investors have been leaving master limited partnerships en masse. The Alerian MLP index was down more than 7% in December, so there were lots of headwinds in the space to begin with. The biggest fear in midstream companies right now is that the promise of secure and growing dividends doesn't seem to be playing out like some had hoped as debt levels have become high and high distribution yields make issuing shares difficult.
Now What: While these issues are certainly something that investors in the space should be aware of, they are not game changing elements for HollyFrontier or Holly Energy Partners. HollyFrontier can attribute a lot of its higher margins to the geographic advantage of its refineries. Their close proximity to major oil production areas means it mostly buys crude oil at a discount to benchmark prices. For Holly Energy Partners, it has the luxury of being owned by a strong general partner in HollyFrontier that has run the partnership to pay for growth with internally generated cash flow, keep conservative financials, and not issue lots of equity to pay for growth.
Considering the strength of HollyFrontier and Holly Energy Partners, these recent declines seem a bit shortsighted and investors with a longer time horizon should probably put these two stocks on their radar.
The article HollyFrontier and Holly Energy Partners Shares Dropped More than 10% in December, Why? originally appeared on Fool.com.
Tyler Crowe has no position in any stocks mentioned.You can follow him at Fool.comor on Twitter@TylerCroweFool. The Motley Fool has no position in any of the stocks mentioned. Try any of our Foolish newsletter services free for 30 days. We Fools may not all hold the same opinions, but we all believe that considering a diverse range of insights makes us better investors. The Motley Fool has a disclosure policy.
Copyright 1995 - 2016 The Motley Fool, LLC. All rights reserved. The Motley Fool has a disclosure policy.