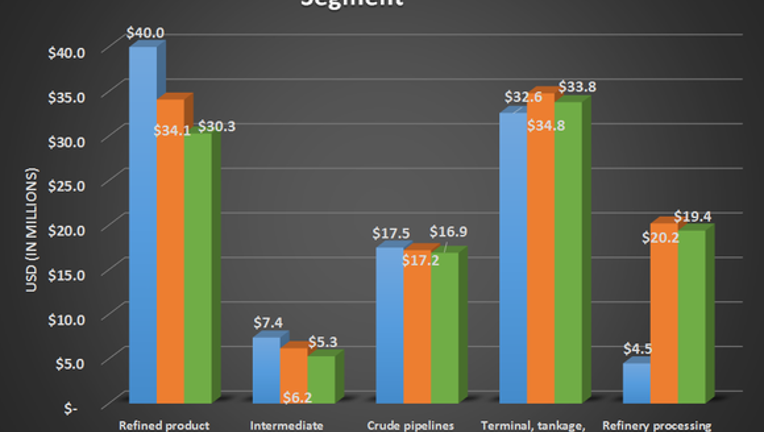 For a company that touts a contract structure that protects 100% of its revenue from the risk of commodity prices, it's a bit surprising to see Holly Energy Partners (NYSE: HEP) report that both revenue and earnings were down in the most recent quarter. If you dig deeper into the numbers, though, the reason for this dip makes the company's results far from dire.
Here's why Holly Energy Partners results took an unexpected dip in the quarter, why it's not much of a long-term concern, and what investors should actually be concerned about in the future.
Image source: Getty Images.
By the numbers
*IN MILLIONS, EXCEPT PER-SHARE DATA. SOURCE: HOLLY ENERGY PARTNERS EARNINGS RELEASE.
There were a couple things that dinged Holly Energy Partners' most recent earnings report that makes these numbers look a little worse than the situation on the ground. On the operational side, Holly Energy's parent company HollyFrontier (NYSE: HFC) did some major turnaround work at its Navajo refinery complex in the quarter, which lowered total pipeline revenues for Holly Energy Partners by $12.2 million as well as some other minor tweaks such as an outage at its Salt Lake City crude pipeline.
Also, the company realized a $12.4 million loss on the early extinguishment of debt in the quarter. That loss was related to the redemption of its 6.5% senior notes due 2020. This is a one-time loss that had a $0.19 per share impact on net income.
The thing that always matters, of course, is cash flow. Compared to this time last year, there was a slight uptick in cash, but certainly not enough to keep pace with the 7.8% year-over-year increase in its payout to shareholders. That debt extinguishment payment was a cash transaction, though, so results should look much better in the coming quarter when that payment isn't included in results. Even with the payment, though, the company was able to generate enough cash for a distribution coverage ratio of 1.0 times.Management's decision to raise its payout again makes it the 50th consecutive quarter with a payout increase.
Last quarter, management decided to break out Holly Energy Partners revenues by its respective business segments. As expected, the largest declines came from refined product and intermediate pipelines, which is mostly a product of the turnaround time at the Navajo complex.
Source: Holly Energy Partners earnings release. Chart by author.
Even for a company as quiet as Holly Energy Partners, this was a particularly sleepy quarter. There were no announcements of new projects coming online or the commissioning of a new project. Luckily for investors, the Woods Cross refining unit purchase late last year should provide enough cash flow growth to cover distribution increases for a couple quarters, but the company will need to start finding new growth projects or acquisitions to fund payout growth.
What management had to say
CEO George Damiris on the company's performance for the year:
What a Fool believes
Holly Energy Partners management has a reputation for being patient and prudent when it comes to investing in new projects or making acquisitions. This has served the partnership well for a while. That approach was a little easier, though, when parent company HollyFrontier had a decent amount of assets that could be dropped down to the partnership. Today, though, HollyFrontier doesn't have many other assets that would fit the master limited partnership model. You could even argue that the Woods Cross refining unit drop down was a bit of a stretch.
Pretty soon, the company is going to have to put together some plans that show a path or growing revenue and cash flows, especially if it wants to maintain its reputation of growing payouts every quarter. While there is certainly no lack of demand for new oil and gas infrastructure projects out there, the ones that meet management's demand for high rates of returns might be harder to come by.
10 stocks we like better than Holly Energy PartnersWhen investing geniuses David and Tom Gardner have a stock tip, it can pay to listen. After all, the newsletter they have run for over a decade, Motley Fool Stock Advisor, has tripled the market.*
David and Tom just revealed what they believe are the 10 best stocks for investors to buy right now... and Holly Energy Partners wasn't one of them! That's right -- they think these 10 stocks are even better buys.
Click here to learn about these picks!
*Stock Advisor returns as of May 1, 2017
Tyler Crowe has no position in any stocks mentioned. The Motley Fool has no position in any of the stocks mentioned. The Motley Fool has a disclosure policy.