Historical novel published last year is big seller in 2017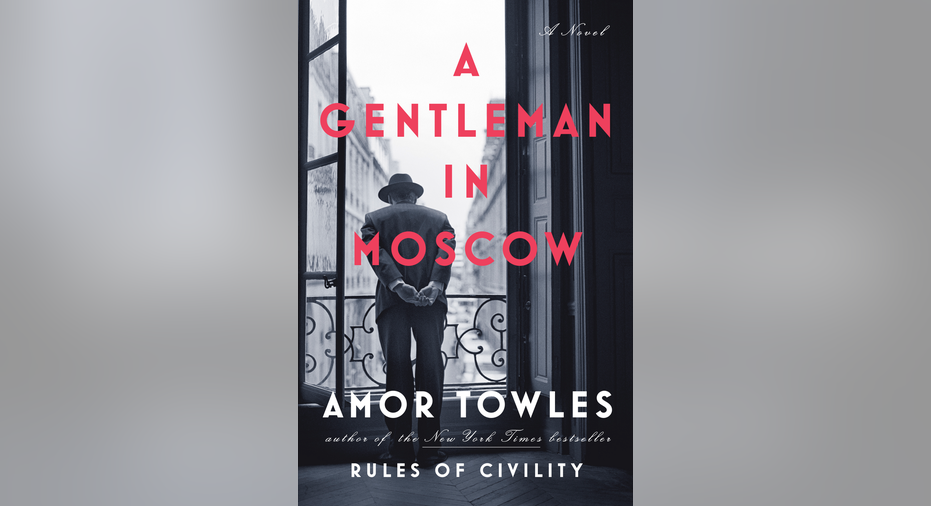 From the moment she read an early copy of Amor Towles' novel "A Gentleman in Moscow," author-bookstore owner Ann Patchett had a feeling her customers would love the story of a Russian count accused by the Bolsheviks of succumbing to the "corruptions of his class" and held for decades under house arrest at a luxury hotel.
"The book is like a salve," says Patchett, who chose "A Gentleman in Moscow" for the First Editions reading group at Parnussus Books in Nashville, Tennessee. "I think the world feels so disordered right now. The count's refinement and genteel nature are exactly what we're longing for. His world was also in shambles but he maintained his grace and humor."
First released in September 2016, Towles' lyrical narrative has become one of this year's top word-of-mouth successes. Building on a solid first printing of 80,000 copies, "A Gentleman in Moscow" has sold more than 800,000 copies and remains in the top 100 on Amazon.com. The book has received nearly 6,000 reader reviews on Amazon.com and been rated more than 56,000 times on the social media site Goodreads, with more than 80 percent of the reviews giving the novel 4 or 5 stars out of a possible 5. A television miniseries is being planned by eOne.
"We now feel like such geniuses," Patchett says.
Towles is a former partner in the investment firm Select Equity Group and author of a previous novel, "Rules of Civility," a sophisticated tale of New York society in the 1930s. He first thought of "A Gentleman in Moscow" around eight years ago while staying at a favorite hotel in Geneva and recognizing people in the lobby. He soon came up the idea of a man confined indefinitely in a luxury hotel and thought of Russia, with its long history of house arrest, an appropriate setting. The novel follows Count Alexander Ilyich Rostov's life from the 1920s to 1950s as he adapts to losing the world he grew up in.
"The book is, to some degree, a meditation on a set of aesthetic and moral values, as personified through an aristocrat, and how this contrasts to a 20th-century world," says Towles, a Boston native who now lives in Manhattan. "I do not believe human progress, in its most complex sense, is linear. The advances we make in science and technology, in the social order — most of these advances require shedding off of other aspects of life that had significant merits."
Towles, whose previous novel came out six years ago, works at a regimented pace. Before attempting a full manuscript, he drafts a 40- to 50-page outline that includes plot points and character development. The book had the working title "The Songs of St. Petersburg," but after considering dozens of other names, Towles decided on "A Gentleman in Moscow" and its hint of sophistication and suspense.
"When I'm done with the draft, I might make some meaningful changes, but a lot of the work is refinement of language," he says. "That means refining every sentence, every paragraph, to make it better. It also involves a lot of subtraction, seeing how two pages should be one page, how I don't need two pages to communicate a particular moment."
Awareness of the book's potential came in phases for Towles, who turns 53 this month. He shows no one his first draft, not even his wife, then gradually welcomes outside advice as he revises. He was pleased by the enthusiasm of his editor at Viking, Paul Slovak, and even more encouraged by the response of the sales officials because they have a more objective viewpoint and "don't praise things casually." Slovak says the book might have benefited from the current "fascination" with Russia, but also thinks it appeals for its sense of atmosphere.
"The novel does provide a kind of panoramic view of 30 years of Russian history," Slovak says.
Towles and his publisher both cite the early and continuing support of independent bookstores, which in the past have helped launch best-sellers ranging from Sue Monk Kidd's "The Secret Life of Bees" to Charles Frazier's "Cold Mountain." At the Blue Willow Bookshop in Houston, "A Gentleman in Moscow" has sold 500 copies, more than double what even the most popular works usually sell at the store.
"When I first read it, I remember how the book has all these ideas that make you stop and reflect. You realize that he (the count) is not going anywhere, so he has time to reflect on life," says Blue Willow owner Valerie Koehler. "We were sent around 12 copies and each of us at the store read it and loved it on our own. Sometimes, we read something together as a staff, but we've never had a book come together for us this way, with each of us individually coming to it."