Hey, Siri: Amazon's Alexa Is Bringing AI to New Places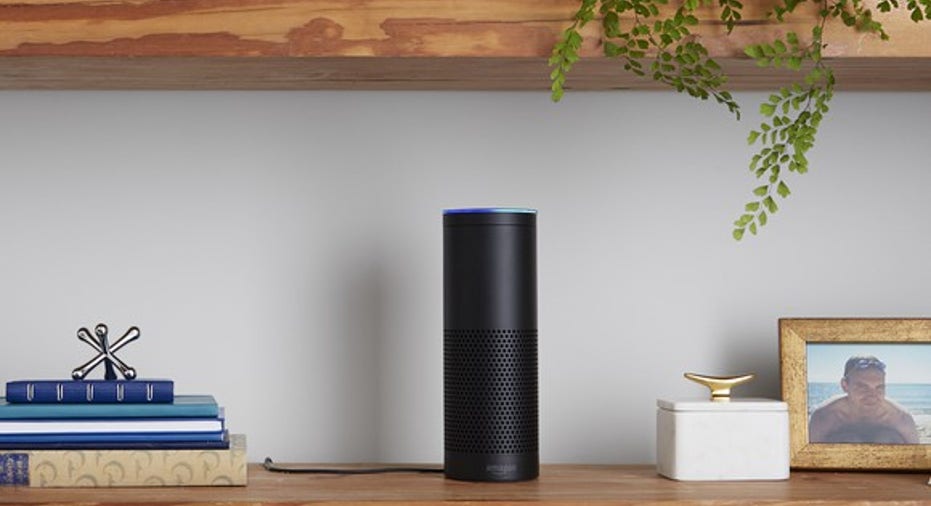 Anyone who has ever attempted to use Apple's (NASDAQ: AAPL) Siri on a regular basis knows the limitations of voice-controlled artificial intelligence (AI).
Sometimes the service gives iPhone, iPod, and Mac users what they ask for. At other times, asking Siri to "call Joe" results in the not-always-helpful assistant doing an internet search for "calljoe" rather than placing a phone call.
Sometimes Siri has trouble understanding what the person is saying and sometimes it's the AI not being as intelligent as one would hope it would be. Apple is not alone in sometimes disappointing with its AI product, but it's the most visible in the space.
Amazon (NASDAQ: AMZN), on the other hand, has been more successful with its Alexa digital assistant, which is built into its various Echo and some Fire TV products. That's at least partly because while Siri launched with a broad set of supposed abilities, Echo has had a very slow rollout of features.
At first, Alexa voice commands could be used to ask Echo to play music, deliver weather reports, or complete narrow tasks like adding items to a shopping list. Those commands have expanded and improved dramatically over time, and now Amazon wants to roll out its AI tools to its development partners.
Amazon's Echo is embedded in its Echo device: Amazon Echo is listed today on Amazon.com costing $179.99. Image source: Amazon.
What is Amazon doing?
The company has made three AI tools available to developers for free so they can build their own Alexa-enabled apps. This, Amazon said in a press release, should "make it easy for any developer to build apps that can understand natural language, turn text into lifelike speech, have conversations using voice or text, analyze images, and recognize faces, objects, and scenes."
Each of the three tools can be used together or separately. Amazon explained what each one does in its press release:
Amazon Lex: Brings natural language recognition to any app using the technology that powers Alexa's ability to understand people.
Amazon Polly: Lets developers create apps that talk backin 47 lifelike voices with support for 24 languages.
Amazon Rekognition: Allows apps toanalyze images, and recognize faces, objects, and scenes.
"The combination of better algorithms and broad access to massive amounts of data and cost-effective computing power provided by the cloud is making AI a reality for application developers," said Raju Gulabani, VP, databases, analytics, and AI, AWS. "We are excited to see how customers use Amazon Lex, Amazon Polly, and Amazon Rekognition to build a new generation of apps that have human-like intelligence and can see, hear, speak, and interact with people and their environments."
Amazon is charging ahead
By throwing open the doors on its technology and giving developers access to these three tools, Amazon is encouraging companies/programmers to find new uses for its technology. Some of these won't directly help the online retailer, but others will certainly enhance its own products.
Alexa is already a powerful tool that's arguably more useful than Siri (albeit with less distribution). Amazon is not alone in offering developers access to AI technology. Alphabet's Google Assistant has very similar open access, and both Apple andMicrosoftoffer limited developer access to Siri and Cortana, respectively.
It's a crowded space, but Amazon has embraced having a platform open to developers since Alexa launched. It already has over 1,000 third-party services working with earlier, less expansive access to its technology, so this move should encourage those partners to do more while welcoming others in.
Amazon has done something its rivals have struggled to do. It has built an AI that works, that's useful, and that people are eager to try new things on. Alexa may not have Siri's market share, and its functions are limited compared to some of the other players. It also does not have the Apple service's reputation for not working very well. Opening up more of Alexa to partners should help make Amazon's devices more useful while expanding its AI's capabilities, which should lead to more people wanting Alexa-enabled devices.
10 stocks we like better than Amazon.com When investing geniuses David and Tom Gardner have a stock tip, it can pay to listen. After all, the newsletter they have run for over a decade, Motley Fool Stock Advisor, has tripled the market.*
David and Tom just revealed what they believe are the 10 best stocks for investors to buy right now... and Amazon.com wasn't one of them! That's right -- they think these 10 stocks are even better buys.
Click here to learn about these picks!
*Stock Advisor returns as of November 7, 2016
Suzanne Frey, an executive at Alphabet, is a member of The Motley Fool's board of directors. Daniel Kline owns shares of AAPL and MSFT. He has an Echo and uses it for music and podcasts mostly, but does like playing with asking it questions. The Motley Fool owns shares of and recommends GOOG, GOOGL, AMZN, and AAPL. The Motley Fool owns shares of MSFT and has the following options: long January 2018 $90 calls on AAPL and short January 2018 $95 calls on AAPL. Try any of our Foolish newsletter services free for 30 days. We Fools may not all hold the same opinions, but we all believe that considering a diverse range of insights makes us better investors. The Motley Fool has a disclosure policy.