Here's Why You'll Be Paying More for Obamacare in 2017 (Hint: It's More Than Just Rising Premiums)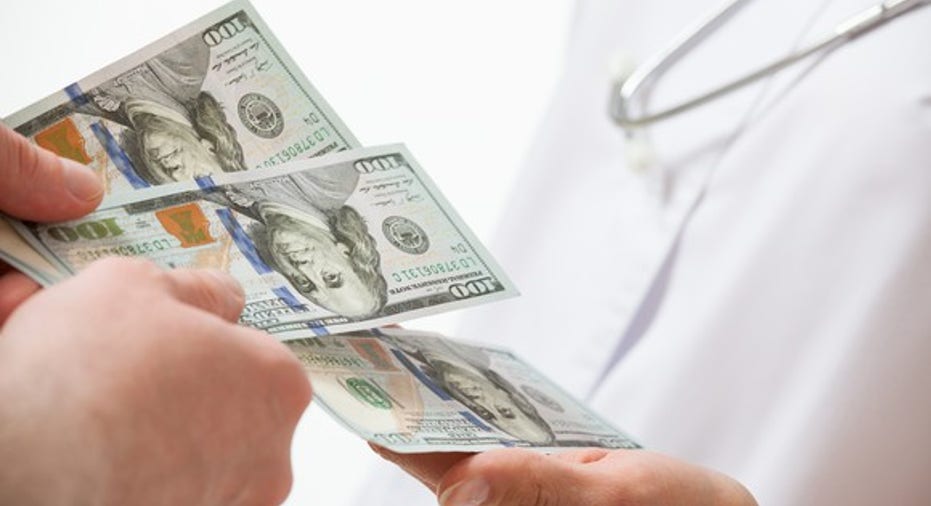 Image source: White House on Flickr.
All eyes may be on the presidential election in a matter of days, but an equally important campaign kicked off on Tuesday, Nov. 1. Whether you realize it or not, the Affordable Care Act's fourth open enrollment period is now fully underway.
The Affordable Care Act, better known as Obamacare, had 10.4 million enrolled and paying customers as of the end of June 2016. It's not uncommon to lose enrolled members throughout the year as some switch jobs and transfer over to employer-sponsored health coverage, and others simply stop paying their healthcare premiums (for a variety of reasons). By the end of this year, the Congressional Budget Office predicts that about 10 million people will be enrolled through the various Obamacare marketplace exchanges. The obvious goal of the program is to improve on those figures in the fourth open enrollment period.
However, that could prove challenging -- and not just because President Obama is getting ready to leave office. We'll be witnessing a number of shifts in Obamacare this year that could have consumers shelling out a lot more money in order to obtain health insurance.
Less competition and risk corridor failures lead to spiking premiums
Perhaps the biggest concern for the ACA's open enrollment period is the expected decline in insurer competition in a number of states.
According to a Blue Cross Blue Shield Association study from earlier this year, Obamacare enrollees are, on average, 22% costlier to insure than employer-sponsored members. The reason? Obamacare enrollees are made up of a higher percentage of Americans with pre-existing conditions who were shut out of the healthcare system before Obamacare's implementation. With those barriers to entry now removed, sicker individuals can now get health insurance, and it's pushing insurers' expenses higher. With very few turning a profit, three of the five national insurers chose to significantly cut back on their coverage in the upcoming year.
Image source: Getty Images.
First, UnitedHealth Group (NYSE: UNH), the nation's largest insurer, announced that it would cut its offerings from 34 states in 2016 to just three in 2017. This follows nearly $1 billion in estimated cumulative losses from individual market ACA plans between 2015 and 2016.
Following UnitedHealth Group out the door were Humana (NYSE: HUM) and Aetna (NYSE: AET), which had been planning to merge. When regulators quashed any hopes of this merger coming to fruition, both insurers reversed course on their plans for expansion under the ACA and cut their coverage substantially. In 2017, Humana will be offering coverage in nearly 90% fewer counties compared to 2016, while Aetna is cutting out coverage in nearly 70% of its counties.
Image source: Pixabay.
The risk corridor also bears some responsibility for higher Obamacare costs. The risk corridor is a type of risk-pooling fund that was designed to take money from overly profitable insurance companies and give it to those losing excessive amounts of money because they'd priced their premiums too low. Unfortunately, not enough companies made excessive profits, leaving the risk corridor woefully underfunded. Just $362 million of the $2.87 billion in funds requested was paid out, leading roughly three-quarters of Obamacare's low-cost healthcare cooperatives to shutter their doors over the past year.
Basic economic principles suggest that if competition declines and demand remains on par or increases, as it tends to do with the need for health insurance, prices go up. In 2017, Obamacare premiums are slated to rise by a whopping 25% across the 39 states covered by the federal marketplace exchange HealthCare.gov, including a benchmark increase -- the benchmark is the second-lowest cost silver plan within a state -- in Arizona of 116%. Furthermore, about one in five consumers will only have plans from a single insurer to choose from in 2017.
It's not just premiums that'll have you paying more for health insurance
Premium hikes are a big reason why you'll probably be paying more for health insurance next year -- but it's not the only reason.
Insurers have a number of levers they can pull to increase what they receive from consumers, and one of them is to increase the deductible levels that consumers pay. A deductible is the amount you're responsible for before insurers step in and begin to cover your eligible medical expenses.
Image source: Getty Images.
Deductibles and premiums typically have an inverse relationship. Among the four tiers of ACA plans, bronze plans have the cheapest premiums but the highest deductibles. This means if you head to the doctor, you'll probably be paying a lot of out-of-pocket before your insurer steps in to cover your medical expenses. Conversely, a platinum plan, on the other end of the spectrum, has the highest premiums and smallest deductible. If you have a pre-existing condition that requires you to head to the doctor often, a gold or platinum plan with a higher monthly premium and lower out-of-pocket expenses can make a lot of sense.
In 2017, based on a recently released analysis by HealthPocket, deductibles for all metal tiers are heading higher. The average bronze plan deductible is moving higher by 6% to $6,092 for an individual and $12,393 for family plans. This is the first time the average deductible for individuals on a bronze plan has crossed the $6,000 threshold.
Image source: Getty Images.
Silver plans, which are the most popular plan and purchased by roughly 60% of enrollees, are expected to see an average deductible increase of 15%, or $3,572 for individuals and $7,474 for families. Remember, the only way for enrollees making less than 250% of the federal poverty level to receive cost-sharing reductions that lower their copays, coinsurance, and even deductibles is to purchase a silver plan.
The lesser popular gold and platinum plans, which combine for about 20% of all enrollees, are expected to see deductible inflation of 3% and 74%, respectively. Before that 74% deductible increase in platinum plans makes your jaw hit the floor, keep in mind that the average deductible in 2016 was only $233, so the new average deductible of $405 is still pretty low.
How to save money on Obamacare
With premiums and deductibles on the rise, it means consumers need to be more vigilant than ever when purchasing an ACA plan for the upcoming year.
The smartest thing you can do is not allow yourself to be auto-enrolled in a new plan. Shop around and make sure that the plan you had in 2016 still offers the best value in 2017. Remember insurers can change their networks, coverage options, and plan premiums every year and what was the best value in 2016 may not be the best value in 2017.
Image source: Getty Images.
Obviously, you should also see if you qualify for the Advanced Premium Tax Credit (APTC) and/or cost-sharing reductions (CSRs). If you earn less than 400% of the federal poverty level, you'll almost assuredly qualify for the APTC, which will reduce your monthly out-of-pocket premium costs. As noted above, if you happen to make less than 250% of the federal poverty level, then you can receive CSRs, which can reduce your out-of-pocket expenses when receiving medical care (but you'll have to purchase a silver plan to receive CSRs).
Another smart move to make is to put the tobacco products down. There can be up to a 50% premium surcharge for smokers since smoking has been clinically shown to lead to a number of serious and costly health side effects. Though some states disallow this surcharge, the vast majority allow insurers to charge more to smokers.
Finally, if you're under the age of 26, consider staying on your parents' healthcare plan. This is an especially smart option for college students and recent grads who may not have the earning potential to take the brunt of costly premium payments.
A secret billion-dollar stock opportunity The world's biggest tech company forgot to show you something, but a few Wall Street analysts and the Fool didn't miss a beat: There's a small company that's powering their brand-new gadgets and the coming revolution in technology. And we think its stock price has nearly unlimited room to run for early in-the-know investors! To be one of them, just click here.
Sean Williamshas no material interest in any companies mentioned in this article. You can follow him on CAPS under the screen nameTMFUltraLong, and check him out on Twitter, where he goes by the handle@TMFUltraLong.
The Motley Fool recommends UnitedHealth Group. Try any of our Foolish newsletter services free for 30 days. We Fools may not all hold the same opinions, but we all believe that considering a diverse range of insights makes us better investors. The Motley Fool has a disclosure policy.