Here's Why You Should Ignore Ford's February Sales Decline in China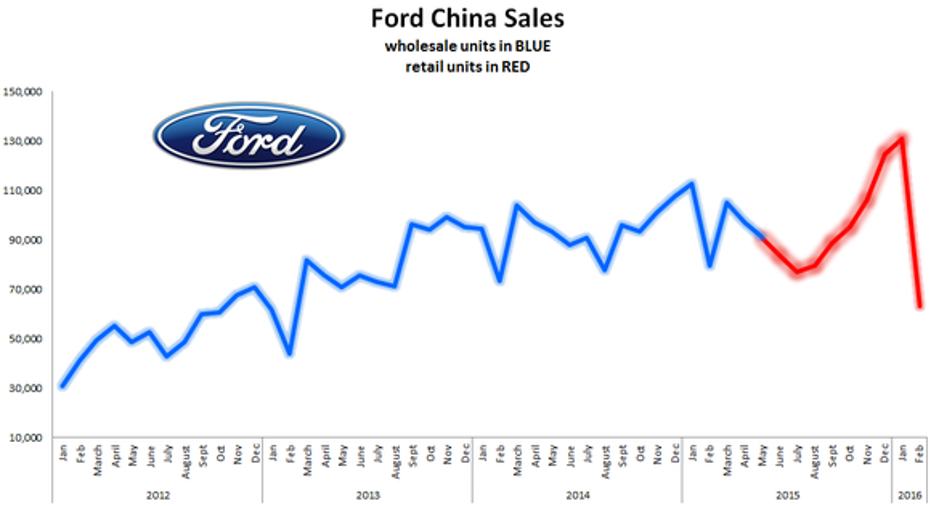 Ford's sales are off to a good start in China this year. Image source: Ford Motor Company.
If you take a look at the headlines surrounding Ford's sales in China during February, you'll notice a theme: Many emphasize that the automaker's sales declined. Some more correctly emphasize that while the month's results were down, year-to-date sales were up compared to 2015. But very few articles are explaining the cause behind February's decline, and it's a point easily forgotten.
By the numbersBefore we get into the explanation, let's take a look at the numbers themselves. Ford sold a meager 63,350 vehicles in China in February, 9% fewer than it sold 12 months earlier. When looking at the long-term graph, that plunge does appear a little frightening.
Chart by author. Data source: Ford China press releases.
But fear not. Many people often forget that the Chinese New Year plays a huge role in that nation's automotive sales during January and February, depending on when the holiday lands. That's because Chinese factories shut down for the holiday -- which is officially only fiveworking days long; but many workers take additional time off, and truly vast numbers of them travel back to their hometowns. What it all means is huge volatility in production and purchases, and as the holiday generally lands between Jan. 21 and Feb. 20, it can cause equally huge disturbances to year-over-year comparisons.
For instance, this year the holiday landed on Feb. 8, which pulled a significant amount of business forward into January. That's why Ford's year-over-year sales in China were up 36% during January. It's also why Ford's sales last month were down 9%.Also, since the holiday landed on Feb. 19 last year, not as many sales were pulled into January then, which makes for a tougher year-over-year February comparison. For an apples-to-apples comparison, investors should combine the two sets of results.
In the first two months of 2016, Ford sold 194,182 vehicles in China, a very healthy 18% gain over the first two months of 2015. In fact, Ford's sales result outpaced the results of many of its competitors that have reported sales data thus far.
Ford edges out JapaneseGeneral Motors leads in total volume, having sold more than 421,000 new vehicles during January and more than 245,000 units last month. However, that adds up to a 3.7% decline compared to the first two months of 2015.
Looking at Japanese automakers, Ford has established itself a slight lead so far this year. Nissan sold 188,400 vehicles in China during the first two months of 2016, a meager 1% increase from the prior year period. The story was similar with Toyota, which posted a 22% gain through the first two months, compared to the prior year, but trailed Ford in total volume with 190,500 units sold. Lastly, Honda's sales in China rose 9% during January and February for a total of 164,727 units sold.
Yes, the headlines declared that Ford's sales in China declined in February, but focusing on a single month doesn't do it justice. The automaker has had a solid start to the year in the world's most populous nation, compared to both the competition and its own prior-year results.
The article Here's Why You Should Ignore Ford's February Sales Decline in China originally appeared on Fool.com.
Daniel Miller owns shares of Ford and General Motors. The Motley Fool owns shares of and recommends Ford. The Motley Fool recommends General Motors. Try any of our Foolish newsletter services free for 30 days. We Fools may not all hold the same opinions, but we all believe that considering a diverse range of insights makes us better investors. The Motley Fool has a disclosure policy.
Copyright 1995 - 2016 The Motley Fool, LLC. All rights reserved. The Motley Fool has a disclosure policy.