Here's Why Weight Watchers International Gained 29% in June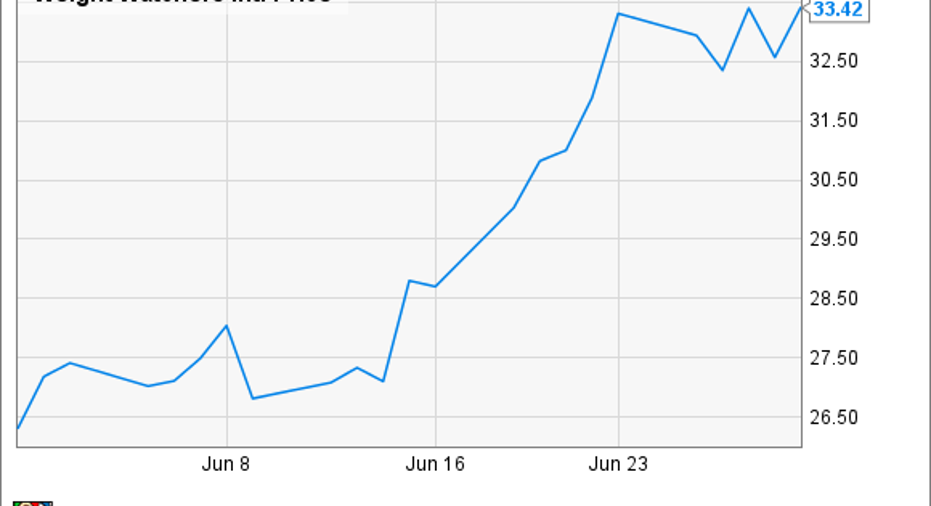 Call it the delayed Oprah Winfrey effect paired with a smart business plan. Weight Watchers (NYSE: WTW) saw its stock soar in June, after it reported string results and raised its guidance for the full year.
What happened
The membership-based weight-loss company saw its subscriber count jump by 16% in Q1 2017 year over year, moving to 3.6 million. Weight Watchers also added 13% in paid weeks compared with Q1 2016 and saw revenue rise by 7% to $329 million for the quarter.
"With a strong start to the year, we are raising our full-year 2017 earnings guidance to a range of $1.40 to $1.50 per fully diluted share," said CFO Nick Hotchkin in the Q1 earnings release.
So what
Even though the company reported its Q1 results in early May, the boost from the good news continued throughout June. After closing May at $25.95, shares in Weight Watchers climbed mostly steadily all month closing at $33.42, a nearly 29% gain, according to data from S&P Global Market Intelligence.
Now what
Weight Watchers has shown that it has a sustainable business model. It's no longer trading based on the hype of Winfrey's purchase of 10% of the company and joining its board. The company is benefiting from having the former talk-show host on board, as commercials starring her have driven the surge in memberships, but the expectations are no longer unrealistic. Instead, the company, which has hired a new CEO, is confident that its turnaround is complete.
"Weight Watchers has delivered a very successful winter season, solidifying the company's return to growth," said Chairman Ray Debbane. "I look forward to Mindy Grossman joining the Weight Watchers team and our board of directors in July. She is the right CEO to empower the brand and unlock its full potential."
Grossman takes over a company that has put its biggest struggles behind it. Weight Watchers has rebuilt its membership base and should be able to build off its recent successes.
10 stocks we like better than Weight Watchers InternationalWhen investing geniuses David and Tom Gardner have a stock tip, it can pay to listen. After all, the newsletter they have run for over a decade, Motley Fool Stock Advisor, has tripled the market.*
David and Tom just revealed what they believe are the 10 best stocks for investors to buy right now... and Weight Watchers International wasn't one of them! That's right -- they think these 10 stocks are even better buys.
Click here to learn about these picks!
*Stock Advisor returns as of June 5, 2017
Daniel Kline has no position in any stocks mentioned. The Motley Fool has no position in any of the stocks mentioned. The Motley Fool has a disclosure policy.