Here's Why Vertex Pharmaceuticals Is Flying High Today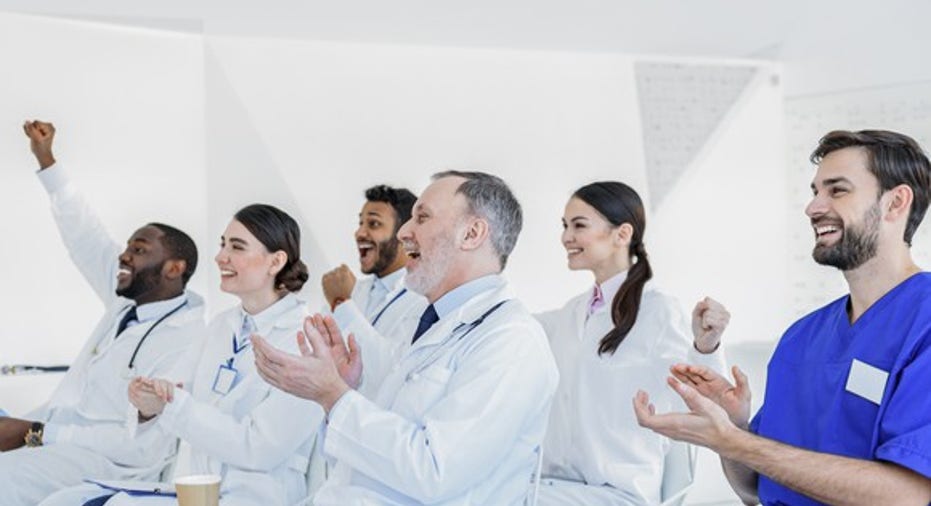 What happened
In response to a report of upbeat clinical data from two phase 3 trials, shares of Vertex Pharmaceuticals(NASDAQ: VRTX) rose by 23% as of 11:15 a.m. EDT on Wednesday.
Image source: Getty Images.
So what
Vertex announced results from its phase 3 EVOLVE and EXPAND studies. Both of these trials were designed to test theefficacy and safety of a drug that combines Vertex's next-generation cystic fibrosis (CF) treatment tezacaftorwith its already approved CF drug ivacaftor, which is marketed as Kalydeco.
Vertex's EVOLVE trial -- which was the larger of the two studies -- enrolled more than 500 CF patients age 12 or older who have two copies ofthe F508del mutation. The 24-week study showed that the combination therapy improved lung function by a statistically significant 4 percentage points when compared to placebo. This met the study's primary endpoint. In addition, the combination therapy was very well tolerated and showed lower rates of serious adverse events.
Management said this data was strong enough to justify a submission to the U.S. Food and Drug Administration and European regulators.
Turning to the EXPAND study, this 250-patient trial was testing the combination drug and Kalydeco as a monotherapy in CF patients age 12 or older who haveone mutation that results in residual CFTR function and one copy of the F508del mutation. This study also met its primary endpoint with a 6.8-percentage-point improvement over placebo for the combination therapy and a 4.7-percentage-point improvement over placebo for Kalydeco on its own.
Vertex also announced its intention to seekmarketing approval for the combination therapy in this patient population, too.
The markets cheered this positive data, and that's why shares are soaring today.
Now what
Vertex estimates that there are more than 22,000 patients in North America, Europe, and Australia older than age 12 who have two copies of the F508del mutation. In addition, another 1,500 patients aged 12 or older are believed to have one mutation that results in residual CFTR function and one copy of the F508del mutation. That hints that the addressablemarket for thetezacaftor-ivacaftor combination therapy could exceed 23,500 patients. For perspective, the current addressable market for Vertex's two drugs on the market that are generating revenue -- Orkambi and Kalydeco -- is roughly 29,000 patients. Thus, winning approval for both of these patient populations could significantly advance the company's market opportunity.
Perhaps of equal importance, this clinical news should help to keep Vertex one step ahead of its competitors. Biotech giant AbbVie has teamed up with Galapagos to create next-generation cystic fibrosis therapies that could one day compete with Vertex's offerings. This clinical update should go a long way toward extending Vertex's leadership position in the space.
Given the terrific news, it is easy to understand why shares are flying high today.
10 stocks we like better than Vertex PharmaceuticalsWhen investing geniuses David and Tom Gardner have a stock tip, it can pay to listen. After all, the newsletter they have run for over a decade, Motley Fool Stock Advisor, has tripled the market.*
David and Tom just revealed what they believe are the 10 best stocks for investors to buy right now... and Vertex Pharmaceuticals wasn't one of them! That's right -- they think these 10 stocks are even better buys.
Click here to learn about these picks!
*Stock Advisor returns as of February 6, 2017
Brian Feroldi owns shares of Vertex Pharmaceuticals. The Motley Fool recommends Vertex Pharmaceuticals. The Motley Fool has a disclosure policy.