Here's Why Valeant Pharmaceuticals Intl. Inc., Lost 60% of its Value in March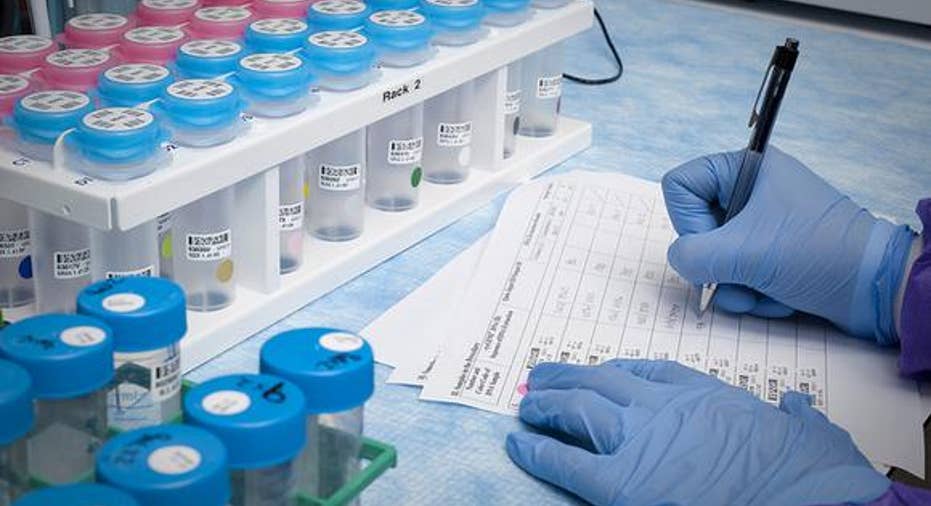 Image source: NIH Image Gallery via Flickr.
What: Shares of Valeant Pharmaceuticals , a pharmaceutical company that's primarily grown through acquisitions and price increases, shed a whopping 60% of their value in March based on data from S&P Global Market Intelligence. Although shares remained extremely volatile all month, an update provided by the company on March 15 -- the Ides of March -- did most of the damage.
So what: In mid-March, after delaying its expected fourth-quarter conference call with analysts roughly two weeks prior, Valeant announced its preliminary fourth-quarter results, offered guidance for fiscal 2016, and provided insight into its internal operations. Hint: none of it was very good.
Although the company reported mixed Q4 results which weren't all that bad, its fiscal 2016 guidance of $11 billion to $11.2 billion in sales and $9.50 to $10.50 in EPS was way off the mark. It had, just a few months prior, guided to $12.6 billion in sales and $13.50 in EPS at the midpoint. It's scary to think that its business has deteriorated so quickly.
But this proved to be only the start of Valeant's March woes.
Image source: Pictures of Money via Flickr.
Valeant also told Wall Street that its results will remain preliminary as it has no intention of filing its annual 10-K until it's completed a full review of its accounting. It's taking a comb to its financial books after an internal review found $58 million in incorrectly booked revenue from Philidor Rx Services, a drug distributor that Valeant no longer has a relationship with. The problem with not filing its annual 10-K is that Valeant has $30.9 billion in debt on its balance sheet. Failing to file its annual report could put it in default of many of its debt covenants, which would mean its lenders could come calling.
Finally, Valeant also announced that its CEO, J. Michael Pearson, would be stepping down just two weeks after coming back from a two-month medical absence tied to pneumonia. Abrupt CEO departures can be tricky because there are concerns that a company's business strategy may stray off path.
Now what: The real issue at hand here is that Valeant's business model is under pressure, and it's coming from two angles.
First, Congress has been probing Valeant's drug-pricing practices for months. For instance, last year Valeant acquired two cardiovascular products and boosted their prices by more than 500% and 200% post-acquisition without making any changes to their formulations or manufacturing processes. Congress has taken particular exception with Valeant's pricing practices and could impose fines or regulations that would curb future deals of the type that Valeant thrives off of. On the flipside, it's also possible nothing at all happens to Valeant.
The other issue here is that Valeant's business model could be squeezed by a possible debt default. Valeant's lenders have, in effect, given it a few more weeks to file its annual report, but if it fails to do so its lenders may swarm like vultures for repayment.
No matter how we slice this, Valeant's long-term outlook is cloudy at best. My suggestion would be to avoid this mess until we have more clarity on its debt situation, as well as whether or not Congress can validate the company's current M&A-based business model.
The article Here's Why Valeant Pharmaceuticals Intl. Inc., Lost 60% of its Value in March originally appeared on Fool.com.
Sean Williamshas no material interest in any companies mentioned in this article. You can follow him on CAPS under the screen nameTMFUltraLong, track every pick he makes under the screen name TrackUltraLong, and check him out on Twitter, where he goes by the handle@TMFUltraLong.The Motley Fool owns shares of and recommends Valeant Pharmaceuticals. Try any of our Foolish newsletter services free for 30 days. We Fools may not all hold the same opinions, but we all believe that considering a diverse range of insights makes us better investors. The Motley Fool has a disclosure policy.
Copyright 1995 - 2016 The Motley Fool, LLC. All rights reserved. The Motley Fool has a disclosure policy.