Here's Why These 5 Oil Stocks Jumped More Than 25% in November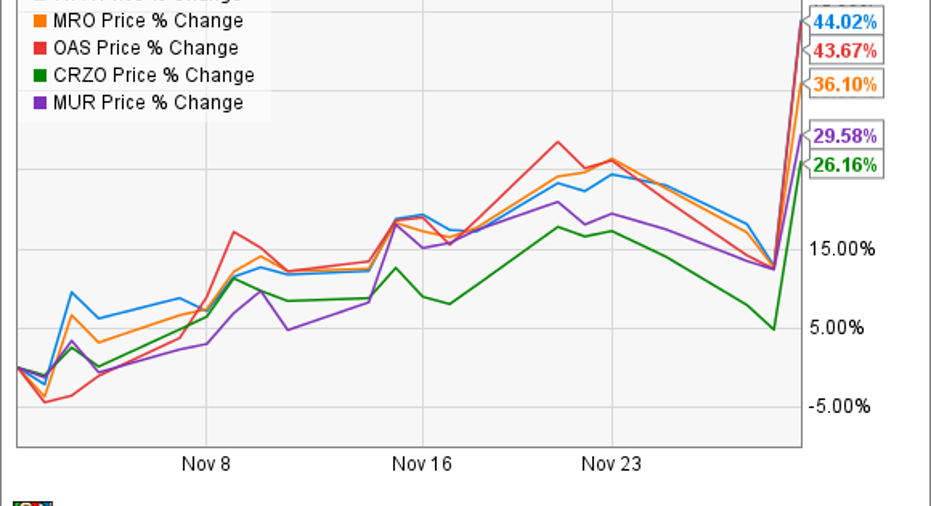 Image source: Getty Images.
What happened
November was a big month for oil stocks after OPEC announced that it was stepping in to support oil prices. That decision fueled a stunning rally across the sector, especially from producers that will thrive as long as oil is in the mid-$50s, which is much more likely thanks to OPEC. That is why investors bid up the stocks of WPX Energy (NYSE: WPX), Marathon Oil (NYSE: MRO), Murphy Oil (NYSE: MUR), Oasis Petroleum (NYSE: OAS), and Carrizo Oil & Gas (NASDAQ: CRZO) after OPEC announced its landmark agreement.
So what
WPX Energy entered 2016 with too much debt given where oil prices were. Because of that, the company spent the early part of the year selling assets, including closing the sale of its Piceance Basin subsidiary and San Juan Basin gathering system for a combined $1.2 billion. These asset sales enabled the company to right-size its balance sheet and reposition the portfolio to grow at much lower prices. As a result, WPX Energy is in the position to increase oil production by 25% next year at $50 oil and by 50% in 2018 at $55 oil. However, the company could accelerate those growth rates now that OPEC has stepped in to support oil prices, which is why its stock took off last month.
Marathon Oil, likewise, spent much of the past year repositioning its portfolio so it could grow at lower oil prices. These actions included selling nearly $1.2 billion in assets, which gave it the capital to invest $888 million on additional acreage in one of its core shale plays. This transformation put the company in the position where it can deliver 15% to 20% compound annual production growth from its shale assets through 2021 while living within cash flow at flat $55 oil. Suffice it to say that that oil price is a much more likely reality, which could position Marathon Oil to deliver growth at or above the top end of that range.
Bakken-focused Oasis Petroleum did not need to do any portfolio reshuffling over the past year. Instead, it focused on reducing costs and bolstering its acreage position, including a recent $785 million deal that grew its core drilling inventory by 22%. As a result of these initiatives, the company is ready to return to growth mode next year, with a plan to add two more drilling rigs as long as oil is at or above $50 a barrel, with a third rig likely joining them in 2018. These rigs position the company to deliver mid-teens compound annual production growth through 2018 at $50 oil while living within cash flow. That said, if oil rises well above that level, Oasis could accelerate its development plans and grow at an even faster pace.
Image source: Marathon Oil.
Carrizo Oil & Gas also recently bulked up on a core position, spending $181 million for bolt-on acreage in the Eagle Ford shale. As a result of that deal, the company increased its full-year production guidance. Meanwhile, that transaction, along with cost savings initiatives, put the company on pace to add a rig to its fleet next year and boost oil production by 20%. That said, Carrizo Oil & Gas has ample liquidity, so it could add morerigs if oil prices rebound sharply next year.
Murphy Oil is a bit further behind its rivals, with the company still primarily focused on bolstering its balance sheet. To achieve that goal, Murphy Oil entered into a new $1.2 billion credit facility and issued $550 million on notes during the third quarter. These moves bolstered the company's liquidity, which will enable it to pay back an upcoming debt maturity and fund capital expenditures. However, with oil likely heading higher in the future, Murphy Oil should be able to shift its focus from the balance sheet to increasing investments so it can join its peers and grow output.
Now what
Before OPEC's announcement, all five of these oil companies had already positioned themselves to handle lower oil prices just fine. In fact, four out of the five were poised to deliver double-digit oil production growth next year as long as oil was in the mid-$50s. Not only is that oil price a much more likely outcome as a result of the OPEC deal, but crude could move well above that level as long as demand remains healthy and non-OPEC supplies don't grow too fast.
10 stocks we like better than WPX Energy When investing geniuses David and Tom Gardner have a stock tip, it can pay to listen. After all, the newsletter they have run for over a decade, Motley Fool Stock Advisor, has tripled the market.*
David and Tom just revealed what they believe are the 10 best stocks for investors to buy right now... and WPX Energy wasn't one of them! That's right -- they think these 10 stocks are even better buys.
Click here to learn about these picks!
*Stock Advisor returns as of Nov. 7, 2016
Matt DiLallo has no position in any stocks mentioned. The Motley Fool has no position in any of the stocks mentioned. Try any of our Foolish newsletter services free for 30 days. We Fools may not all hold the same opinions, but we all believe that considering a diverse range of insights makes us better investors. The Motley Fool has a disclosure policy.