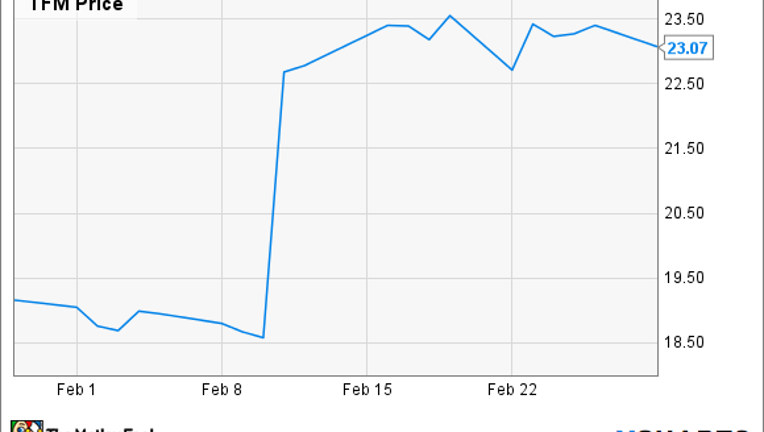 The Kroger Co. wants to buy The Fresh Market which sent shares of the specialty retailer soaring in February.
What: The Fresh Market has begun exploring a sale and Kroger, the biggest supermarket chain in the United States, has entered the bidding process, Reuters reported. There's no guarantee that Kroger will prevail or that Fresh Market will ultimately accept one of the bids, but news of the company's interest has been very good for TFM's share price.
After closing at $19.16 on Jan. 29 the stock jumped in February when the news of Kroger's interest broke closing the month at $23.07, a 20.4% gain, according to data provided by S&P Global Market Intelligence.
Source: YCharts.com
So what: Thereis no guarantee that Kroger prevails or even that The Fresh Market actually sells itself. It's also possible, according to Reuters, that the company's founder and Chairman Ray Berry takes the brand private. But, no matter what happens it's clear that there's heavy interest in the chain, which has 183 stores in 27 states, which is good for shareholders.
Now what: Fresh Market sits in an admirable position. Though it would benefit from a sale, it does not need to complete one. That, plus the option to go private, allows the company to make a deal -- be it with Kroger or someone else -- at the highest price.
This may not be a case of management holding an auction and selling the company to the highest bidder. Because TFM started as a family company it's likely that fit and how the new owner would operate will factor in. That could weigh heavily in the well-regarded Kroger's favor as the company considers its options.
Fresh Market won't come cheap but the best path to unlocking shareholder value is probably for a sale to happen unless the Berry family can beat any offers with a plan to take the company private.
The article Here's Why The Fresh Market, Inc. Gained 20% in February originally appeared on Fool.com.
Daniel Kline has no position in any stocks mentioned. He shops at Fresh Market but prefers their obvious rival. The Motley Fool has no position in any of the stocks mentioned. Try any of our Foolish newsletter services free for 30 days. We Fools may not all hold the same opinions, but we all believe that considering a diverse range of insights makes us better investors. The Motley Fool has a disclosure policy.
Copyright 1995 - 2016 The Motley Fool, LLC. All rights reserved. The Motley Fool has a disclosure policy.