Here's Why the Best Is Yet to Come for Polaris Industries Inc.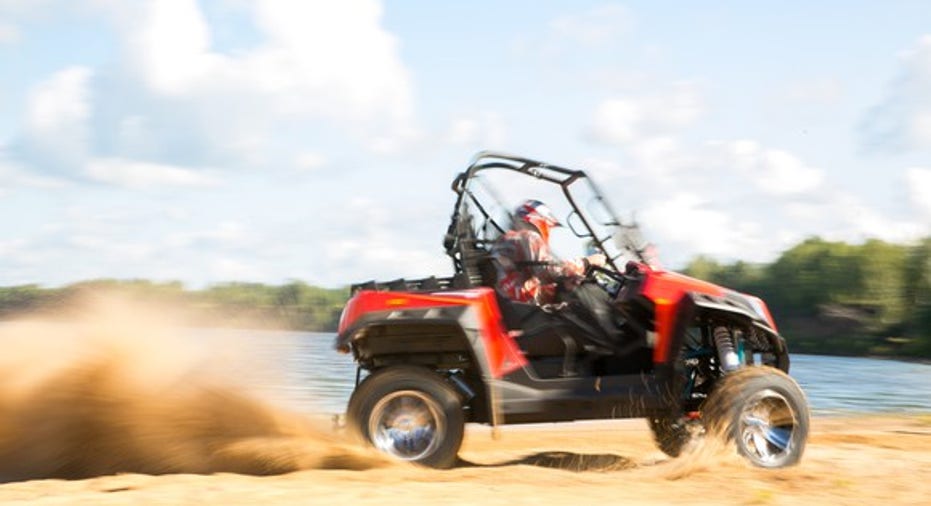 2016 was a rough year for Polaris Industries Inc. (NYSE: PII) as a slowdown in the market combined with design problems with its own products to hit both revenue and earnings for the year. For the year, revenue fell 4% to $4.5 billion and net income fell 52% to $212.9 million, or $3.27 per share.
Some of the challenges that were self-inflicted may already be resolved, but it could take time to heal the reputation wound customers perceive from product recalls. With that in mind, here's why I think the market doesn't have too much to worry about with Polaris and why the future looks bright for the company.
Image source: Getty Images.
The worst is in the rearview
Recalls of the RZR side-by-side were the biggest dent in earnings during 2016. But management recently said that 70% of RZR XP 900/1000 recalls are complete and around 80% of RZR Turbos are done. But the damage of a 5% decline in powersports vehicles sold last year and a reduction in market share have hurt the business.
While that challenge was real, management used this time to set the company up for success in the future. Dealer inventory is down 8% from a year ago and is lower than either of the two previous years. And fourth-quarter 2016 sales were up 10%, including a 5% increase in off-road vehicle and snowmobile sales.
Guidance for 2017 also shows that Polaris sees the worst of the past year behind it. Management expects record sales of $4.95 billion to $5.10 billion with earnings rising to $4.25 to $4.50 per share. The bottom line still has room for improvement, but with products heading in the right direction, the stock could make a turnaround as well.
A clearer focus in motorcycles
Another big change Polaris made recently was eliminating the Victory line of motorcycles. Victory was originally intended to compete with Harley-Davidson (NYSE: HOG), but since 1998, it's been a money-losing endeavor for Polaris. What has shown success is the Indian line of motorcycles, which had 20% growth in 2016, and Slingshot. These will be the new areas of focus for Polaris going forward and a refined product lineup should help margins.
Improving the motorcycle business will be important for the diversification of Polaris long term. The company relies heavily on off-road vehicles and snowmobiles for sales, so diversifying by expanding motorcycle sales should help smooth out some of the lumps in product demand.
Why the best is yet to come
With disposable income on the rise, I think powersports as a whole still have room to grow and Polaris has a leadership position and a very diverse set of products. And as one of only a handful of suppliers large enough to participate in these markets, it has a position that will be difficult to upend.
It also looks like most of Polaris' operational missteps are being remedied, and as they work through the system, we should see margins and earnings rise. That's a strong position to be in, and with products trending in the right direction, the future looks bright for the company.
10 stocks we like better than Polaris IndustriesWhen investing geniuses David and Tom Gardner have a stock tip, it can pay to listen. After all, the newsletter they have run for over a decade, Motley Fool Stock Advisor, has tripled the market.*
David and Tom just revealed what they believe are the 10 best stocks for investors to buy right now... and Polaris Industries wasn't one of them! That's right -- they think these 10 stocks are even better buys.
Click here to learn about these picks!
*Stock Advisor returns as of February 6, 2017
Travis Hoium has no position in any stocks mentioned. The Motley Fool owns shares of and recommends Polaris Industries. The Motley Fool has a disclosure policy.