Here's Why the Best Is Yet to Come for Magellan Midstream Partners LP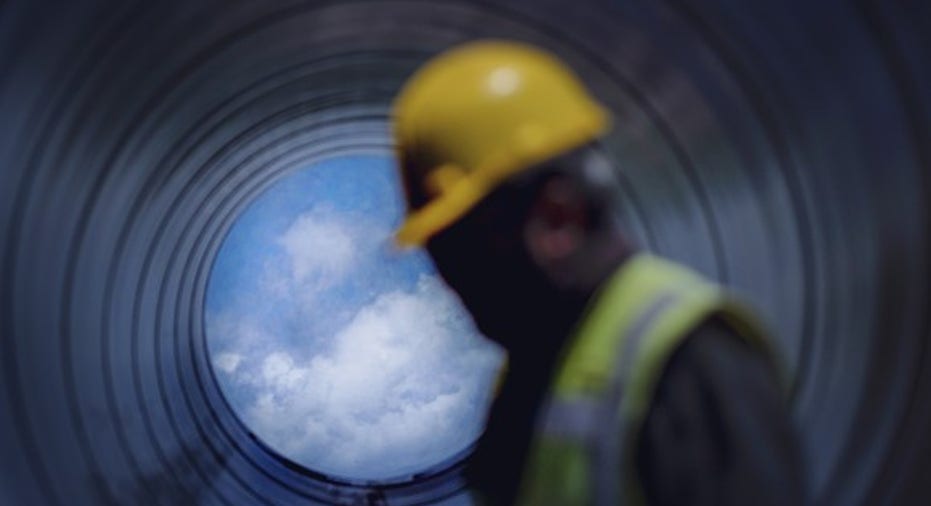 Despite challenging market conditions, last year was a record-setting one for Magellan Midstream Partners (NYSE: MMP). Fueled by its best fourth quarter ever, the company produced $947.5 million in distributable cash flow for the full year, which was 0.5% above 2015's result. That growth should continue in 2017 thanks to a boatload of new projects that are entering service. With additional projects under construction, and several more in development, there's plenty of reason to believe that the best days still lie ahead for this refined products and crude oil master limited partnership (MLP).
Another record year on tap
Magellan Midstream Partners expects to generate $1 billion of distributable cash flow this year, which is 5.5% higher than last year. While the company sees some of 2016's challenges carrying over into this year, including weaker commodity margins than initially anticipated, it has several growth projects on tap that should start delivering cash flow this year to help it overcome those obstacles.
Image source: Getty Images.
Overall, the company expects to invest roughly $550 million in the construction of several new assets this year. One of the largest is the Saddlehorn Pipeline, between Colorado and Oklahoma, which is a joint venture between Magellan, Plains All American Pipeline (NYSE: PAA), and Anadarko Petroleum (NYSE: APC). Magellan owns a 20% stake and will invest $220 million in the project. The partners have already finished the largest section of the pipeline and anticipate completing the rest of the project in the second quarter. This project should deliver steady growth over the next five years as volumes from anchor shippers Anadarko Petroleum and Noble Energy (NYSE: NBL) ramp up. In Anadarko's case, it sees its volumes in the region expanding 30% this year, and it should deliver steady growth in future years since it has more than 4,500 future drilling locations to develop. Meanwhile, Noble Energy expects to achieve 11% to 16% volume growth through 2020 from its assets in the region.
Magellan also recently completed construction of a $300 million condensate splitter -- a type of refinery -- in Texas. While the company ran into a contract dispute with its customer on the project, it recently resolved that conflict, and as a result will see an additional $30 million investment to expand the facility and related infrastructure. By coming to an amicable solution, the company can start collecting cash flow on this project in 2017.
As a result of these growth projects, and improving market conditions, Magellan Midstream Partners plans to increase its distribution by 8% this year.
A growing pipeline of growth projects
Magellan Midstream Partners still has plenty of growth left in the tank beyond 2017. In fact, a sizable portion of the capital it will spend this year is on projects that should enter service in 2018 and 2019. For example, the company is building a $70 million pipeline in Houston to enhance its system, spending $125 million on additional storage capacity in Houston, and investing $115 million to expand its Galena Park marine terminal. These projects should enter service next year, putting the company in the position to grow its payout another 8%.
Furthermore, the company is working on several additional projects to drive growth. The largest is the construction of the new Pasadena Marine Terminal, which will cost an initial $335 million and should enter service in 2019. What's more, the project could provide a springboard for growth, with the potential for $1 billion of future expansion projects at this facility. In addition to that, the company is currently evaluating more than $500 million of growth projects that could break ground as early as next year. These projects give investors increasing visibility that Magellan Midstream Partners shouldn't have any problem growing its distributable cash flow and distribution for several more years.
Investor takeaway
Thanks to the upcoming completion of several growth projects, Magellan Midstream Partners expects to set another record for distributable cash flow this year. And it has many more projects in the pipeline, suggesting that the company has even more growth ahead of it. Because of that, its best days are clearly up ahead.
10 stocks we like better than Magellan Midstream PartnersWhen investing geniuses David and Tom Gardner have a stock tip, it can pay to listen. After all, the newsletter they have run for over a decade, Motley Fool Stock Advisor, has tripled the market.*
David and Tom just revealed what they believe are the 10 best stocks for investors to buy right now... and Magellan Midstream Partners wasn't one of them! That's right -- they think these 10 stocks are even better buys.
Click here to learn about these picks!
*Stock Advisor returns as of February 6, 2017
Matt DiLallo has no position in any stocks mentioned. The Motley Fool recommends Magellan Midstream Partners. The Motley Fool has a disclosure policy.