Here's Why the Best Is Yet to Come for Gilead Sciences, Inc.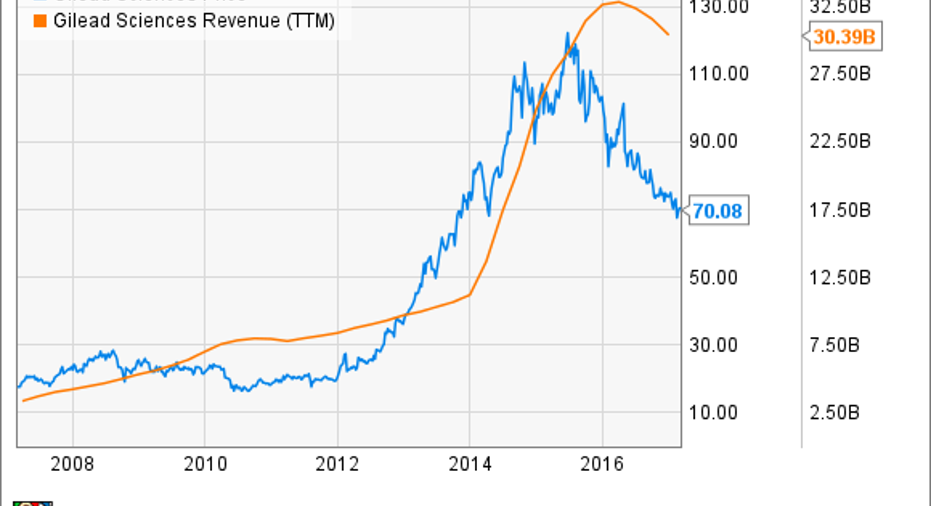 Sales are plunging for once high-flying products. Revenue and earnings are falling. Its stock price has slumped. Several of its most promising pipeline prospects are still years away from commercialization.
All of these statements are true for Gilead Sciences (NASDAQ: GILD). But is the big biotech destined for perpetual malaise? Not hardly. Here's why the best is yet to come for Gilead.
Image source: Getty Images.
What it would take to top the past
The chart below tells an interesting story. Gilead Sciences' trailing-12-month revenue and stock price took off from 2013 through 2015, driven primarily by the prospects and ultimate success for the company's hepatitis C franchise.
Note, though, what has happened more recently. Gilead's stock price is back to where it was in late 2013. The biotech's trailing-12-month revenue, although falling, is still much higher than previous years. That's because change in the stock price is leading change in revenue, which makes sense with investors focusing more on the future than the past.
Gilead Sciences forecasts 2017 revenue between $22.5 billion and $24.5 billion. If you believe that the biotech can't boost its annual revenue to over $33 billion or more, Gilead's best days are behind it. I don't think that's a good bet, though.
As easy as A-B-C
I have no doubts that Gilead can beat the revenue highs from past years. To do so should be as easy as A-B-C.
"A" stands for acquisitions. Gilead's management team has stated that its top priority isto "focus on growth for the top line." That means acquisitions should be on the way.
Can Gilead really make acquisitions that could generate annual revenue of more than $10 billion or so to get back to its previous revenue levels? Yes, but it would probably take multiple deals.
However, I suspect that's just what Gilead has in mind. CEO John Milligan recently said that he'd like to expand the company's pipeline in three areas:oncology, inflammation, and non-alcoholic steatohepatitis (NASH). His statements imply multiple acquisitions could be on the way.
"B" stands for build the pipeline through partnerships. This is an area where Gilead could learn from another big biotech, Celgene (NASDAQ: CELG). If you look at Celgene's pipeline, you'll find several candidates where the company has partnered with another organization. Some are small biotechs, but others are large pharmaceuticdal companies.
Partnerships can be a smart way to secure pipeline assets without shelling out a huge amount of money up front. Celgene, for example, picked up its license for luspatercept through a deal with Acceleron (NASDAQ: XLRN) in 2011 that cost only $25 million up front. As a result, Celgene now is on track to have a product that could generate peak annual sales topping $2 billion.
"C" stands for continue what Gilead is already doing. The biotech has several great new products, especially HIV drug Genvoya and hepatitis C virus (HCV) drug Epclusa. Gilead's pipeline includes strong candidates including experimental NASH drug GS-4997 and autoimmune disease drug filgotinib.
Gilead also has a solid cash flow that should keep on flowing. Even though declining sales for HCV drugs Harvoni and Sovaldi will reduce cash flow somewhat, Gilead should still continue to enjoy an enviable cash position that allows the company to fund acquisitions and partnerships.
Light at the end of the tunnel
I think there is a light at the end of the tunnel for Gilead Sciences. The current situation with falling revenue, earnings, and share prices won't go on indefinitely.
How quickly will that light arrive? I expect Gilead to make at least one significant acquisition this year, because executives have said that's what they'd like to do -- and investors clearly want them to do so as well. However, it's possible (perhaps even likely) that the first acquisition announcement won't be big enough to fully offset Gilead's HCV headwinds.
The turnaround will probably take longer than just one year and one acquisition. That's OK, though. It took Gilead Sciences several years to hit its peak. Taking a few years to surpass prior levels isn't unreasonable.
10 stocks we like better than Gilead SciencesWhen investing geniuses David and Tom Gardner have a stock tip, it can pay to listen. After all, the newsletter they have run for over a decade, Motley Fool Stock Advisor, has tripled the market.*
David and Tom just revealed what they believe are the 10 best stocks for investors to buy right now... and Gilead Sciences wasn't one of them! That's right -- they think these 10 stocks are even better buys.
Click here to learn about these picks!
*Stock Advisor returns as of February 6, 2017
Keith Speights owns shares of Celgene and Gilead Sciences. The Motley Fool owns shares of and recommends Celgene and Gilead Sciences. The Motley Fool has a disclosure policy.