Here's Why the Apple Watch Could Still Be a Runaway Success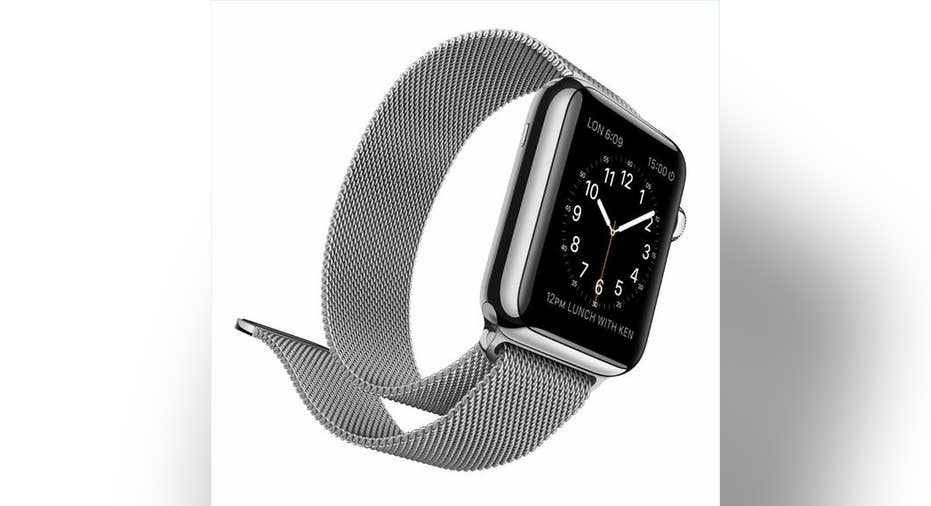 The Apple Watch will turn 1 year old later this month -- but don't expect much fanfare. Indeed, highly respected Apple analyst Ming-Chi Kuo predicted last week that Apple Watch sales will fall by more than 25% year over year in 2016. That would be particularly pathetic because the Watch wasn't on sale for the whole year in 2015.
Apple Watch sales haven't lived up to expectations so far. Image source: Apple.
Many pundits have already described the Apple Watch as a flop. While Apple hasn't released official sales figures, it's clear that sales have fallen short of most analysts' initial projections. However, the Apple Watch could still become a massive success over time -- if Apple can reposition it as primarily a healthcare device.
The Apple Watch hasn't found its nicheEven though the Apple Watch hasn't been as popular as many analysts had hoped, it still managed to outsell all other smartwatches combined during 2015, according to Juniper Research.
Thus, the weak sales trend highlights the difficulty of selling smartwatches more broadly, rather than any problems with the Apple Watch itself. "The smartwatch is now a category waiting for a market," concluded the Juniper Research study. Other analysts seem to agree with that premise.
The key feature of today's smartwatches (as opposed to cheaper fitness trackers) is the ability to deliver notifications from a user's phone. However, the added convenience of being able to look at your wrist rather than pulling out your phone hasn't been enough to motivate many people to shell out hundreds of dollars for an Apple Watch.
Apple dives into health applicationsHowever, Apple seems to have greater ambitions for the Apple Watch. It is putting huge emphasis on healthcare-sector applications.
Thus, during Apple's recent keynote event, Apple executives spent a lot of time talking about how doctors and medical researchers have used the iPhone and Apple Watch. Apple also touted the new CareKit platform. CareKit will allow iPhone and Apple Watch users to better monitor their own health and communicate with doctors outside of office visits.
CareKit apps will help iPhone and Apple Watch users actively monitor their health. Image source: Apple.
Apple is working on numerous health-related sensors that could potentially be added to the Apple Watch over time, improving its functionality. To support these efforts, it has been hiring health professionals like nurses and biomedical engineers at a rapid clip.
Today, the iPhone is Apple's main hardware platform for healthcare apps. But as the Apple Watch gains more health-related sensors, it will become a more powerful tool for monitoring users' health.
A new Apple Watch business modelThis push into healthcare applications provides the foundation of a potential new business model for the Apple Watch. Apple's most successful product -- the iPhone -- initially gained popularity because the phones were subsidized by wireless carriers. Similarly, the Apple Watch could one day be subsidized by health insurers like UnitedHealth Group and Aetna .
For an individual, spending $300 to $400 or more on an Apple Watch may seem like a lot of money. But healthcare spending has already reached about $10,000 per person in the U.S.
If the Apple Watch can reduce the cost of healthcare by making individuals more aware of their health and helping doctors identify problems early, it would make financial sense for the likes of UnitedHealth and Aetna to subsidize Apple Watch purchases. In a best-case scenario, insurers could even distribute Apple Watches as part of their health plans.
This type of move wouldn't be completely unprecedented. Most insurers today -- including both UnitedHealth and Aetna, at least in some states -- subsidize gym memberships for their members to the tune of $150 or more per person. The logic is clear: People who go to the gym regularly are less likely to develop costly health problems.
For less than $100 per person per year, these companies could fully cover the cost of a new Apple Watch every four years or so. That seems like a fairly manageable hurdle for Apple to reach in terms of reducing the cost of care.
Huge -- but uncertain -- potentialFor this scenario to unfold, Apple will need to make significant improvements to the Apple Watch's health-monitoring capabilities. It will also need to attract more developer interest in order to fully take advantage of the Watch platform. Most important, it will need to convince doctors and hospitals of the value of using Apple's health-related apps for patient interactions.
If it can accomplish those goals and demonstrate that people who use an Apple Watch become healthier (or cost less to treat), Apple will have a compelling case for health insurers to subsidize Watch purchases.
Consumers may not be eager to shell out hundreds of dollars for an Apple Watch. But if big health insurers like UnitedHealth and Aetna covered most or all of the cost, consumer interest would grow rapidly. This could eventually make the Apple Watch just as ubiquitous as the iPhone.
The article Here's Why the Apple Watch Could Still Be a Runaway Success originally appeared on Fool.com.
Adam Levine-Weinberg is long January 2017 $85 calls on Apple. The Motley Fool owns shares of and recommends Apple. The Motley Fool recommends UnitedHealth Group. Try any of our Foolish newsletter services free for 30 days. We Fools may not all hold the same opinions, but we all believe that considering a diverse range of insights makes us better investors. The Motley Fool has a disclosure policy.
Copyright 1995 - 2016 The Motley Fool, LLC. All rights reserved. The Motley Fool has a disclosure policy.