Here's Why SodaStream International Ltd. Shares Gained 11% in January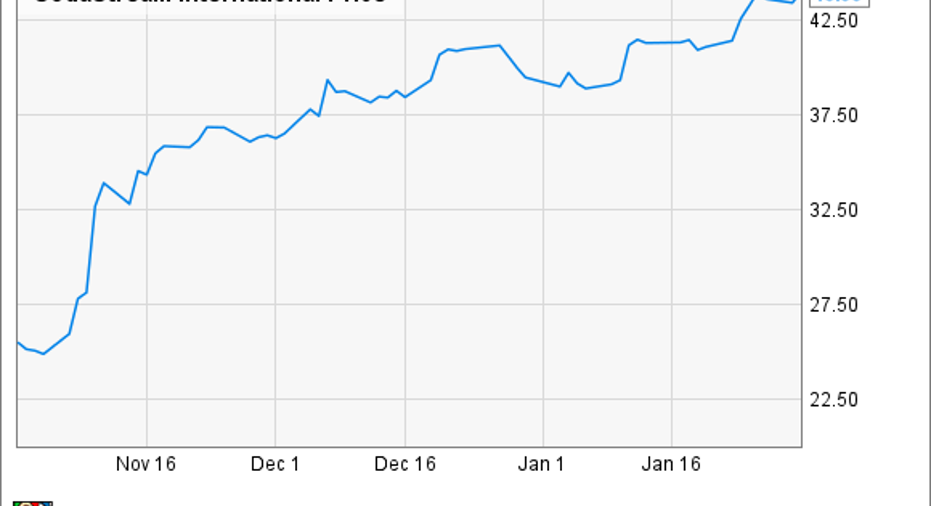 SodaStream (NASDAQ: SODA) has been riding a wave of good news that has pushed its shares steadily higher since it reported Q3 earnings in November. That upward trend continued through January when the company's stock price rose despite the lack of any news.
What happened
Basically the company had a very positive earnings report in Q3. SodaStream saw its revenue increase 12.9% to $124.2 million while its EBITDA increased 140.6% to $23.3 millions. The beverage-making brand also saw net income rise by 217.4% to $14.9 million and diluted earnings per share increased to $0.69 compared to $0.22 in the third quarter of 2015.
That was enough to set off a steady increase in the company's share price. That continued in January as the stock opened the month at $39.50 shares climbed throughout January to close the month at $43.99, an 11% increase according to data from S&P Global Market Intelligence.
Image source: YCharts.com.
So what
It's not just that SodaStream had a good quarter, but that those results do not seem like a fluke. Instead the company's business appears to have turned a corner.
"Our top-line performance included a 23% increase in sparkling water maker unit sales to 788,000, our highest quarterly figure in nearly two years, underscoring the growing strength of our business," CEODaniel Birnbaum said in the earnings release. "We believe that repositioning the SodaStream brand around sparkling water combined with effective marketing programs is setting the foundation for an acceleration in household penetration in each of our geographic regions."
More machines being sold not only improves one quarter, it increases the company's base. That generally means higher sales of accessories going forward.
SodaStream offers drink recipes on its website. Image source: SodaStream.
Now what
SodaStream reports its year-end results Feb. 15 and it needs to show continued momentum in order to justify the confidence investors have shown. The company appears to have turned a corner and its Q3 numbers back that up, but a step back in Q4 could wipe out these gains.
Of course, there's no reason to expect that and the company has been adding to its installed user base. That's likely to continue to help it push sales and profits higher (in general accessories and drink mixes are higher margin than machines).
10 stocks we like better than SodaStreamWhen investing geniuses David and Tom Gardner have a stock tip, it can pay to listen. After all, the newsletter they have run for over a decade, Motley Fool Stock Advisor, has tripled the market.*
David and Tom just revealed what they believe are the 10 best stocks for investors to buy right now and SodaStream wasn't one of them! That's right -- they think these 10 stocks are even better buys.
Click here to learn about these picks!
*Stock Advisor returns as of February 6, 2017
Daniel Kline has no position in any stocks mentioned. The Motley Fool owns shares of SodaStream. The Motley Fool has a disclosure policy.