Here's Why Shares of W.W. Grainger Jumped 13% in November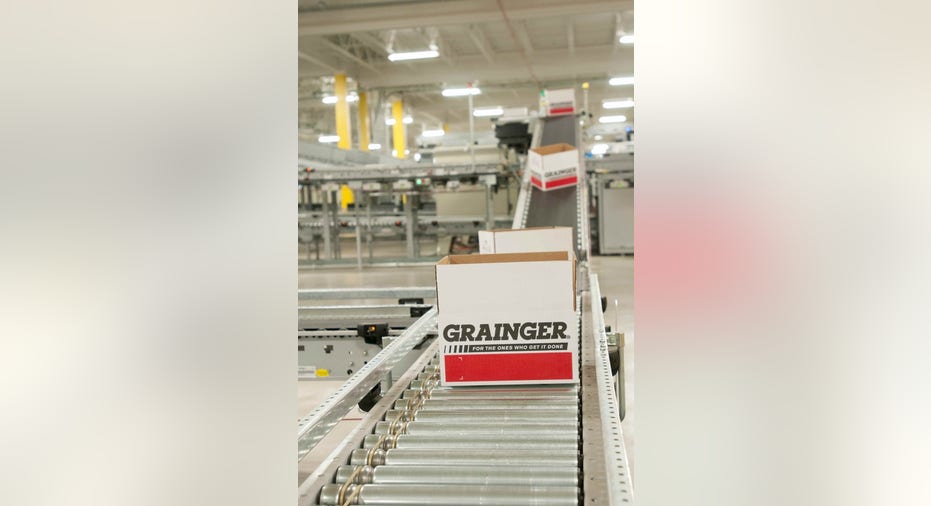 Image source: W.W. Grainger.
What happened
Shares of W.W. Grainger (NYSE: GWW) gained 13% in November. The biggest reason for that gain came with the election of Donald Trump as the next president of the United States and Wall Street's view that this will lead to a boom for domestic business.
So what
Grainger's business is keeping other businesses running smoothly as a provider of maintenance, repair, and operations equipment for a wide variety of businesses. If you are looking for a company to invest in a broad rise in business in the U.S., Grainger should probably be on top of the list. About 80% of its revenue comes from this country, and the returns on invested capital for its U.S.-based business segments are higher than 40%.
With Trump headed for the White House, the prevailing theory seems to be that his administration is going to be very business-friendly, with a focus on de-regulation and a significant cut to the corporate tax rate. Obviously, this would help Grainger directly from lower taxes -- Grainger has paid $309 million in taxes in the first nine months of the year -- but the bigger idea is that it will benefit from an uptick in business activity across the U.S. as companies spend on operations equipment and services to ramp up production capacity.
Now what
Keep in mind that many of these things are just proposals that haven't been enacted yet, so you do have to take any gain on speculative regulatory change with a large grain of salt. That can be especially true when the company has even admitted that the coming quarterly results will be a little weak.
If you are looking at W.W. Grainger as a potential investment, there are a number of reasons to buy this stock. The company has a very sticky business model. It's building new online platforms to reach out to smaller and smaller businesses, and is growing those platforms at a rapid pace. Grainger also has a reputation for being shareholder-friendly with its dividend and share repurchase program. Don't base your investment decision on the possibilities that could come from a Trump administration, though.
10 stocks we like better than W.W. Grainger When investing geniuses David and Tom Gardner have a stock tip, it can pay to listen. After all, the newsletter they have run for over a decade, Motley Fool Stock Advisor, has tripled the market.*
David and Tom just revealed what they believe are the 10 best stocks for investors to buy right now... and W.W. Grainger wasn't one of them! That's right -- they think these 10 stocks are even better buys.
Click here to learn about these picks!
*Stock Advisor returns as of Nov. 7, 2016
Tyler Crowe has no position in any stocks mentioned.You can follow himat Fool.comor on Twitter@TylerCroweFool.
The Motley Fool has no position in any of the stocks mentioned. Try any of our Foolish newsletter services free for 30 days. We Fools may not all hold the same opinions, but we all believe that considering a diverse range of insights makes us better investors. The Motley Fool has a disclosure policy.