Here's Why Shares of Flotek Industries Got Hammered in December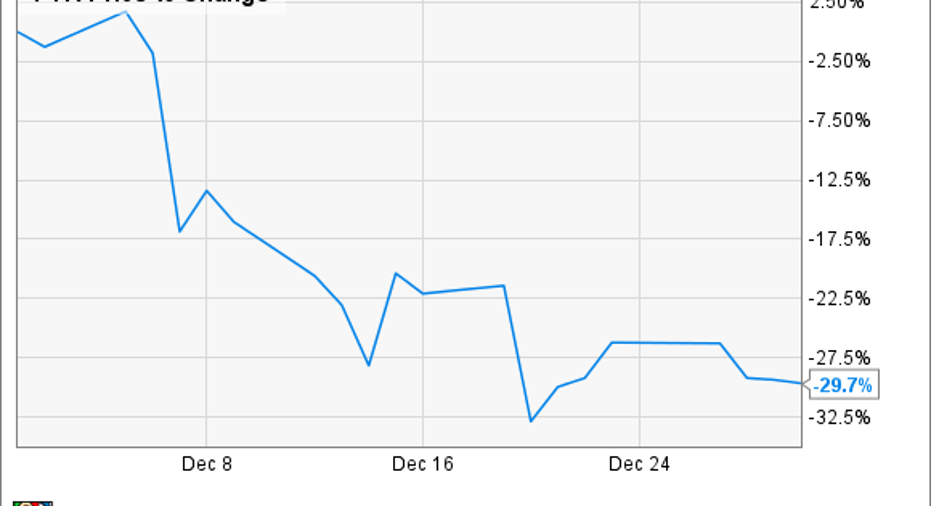 Image source: Getty Images.
What happened
Shares of Flotek Industries (NYSE: FTK) declined 29.7% in December. The two big reasons for this past month's large drop came down to earnings that didn't live up to expectations as well as a report from a short-seller that questions Flotek's claims on the efficiency of the chemicals it sells to the oil and gas industry.
So what
On Dec. 8, FourWorld Capital Management issued a report on numerous inconsistencies in Flotek's reports on the efficacy of its chemical surfactants used in the oil and gas industry for hydraulic fracturing as well as the reporting on its customer base.
If that had been the only thing to happen, we could probably take it with a huge grain of salt. After all, a scathing report written by a company with a short position on Flotek would seem to be self-serving.
At the same time, though, Flotek doesn't exactly instill a lot of confidence for investors. The company issued a quarterly report preview on Dec. 20 that said the coming quarter's margins would decline and that its consumer and industrial technologies segmentwould experience some decreases as well. That did its own damage to the share price.
Now what
Between the self-interested short-seller report and hard-to-follow results with some of Flotek's business segments, something just doesn't feel quite right about this company. One thing you need in a long-term investment is confidence in management to guide the company for years into the future. Without it, Flotek is a stock worth avoiding.
10 stocks we like better than Flotek Industries When investing geniuses David and Tom Gardner have a stock tip, it can pay to listen. After all, the newsletter they have run for over a decade, Motley Fool Stock Advisor, has tripled the market.*
David and Tom just revealed what they believe are the 10 best stocks for investors to buy right now... and Flotek Industries wasn't one of them! That's right -- they think these 10 stocks are even better buys.
Click here to learn about these picks!
*Stock Advisor returns as of January 4, 2017
Tyler Crowe has no position in any stocks mentioned.You can follow himat Fool.comor on Twitter@TylerCroweFool.The Motley Fool has no position in any of the stocks mentioned. The Motley Fool has a disclosure policy.