Here's Why Shares of Calumet Specialty Products Partners Surged Ahead in November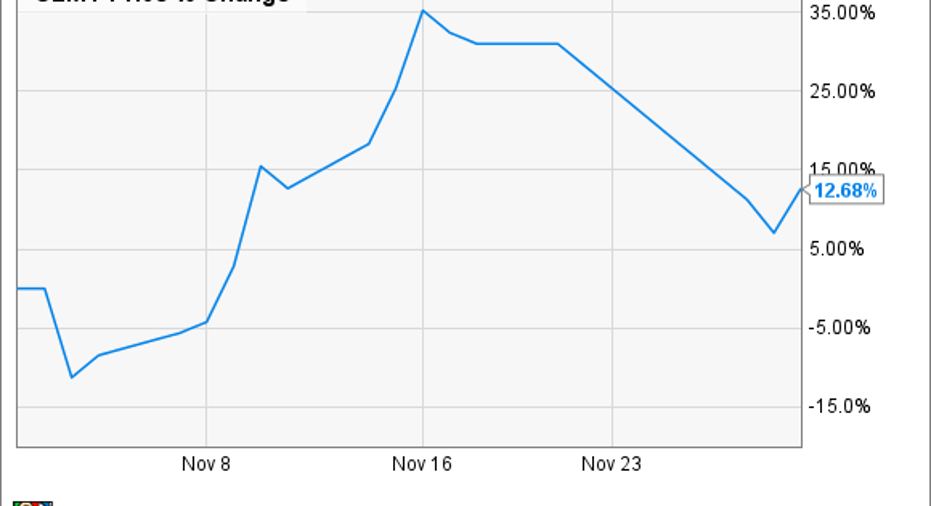 Image source: Getty Images.
What happened
Shares of Calumet Specialty Products Partners (NASDAQ: CLMT) had a roller-coaster month, but they ended up gaining 12.7% in November.
So what
One thing to consider withany surge or slump in shares of Calumetis that the company is pretty much a penny stock. On any given day, the stock price can move double digits for no particular reason whatsoever. InNovember alone, we saw swings where the stock price swung as low asa 10% loss to as high asa 35% gain. So, any large movement in Calumet's stock price should be taken with a grain of salt since it may not necessarily be related to the business itself.
As far as why investors were a little more bullish about the stock this past month, it has much to do with the possibility that President-elect Donald Trump will loosen some regulations related to refineries as he mentioned he would on the campaign trail. Refineries have been taking a big hit lately from the costs for complying with the U.S. EPA's renewable fuels and ethanol requirements. Calumet's fuels business has been one of its weak points in recent quarters, and the cost of compliance to these rules played a part in that weakness, but it was far from the only thing that has caused this part of the business to struggle.
Now what
As much as investors want to think the removal of these ethanol requirements will ease Calumet's suffering, the truth of the matter is that the company's issues run much, much deeper. Sure, there is a stable, profitable segment somewhere in this business, butit's buried under other very cyclical, low-return operations and a seemingly insurmountable debt. If either of these things can be addressed, then perhaps Calumet is worth reconsidering, but as it is, this company's stock is var too volatile and the prospects of the business are far too suspect for any serious investors to consider it for their portfolios long term.
10 stocks we like better than Calumet Specialty Products Partners When investing geniuses David and Tom Gardner have a stock tip, it can pay to listen. After all, the newsletter they have run for over a decade, Motley Fool Stock Advisor, has tripled the market.*
David and Tom just revealed what they believe are the 10 best stocks for investors to buy right now...and Calumet Specialty Products Partners wasn't one of them! That's right -- they think these 10 stocks are even better buys.
Click here to learn about these picks!
*Stock Advisor returns as of Nov. 7, 2016.
Tyler Crowe has no position in any stocks mentioned.You can follow himat Fool.comor on Twitter@TylerCroweFool.
The Motley Fool has no position in any of the stocks mentioned. Try any of our Foolish newsletter services free for 30 days. We Fools may not all hold the same opinions, but we all believe that considering a diverse range of insights makes us better investors. The Motley Fool has a disclosure policy.