Here's Why Sears Holdings Corporation Shares Gained 12% in February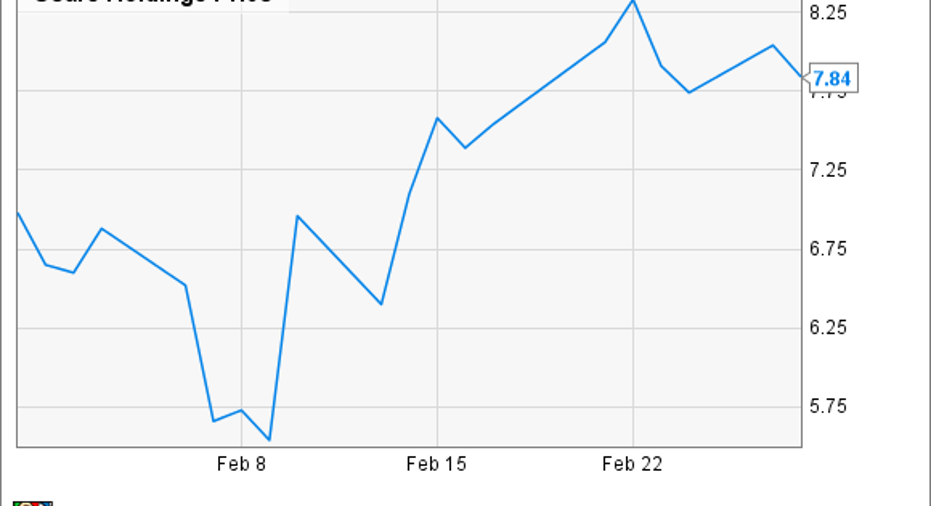 Sears Holdings(NASDAQ: SHLD) has been in freefall, closing stores, losing customers, and seeing sales plummet. Many think the company won't be able to reverse that trend, but the market responded well when CEO Eddie Lampert laid out the next steps in his turnaround plan for the company in mid-February.
What happened
Even though Sears has had quarter after quarter of losses, Lampert, thinks the chain has made progress. In aletterto investors, he went over the moves the company has made, including the closing of 108 Kmart and 42 Sears stores throughout 2017, as well as the sales of the Craftsman brand.
Image source: YCharts.
"To build on our positive momentum, today we are initiating a fundamental restructuring of our operations that targets at least $1 billion in cost savings on annualized basis, as well as improves our operating performance," he said. "To capture these savings, we plan to reduce our corporate overhead, more closely integrate our Sears and Kmart operations, and improve our merchandising, supply chain, and inventory management."
Lampert laid out more specifics -- such as plans to sell the company's other house brands -- but nothing he said was new. Investors didn't seem to care, and after his letter was released, shares spiked. After closing January at $6.98, the company's stock price jumped to $7.84 to close February, according to data fromS&P Global Market Intelligence.
Sears has been closing stores. Image source: Sears.
So what
People seem to desperately want Sears to have a path to survival, but the numbers look lousy. The company lost $607 million in Q4 and saw revenue drop $1.2 million during the quarter and $3 billion for the year. The chain has restructured some its debt to buy itself more time, and it does have assets to sell, but the company still has $4.2 billion in long-term debt.
Now what
Lampert has shown an ability to make financial moves that forestall Sears' end, but he has shown no ability to stabilize sales or make money. The company has been shrinking, and its remaining stores keep losing money. There's no reason to believe that will change, given the ongoing market conditions and the fact that consumers must have at least some doubts as to whether buying something at Sears is worth the risk that the chain will go out business.
This stock bounce has people believing what Lampert said but not really looking at the business reality. Sears has more runway, but selling off assets to keep your creditors at bay is not the same as making money, something the company hasn't done in a very long time.
10 stocks we like better than Sears HoldingsWhen investing geniuses David and Tom Gardner have a stock tip, it can pay to listen. After all, the newsletter they have run for over a decade, Motley Fool Stock Advisor, has tripled the market.*
David and Tom just revealed what they believe are the 10 best stocks for investors to buy right now... and Sears Holdings wasn't one of them! That's right -- they think these 10 stocks are even better buys.
Click here to learn about these picks!
*Stock Advisor returns as of February 6, 2017
Daniel Kline has no position in any stocks mentioned. The Motley Fool has no position in any of the stocks mentioned. The Motley Fool has a disclosure policy.