Here's Why Permian Basin Drillers Were Scorching Hot in November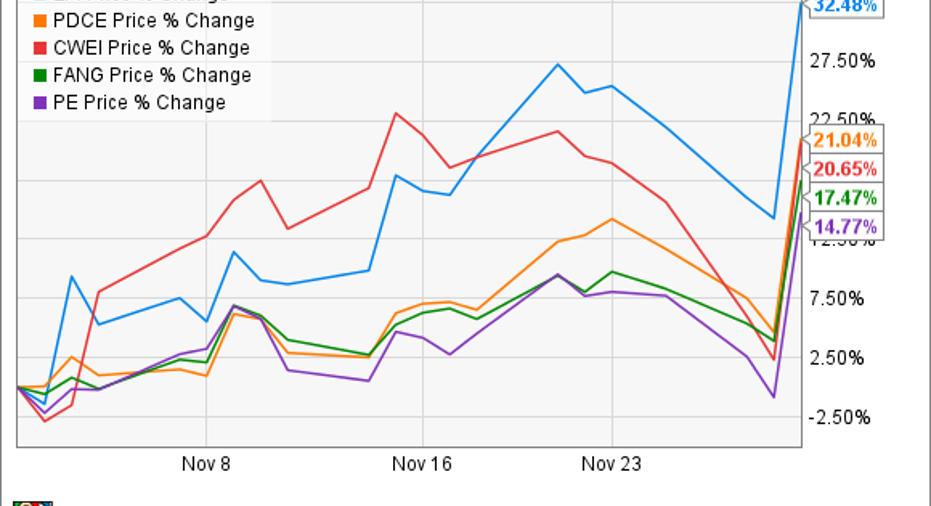 Image source: Getty Images.
What happened
Texas' legendary Permian Basin has been the hottest oil play this year thanks to its abundance of cheap oil. The basin only grew hotter in November with robust production growth reports by Permian-focused producers. Meanwhile, the announcement that OPEC had decided to end its war on shale by cutting output only added more fuel to the fire, sending Permian drillers surging on the last day of the month. Leading the way were Laredo Petroleum (NYSE: LPI), PDC Energy (NASDAQ: PDCE), Clayton Williams Energy (NYSE: CWEI) Diamondback Energy (NASDAQ: FANG), and Parsley Energy (NYSE: PE):
Here's what fueled these moves.
So what
Laredo Petroleum got an early boost after it reported solid third-quarter results at the beginning of the month. The driller earned $28.4 million, or $0.12 per share, thanks to record quarterly production of 51,276 barrels of oil equivalent per day (BOE/d), which was above the top end of its guidance range. On top of that, it reported a 13% decrease in unit lease operating expenses (LOE) from the prior quarter, with costs now down 37% over the past year. These successes put Laredo Petroleum on pace to boost output by 10% this year. Meanwhile, with a growing inventory of high-return wells, the company expected to keep growing even at lower oil prices. However, OPEC's aim to boost prices should accelerate Laredo's growth potential and improve the returns it can earn on future wells.
PDC Energy also reported solid third-quarter results in early November. The company's production was up 39% year over year to 65,263 BOE/d, while LOE declined 27% year over year. However, the highlight of the quarter was a transformational $1.5 billion transaction to boost the driller's acreage area in the Permian Basin. That deal positioned PDC Energy to deliver 31% compound annual production growth over the next three years. That said, there is now more upside potential to that plan given OPEC's decision to support oil prices.
Clayton Williams Energy, likewise, reported third-quarter results in November, though it was not the company's results that got investors excited. The company reported an adjusted net loss of $35.1 million, or $2.50 per share, due in part to a sharp increase in interest expenses after it refinanced some debt earlier this year. That said, the company has since taken several steps to reposition so that it can thrive at lower oil prices, including announcing the sale of its Giddings area assets, which will transform Clayton Williams Energy into a pure-play Permian Basin producer. As a result, the company moved back into the position, where it could start drilling again, with the potential of being able to accelerateits drilling activities as a result of the OPEC deal.
Image source: Getty Images.
Diamondback Energy also reported its third-quarter results in early November. The driller noted that production was up 22% from just the prior quarter and 32% year over year. Diamondback Energy does not see that growth slowing down, and issued preliminary 2017 guidance projecting production growth of more than 30% next year, with plans to live within cash flow as long as oil remained above $45 per barrel. That is a near certainty now that OPEC has stepped in to put a solid floor underneath crude, which could enable Diamondback to accelerate production growth going forward.
Sticking with those same themes, Parsley Energy reported its third-quarter results at the beginning of the month. The Permian driller deliveredan excellent quarter, noting that production was up 20% sequentially and a stunning 99% year over year, to go along with a 37% year-over-year decline in LOE. Meanwhile, thanks to strong drilling results this year, Parsley increased its full-year production guidance. The driller expects more of the same in 2017, and plans to add another drilling rig to position itself for "rapid and efficient growth in 2017." Given Parsley's liquidity and healthydrilling returns, it would not be surprising to see the company add even more rigs in 2017 and beyond now that OPEC is back to supporting oil prices.
Now what
Permian Basin drillers have thrived during the downturn because of that basin's combination of oil-saturated rocks and low drilling costs, which has resulted in exceptional drilling returns at lower oil prices. Because of those returns, most Permian drillers had already forecast robust growth in 2017 and beyond. However, given that oil prices will likely run higher than the levels those companies expected, it is quite possible that the drillers' growth rates will also start accelerating.
10 stocks we like better than Laredo Petroleum When investing geniuses David and Tom Gardner have a stock tip, it can pay to listen. After all, the newsletter they have run for over a decade, Motley Fool Stock Advisor, has tripled the market.*
David and Tom just revealed what they believe are the 10 best stocks for investors to buy right now... and Laredo Petroleum wasn't one of them! That's right -- they think these 10 stocks are even better buys.
Click here to learn about these picks!
*Stock Advisor returns as of November 7, 2016
Matt DiLallo has no position in any stocks mentioned. The Motley Fool has no position in any of the stocks mentioned. Try any of our Foolish newsletter services free for 30 days. We Fools may not all hold the same opinions, but we all believe that considering a diverse range of insights makes us better investors. The Motley Fool has a disclosure policy.