Here's Why Oncothyreon's Shares Pushed Higher in November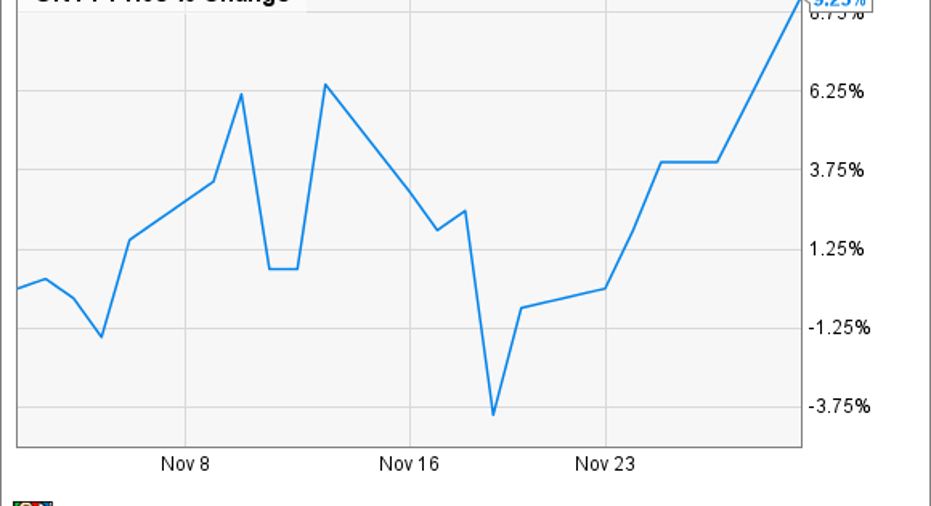 Source: Pixabay
What: Shares ofOncothyreon , a clinical-stage biotech developing therapies to treat cancer, rose by more than 9% in November, according to data provided by S&P Capital IQ. The catalyst driving the biotech's shares higher for the month was the announcement that the company would be providing a clinical update for its experimental HER2-positive breast cancer treatment,ONT-380,atthe San Antonio Breast Cancer Symposium being held from Dec. 8-12 in San Antonio, TX.ONT-380 is asmall molecule inhibitor of HER2 invented byArray BioPharma andlicensed to Oncothyreon under a broadmanufacturing and commercialization agreement.
So what: Oncothyreon is currently assessing ONT-380 as a potential treatment for advanced breast cancer in a handful of early stage studies when used incombination with Herceptin and Kadcyla.
Although ONT-380 is probably a couple of years away from an actual regulatory filing, it does offer an exciting value proposition for investors, given that the HER2 positive breast cancer drug market is expected to grow to around $8 billion by 2023, according to the research firmGlobalData. In light of Oncothyreon's currentmarket cap of only $308 million,ONT-380 wouldn't need to grab much of this monstrous market to be a huge value driver for the company -- even when factoring in the double-digit royalties that would need to be paid to Array BioPharma if the drug is approved.
Now what:Oncothyreon is in the middle of deciding how best to proceed toward a regulatory filing forONT-380. Per management's recent comments, the current plan is to first evaluate the results of ONT-380's early stage trial in combination with Kadcyla, and then consider approaching regulators about the best path forward. Fortunately, investors should gain some insight into the drug's clinical progress this week. Until then, however, I'm personally content to watch this small-cap biotech from the sidelines.
The article Here's Why Oncothyreon's Shares Pushed Higher in November originally appeared on Fool.com.
George Budwell has no position in any stocks mentioned. The Motley Fool has no position in any of the stocks mentioned. Try any of our Foolish newsletter services free for 30 days. We Fools may not all hold the same opinions, but we all believe that considering a diverse range of insights makes us better investors. The Motley Fool has a disclosure policy.
Copyright 1995 - 2015 The Motley Fool, LLC. All rights reserved. The Motley Fool has a disclosure policy.